How do you go from 1 sale per week to multiple sales per day?
Learning the best things to sell on eBay.
After years of selling on the platform, I'll tell you the best selling item on eBay so you can earn more.
What's my eBay experience?
I've been an eBay seller for over 5 years, and have made thousands per year flipping items online.
I sell a wide array of items, but my favorite items to sell are shoes and jackets (here are a few of my flips below).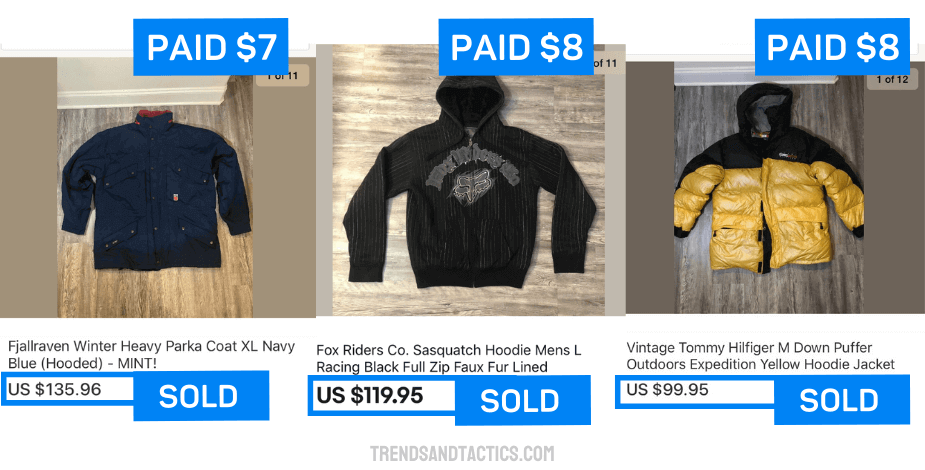 Best Things to Sell on eBay
Let's dive into the list of what sells on eBay. Enjoy!
1. Handbags
In the past, selling handbags on eBay was questionable, since authenticity was often called into question.
Luckily, eBay now offers free authentification guarantee on handbags at no cost to you, to protect everyone involved. This has attracted many more handbag buyers to the platform.
We analyzed over 350,000 recent handbag sales on eBay, here are the top selling brands, so you know which brands to focus on.
2. Seasonal Items
Although seasonal items tend to be overlooked by most sellers, they can be some of the most profitable. Let's take inflatable pools for example.
In warmer months, inflatable pool prices skyrocket.
And in many cases, demand can't match supply. So in many cases, inflatable pools run out of stock and sell at a premium on eBay.
Every season has a handful of "season specific" items, that are usually amazing sellers.
3. Electronics (of any condition)
Few people realize how lucrative selling vintage and broken electronics can be on eBay.
People buy vintage electronics for all kinds of reasons, from being a collector to buying for the nostalgic factor. Regardless, vintage electronics can sell for serious money.
In addition, broken electronics still have surprisingly high resale value on eBay. Oftentimes, people buy broken electronics (like phones, watches, game consoles, etc), to extract working parts to resale or to fully repair and sell again.
4. New Release & Hype Items
New release and hype items are blowing up, due to the scarcity and limited edition factors.
For example, check out this Supreme & North Face collab jacket that recently sold on eBay for $5,250!
In terms of hype items, learning how to resell Supreme is a great place to start.
More and more brands are shifting to this approach of "item drops", because it keeps shoppers more engaged with the brand and eager to purchase due to the limited quantity.
Most eBay sellers keep up with item drops and limited releases through reseller groups on Discord and Instagram.
5. Car Parts
Car parts are a massive category on eBay. Not only are most car parts a "must have" vs a "nice to have" item, but they also sell for high prices.
Great pictures are critical to selling car parts, and is vital if you want to sell fast on eBay in general.
It's one of the best things to sell on eBay for those reasons, plus sellers can scoop up large amounts of car parts from local body shops, wholesale online, or junk yards.
Some of the most lucrative automotive parts to resell include:
center consoles
headlights
taillights
rear view and side mirrors
converter kits
instrument clusters
head rests
door handle mechanisms
6. Beauty & Fragrance Products
According to Statista, the beauty industry will generate an estimated $49 billion this year alone in the United States.
Beauty and fragrance products are big business, which naturally spreads into the eBay market as well.
Surprisingly, many shoppers even buy used beauty and fragrance products, especially if discontinued.
Things like discontinued lip balm flavors, face moisturizers, perfumes, and colognes can sell very well.
7. Shoes
In the last 90 days, over 1.2 million shoes were sold on eBay! With such high demand, many eBay sellers focus exclusively on selling shoes.
There are a number of ways to source shoes for eBay:
Online drops – most brands like Nike and Adidas have weekly/biweekly drops for new sneakers with limited quantities. Jordans, Yeezys, and collabs are usually released this way.
Retail arbitrage – refers to buying shoes from big box stores like Ross, Nike Outlets, and Marshalls and then selling on StockX or eBay for a profit. Making money from retail arbitrage is still very popular today.
Garage sales – this is my favorite way to get shoes, because there's usually less competition and you can negotiate prices. When garage sale shopping, always ask the host if they have other shoes for sale they haven't brought outside.
If you've ever wondered how to reduce eBay fees, you'll be happy to know that insertion fees are waived on shoe sales over $100, which is a nice bonus.
8. Old Media (VHS, Vinyl, CDs, Magazines)
There's still a huge market for old media among collectors and nostalgia seekers.
To the untrained eye, old VHS tapes may seem like garbage. But some are selling for shocking amounts of money.
Not all vintage media have a high sale value, but a surprising amount is still worth great money.
9. Video Games & Consoles
Currently, video games and consoles present a number of strategies to earn money.
Similar to other categories, there's a growing market for vintage and retro items. Then there are current video games and consoles, which hold their resale value surprisingly well.
Lastly, there's the PS5 and Xbox Series X flipping.
Similar to shoes, the video game market on eBay is so large, many sellers specialize in buying and selling video games and consoles exclusively.
10. Instruments
Instruments hold their value incredibly well.
Not only that, but when selling guitars on eBay the fees are lower than other item categories.
One drawback is that shipping is usually higher, but sellers can build that into the price or add $10-$50 for shipping onto the listing.
11. Jackets & Coats
Jackets and coats tend to have a high average selling price, because shoppers not only want to look good but are willing to pay more to stay warmer (with goose down feathers for example).
These items are very easy to find, and can usually be flipped for a nice margin.
It's one of my favorite items to resell, because there are so many obscure brands that go unnoticed to the average person.
Here are several jacket brands with strong resale value on eBay: Schott, Rab, Fjallraven, Harley Davidson, Avirex, Pendleton, Arc'teryx, Barbour, and Patagonia.
12. Trading & Sports Cards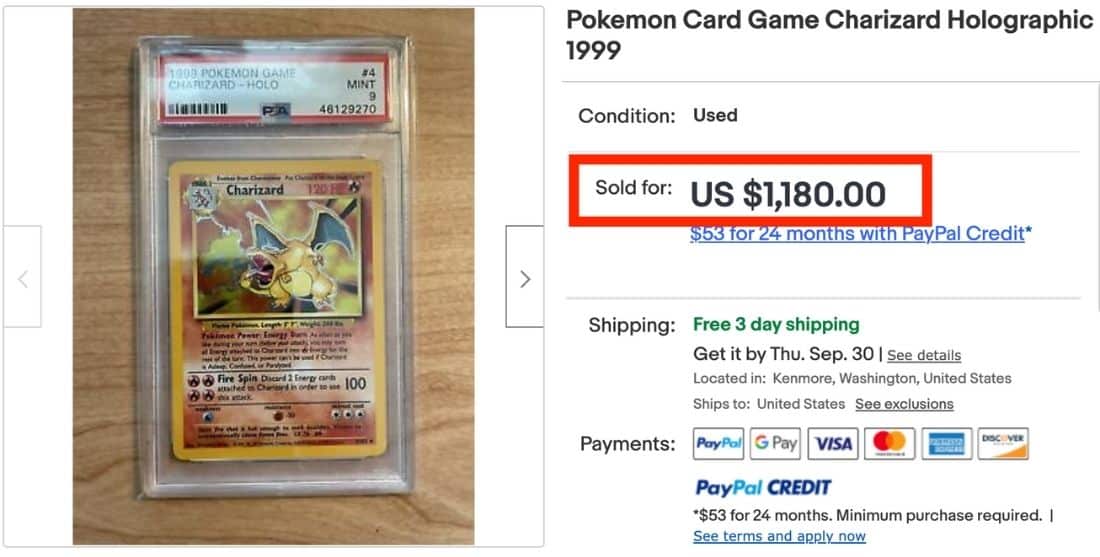 The trading cards scene has blown up in recent years.
In fact, the craze for selling Pokemon cards, baseball cards, basketball cards, and more have reached its highest popularity in 18 years according to search trends.
As a result, most retail stores implemented purchase limits for shoppers who were buying massive quantities of cards, hoping to combat card shortages.
It's common for rare cards to be graded (meaning professionally quality rated) and put in hard cases for preservation purposes.
Focus on the best cards to collect if you want quicker sales.
13. Antiques
Antiques might be one of the tougher categories to sell in, because there's so much to learn. But if there's a steep learning curve, many sellers will simply avoid it.
This means there's huge potential for people willing to put in the time to learn antiques.
If you're ready to buy and sell antiques, here are some great items to look for:
Vintage holiday goods
High-quality ironstone
Industrial lighting and fixtures
Signed costume jewelry
Chinoiserie ceramics and furniture
Cutting boards
Antique tables
14. Tools & Appliances
This is another category people tend to undervalue. There's a growing market for vintage tools, used tools, and appliances.
Some eBay sellers even buy broken tools and appliances only to part them out and sell the parts individually.
If you have heavier items, the best place to sell used appliances are usually local eBay pickups or pawn shops.
15. New & Old Toys
Toys are a massive category on eBay.
Some of the more popular brands include: Funko Pops, Barbie, Legos, Nerf, My Little Pony, and Squishmallows.
But there is also a hot market for vintage toys. Fortunately, most toys have model numbers or model IDs so it's easy to identify them and look up their values on eBay.
16. Watches & Other Jewelry
Watches and other jewelry won't be going out of style anytime soon.
Therefore, it's a fantastic category to learn since the buyer demand is here to stay. Not to mention, when selling watches on eBay, the platform also offers free authentication to protect everyone involved.
Costume jewelry is also a popular seller, because it's plentiful and sells quickly when priced correctly.
17. Sports equipment
All sports require some type of equipment.
In most cases, athletes want to take their game to the highest level possible, which means buying the best equipment.
As an example, some of the top end baseball bats like Louisville Slugger and Demarini typically sell for $500+. In the last 90 days, over 1,200 used baseball bats sold for over $250 on eBay!
18. Comics
To this day, comic books continue to be strong sellers online.
In the last 90 days, over 26,000 comic books sold for $250+ on eBay alone!
Most would agree, flipping comic books is not the easiest category to get into, but this weeds out a lot of competition unwilling to put in the time to learn.
19. Clothing
Clothing can be a double edged sword on eBay, because on the one hand this category might have the most buyers, and at the same time likely has the most sellers.
Therefore, spending the time to learn how to sell clothes online will be important. Perhaps the most important thing to remember is to know what brands and styles are worth your time, and which ones are not.
Although adding measurements in your listings takes a few extra minutes, it'll save you from headaches in the future as well.
Wrapping Up
Today, I shared with you the best things to sell on eBay, after years of selling on the platform myself. Good luck sourcing!
John-Paul Cody has been an avid online seller for years, across platforms including eBay, Mercari, Craigslist, and more. He has a Bachelor's Degree in Economics from UNC Chapel Hill, and works in data analytics and marketing.