Are you looking for future proof jobs?
Landing a job that has some longevity is important. After all, you don't want to find yourself working in a job that no longer exists – like a telegrapher or lamplighter!
You also need to look for jobs of the future that will make it through an economic downturn.
Recession proof jobs are those that are needed regardless of the state of the world. Learn more about what kinds of jobs to look for in this post!
13. Senior Care Provider
A senior care provider is a person who is responsible for caring for the elderly. This might involve in-home care or care at an assisted living facility, like a nursing home.
You could work as a nurse, cleaner, orderly, cook, or some other support staff member, so the average salary will vary. You may just need a high school diploma and a dose of compassion in order to qualify for one of these jobs.
Although the work can be demanding and at times, emotionally challenging, working in any role related to senior care is a recession-proof move.
Our population isn't getting any younger. Between 2000 and 2050, the number of older adults in the US will increase from 12.5% to a whopping 20% of the overall population.
It's also important to know the differences between working at a startup vs a big company when it comes to the senior car industry.
Average Pay: $27,080 (Bureau of Labor Statistics)
12. Firefighter
Fires happen – and it doesn't matter what kind of state the economy is in.
In fact, fires are more common when buildings are sitting vacant, which is an unfortunate but true reality of an economic downturn.
A study from the National Fire Protection Association in 2017 found that fires peaked in 2008 and declined steadily after that. The link to the famous 2008 recession here can't be ignored!
Therefore, becoming a firefighter is a smart move. You'll stay busy no matter what, regardless of whether you choose to become a firefighter, fire investigator, or fire inspector.
If you're looking for jobs that'll be around in years to come that also have less stress, there are plenty of low stress jobs with no degree as well.
Average Pay: $52,500 (Bureau of Labor Statistics)
11. Funeral Director
It sounds grim, but becoming a funeral director is one of the smartest things you can do if you're worried about ever losing your job.
After all, people are always going to die. It's an inevitable fact of life!
As a funeral director, your job will be to attend to all activities related to funeral services, including handling burials and visitations. You can work for a company or you can manage your own business.
Funeral services are in high demand at all times. Whether you call yourself a funeral service provider, a mortician, or even an undertaker, becoming a funeral director is a smart choice if you want to avoid a pink slip.
Average Pay: $54,100 (Bureau of Labor Statistics)
10.Teacher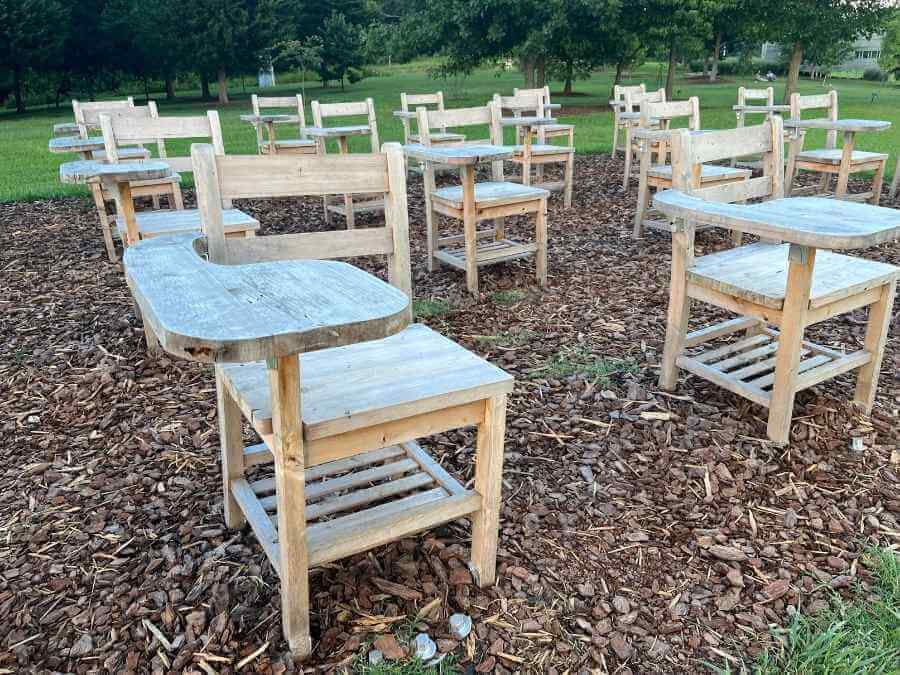 The great thing about being a teacher is that this is a career path you can pursue with just about any kind of background.
Whether you were an English major or a Math major, it's easy to find a secondary teaching job in just about any subject.
In most cases, you'll just need to get an additional teacher's certification to show that you're ready to work in a classroom setting.
All kinds of teachers, including those at the elementary and secondary level, have low unemployment rates because kids always need to be educated.
You can also take comfort in the many jobs for retired teachers, which shows just how valuable this skillet can be.
Even when the economy isn't so great, children still need to be instructed.
Trends on the Rise:

According to the National Center for Education Statistics, there are roughly 3.5 million elementary and secondary teachers working in the United States. That number is expected to drop sharply, however, as members of the aging teaching population retire. There are a third less people enrolled in teacher training programs than there were just a decade ago – meaning there's an excellent chance that you'll find a job if you choose to become a teacher.
Average Pay: $62,870 (Bureau of Labor Statistics)
9. Detective
All kinds of law enforcement positions remain in high demand regardless of the state of the economy. People always need to be protected.
In fact, the same statistics that apply to firefighting hold true for law enforcement as well. When there is an economic downturn, crime rates tend to increase – hence an increased demand for detectives.
As a detective you'll work to investigate crimes and apprehend criminals (as opposed to the work of a regular policeman, whose primary job duty will be to patrol and to prevent crimes before they happen).
Tactics for Success:

To become a detective, you'll need to have a high school diploma. Although some police academies will accept you with just that, earning a college degree in criminology, sociology, or criminal justice is a wise move to get ahead.
Consider pursuing a specialization in your courses (or intern to gain experience in a specific area of interest). This will allow you to be more competitive when it comes to working in certain areas, like gang violence and narcotics, special victims units, forensics, or white collar crime.
Average Pay: $67,290 per year (Bureau of Labor Statistics)
8. Accountant
There are only two things that are certain in life – death and taxes. We already discussed how becoming a funeral director is a smart career move, but so, too, is becoming an accountant (so you can deal with the second part of that infamous quotation!).
As an accountant, you'll use specialized software and other programs to produce financial reports, create budgets, and, of course, file taxes.
During periods of financial stress like recessions, accountants' services are even more in-demand. People need help spending their money wisely, so becoming an accountant is a good move.
Not only that, there are many lucrative side gigs for accountants as well.
Trends on the Rise:

If you're thinking about becoming an accountant, it's a good idea to brush up on your technology skills. Financial data has become increasingly digitized with artificial intelligence and even autonomous robots taking center stage in many key accounting processes. AI can improve productivity by up to 40%, so teaching yourself a bit about finance-related tech is a smart career move that will prepare you for a rock solid future.
Average Pay: $73,560 (Bureau of Labor Statistics)
7. Registered Nurse
All medical professions tend to be in demand, even during times of economic recession.
As a registered nurse, however, you'll be even more in demand because this is a position that can be found in just about every medical setting, from major hospitals to small private practices.
You'll help with all kinds of tasks, including conducting examinations, distributing medication, and administering basic treatments.
There are also numerous high paying side jobs for nurses as well, who want to increase their income even more.
Tactics for Success:

A formal education is necessary for becoming a Registered Nurse, but not just any education will do. Make sure you choose a program that is accredited and will provide you with the clinical training necessary to pass your board exams.
You'll need a license to practice as a Registered Nurse. Check with your city and state for more information about what exactly is needed to obtain licensure (usually, it involves passing exams like the NCLEX-RN and taking certain courses).
Average Pay: $75,330 (Bureau of Labor Statistics)
6. Professor
Although a professor is essentially just a specific type of teacher, it's worth mentioning on this list of recession proof jobs on its own.
That's because, during times of financial stress, many people choose to go back to college. This is frequently seen as a way to increase employment opportunities in a poor job market.
As a professor, you'll work to educate those people, either in a classroom or an online setting. You can teach just about any subject but most professor jobs do require a master's degree at the very least.
Average Pay: $80,560 (Bureau of Labor Statistics)
5. Psychologist
The job of a psychologist is often considered recession-proof because it is so diverse. You can help people care for their own well-being and to overcome personal roadblocks.
Specializing in a specific area of psychological care can be helpful to improve your job prospects (such as child psychology or family and marriage psychology).
Becoming a psychologist is one of the many ways to make money with a psychology degree.
Many insurance companies even cover psychiatric care, so people are often encouraged to invest in treatment from a psychologist even when the economy isn't so great.
Average Pay: $82,180 (Bureau of Labor Statistics)
4. Physical Therapist
Another medical profession to consider for the future is a physical therapist. You'll work with patients who have suffered from illnesses, injuries, or disabilities that make it challenging for them to move.
These professionals are in constant demand because they can help people relieve their chronic pain and regain the ability to re-enter the workforce – something that's crucial in an economic downturn.
Physical therapists are expected to be in even higher demand in the future, as the Baby Boomer population ages and the need for physical therapy continues to grow.
Average Pay: $91,010 (Bureau of Labor Statistics)
3. Software Engineer
Most tech jobs tend to remain in high demand but software engineers are some of the most sought-after as technology advances and computers and related tools become more prevalent.
Not only that, there are lots of high paying side jobs for software engineers if you want to increase your income even more.
As a software engineer, you'll create software programs for private and public use. These might be used in personal computers, tablets, cell phones, and even manufacturing equipment.
Average Pay: $110,140 (Bureau of Labor Statistics)
2. Lawyer
Not all jobs in the legal field are recession proof, but certain legal professions – such as those in bankruptcy, divorce, and criminal defense – will always remain in high demand.
You'll have to invest some time and money to get your degree, of course, but if you are able to choose a specialty like those mentioned above, becoming a lawyer is a great way to make sure you can handle a challenging future.
These days there are even lots of ways to make money in law school.
Average Pay: $126,930 (Bureau of Labor Statistics)
1. Pharmacist
Last but not least is a pharmacist.
Again, this is another health profession that remains in consistently high demand.
The public will always need medication, and since medications are paid for in part by insurance companies, most customers will continue to frequent their local pharmacist even in a recession.
As a pharmacist, your job will be to distribute prescription and over-the-counter medications to customers.
Average Pay: $128,710 (Bureau of Labor Statistics)
Wrapping Up
There are lots of factors to consider when you're trying to decide which job to pursue – how much training is needed, what you will need to major in during college, and how much you will enjoy a job.
One of the most important factors to consider, however, is whether the jobs you selected can withstand trying times – these future proof jobs definitely can!
Rebekah is a writer who covers all things education, business, agriculture, and finance. She owns a small farm business in upstate New York. Her educational credentials include a bachelor's degree in English from St. Lawrence University and a master's in special education from SUNY Plattsburgh.