Roz Gorko didn't always plan to start her own salon. Her family opened a restaurant while she was in highschool, and saw firsthand what it took to start a small business.
After graduating she attended beauty school, and now she runs a successful salon, RG Salon.
If you're looking for the best information on how to start a salon business of your own, Roz has some tips to help you with opening a hair salon successfully.
How do I start a salon business?
Maybe you've already been to beauty school, or you have an artistic eye and you want to make the most of starting a small business.
Perhaps your family members always come to you for a good haircut or a last minute updo for prom, or your friends are starting to tell you that you should dive in and start cutting hair for an income. You're thinking, "it's time to start my own salon!"
Tactic for Success

"Walk your own path!" says Roz. She urges new stylists to hone their unique craft, and stick to a niche. If coloring is your thing, do it often and well. Don't try to be everything to all people, but focus on a specific service you can offer and do it with excellence.
Why Start a Salon
If you want to open a salon of your own, it's vital that you do the research to understand what kind of requirements and preparation are necessary for success.
It's not all cutting and coloring; there are certainly some organizational requirements behind the scenes. Roz has some pros and cons she shares for those considering starting a salon.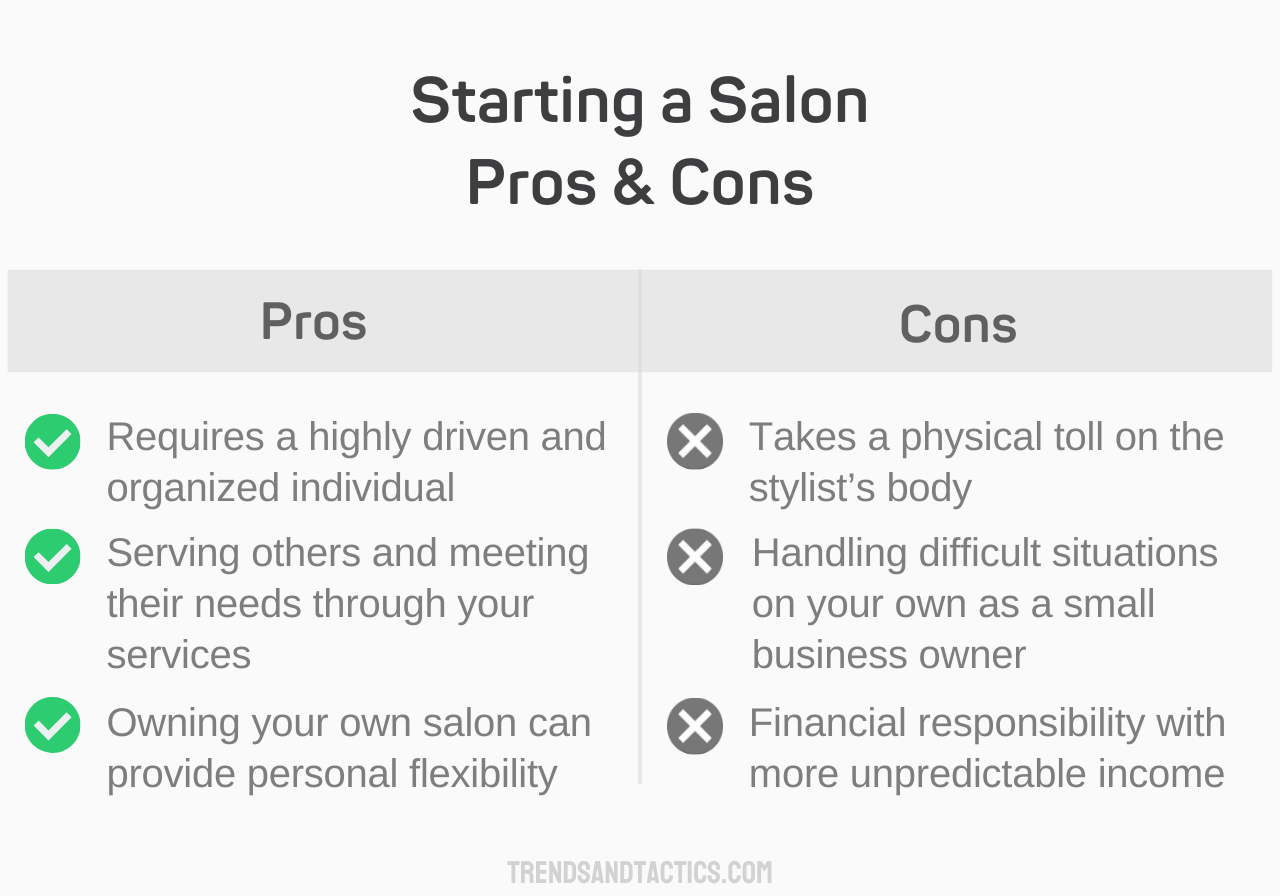 Trend on the Rise

Roz says that the demand for personal care services will probably only continue to grow, making this a future proof job. She gives us this crucial tip: "Heavily consider the ratio of people in your community to the number of stylists. Every single person at some point will need a service from the beauty industry and much of it is on a repetitive basis."
Should I start a salon from home?
Roz lets us in on a little secret: keeping your business life and personal life separate is a challenging but essential part of staying sane as a small business owner (especially if you work from home and are selling locally!)
She says, "So many work from home now after 2020 but I am still a believer that you get better productivity and performance from someone who works in a controlled environment with expectations and directives to meet."
"My home is my refuge and I love that it's not a thoroughfare for a business."
Owning a Home-based Salon
Many salons start inside the business owner's home at least for a time, making it a business that you can start with 10k or less. As a result, this can certainly contribute to a tricky work/life balance.
When working in a startup, it's important to realize the perks and drawbacks of having your workplace so readily available, and Roz gives us several tips to managing a home-based business:
Tips for Owning a Home Salon:
Use a Designated Space – Using a space that's separate from your home can help you wind down in peace at the end of a long day as a salon owner.
Use a Separate Phone – Roz utilizes a landline in her salon to minimize the amount of time she is working when she's off the clock.
Keep Clear Boundaries – If you set your boundaries as a small business owner at the start, you won't be as likely to burnout in the process.
Find Your Niche – Roz encourages that finding your stride as a home stylist means honing your craft instead of trying to keep up with passing fads.
Tactic for Success

Consistency is key. Roz lets us in on some great advice: "There is nothing worse than going into a business and getting (the stylists) best the first time and having each experience after that decline in value or satisfaction. Consistency is very important." Take it from Roz and make sure to give the same high quality services every time.
How to Start a Salon Business Plan
Hard work is worth it. If you're starting your own business, careful planning and preparation can be the difference between a failed startup and a thriving home business.
Roz points out, "It has taken over 25 years of hard work, experience and maturity for me to see the beauty and success in owning a "small" business."
"I presently am at capacity and cannot take new clients. This is a great problem to have."
How did Roz get to this point? How can you make sure your business continues on a healthy path years down the road?
Whether you are trying to create a job that pays over 200k/year or are starting smaller, it is important to make a plan.
Start With Your Goals
Roz tells us that getting her business to this point has involved much trial and error, setbacks during the Pandemic, and difficulties to overcome.
It's certainly daunting to attempt to start your own business, but creating a business plan for your salon is a great place to start.
Make sure to include goals you'd like to reach, timelines in which you'd like to reach these goals, and monetary aspirations these goals might lead to.
Whether you're starting your salon as a sidegig or a full blown operation, a plan for your business will be crucial.
Find a Mentor
During this planning phase, it can be helpful to pick the brain of another successful salon owner in your area, to see what types of goals are attainable and realistic for you as a new salon owner.
You can also brainstorm with this tried and true salon owner to see which niche would be best for your business to settle into.
Trend on the Rise

Roz says that she's noticing an awesome trend in the beauty world. "I love that ladies are embracing the gray! Natural aging and the beauty in it is a trend I hope only propels forwards." If you're starting a salon, make sure to enhance and encourage your clients' natural beauty when it comes to shades of gray.
How to Make a Salon Successful
There isn't one secret to success for a salon that is universally true, but Roz gives us a few tips to help set a new salon up for success.
She recommends that all salon owners obtain necessary licensure and experience to serve their clients well, and that they strive to provide customers with a consistently excellent experience.
Necessary Schooling and Licensure
Any stylist selling their services will need to attend cosmetology school and procure the necessary licensure.
After attending school, getting some experience, and passing the licensure exam for your state, you're ready for business. These essential steps are crucial to the success of your salon.
Some states also require inspections to ensure that your salon is safe for clients. Make sure you research what your state requires.
Hard Work and Consistency
Roz encourages that one of the best ways to ensure that your salon stays afloat is your hard work as a stylist.
She points out that customers will come back to a salon that provides the same excellent service every time.
A stylist's timeliness, consistency, and attention to detail will contribute to the overall success of their business in the long run.
With the necessary schooling and experience, and the principles of consistency and hard work, you'll be on your way to an excellent reputation as a salon owner, as well as a smoothly running small business.
Salon Equipment List
In order to have a fully operational salon, whether you decide to work from your home, travel to clients, or open a brick and mortar storefront, you'll need the right equipment.
Your clients will expect you to serve them with the right tools, so get started now and see if you have the funds available to invest in equipment to set you up for success.
Here's a helpful list of the type of equipment you'll want to consider purchasing to start your salon.
Equipment for your home salon:
Hair Washing Station – Here you'll need a chair, sink, and hair washing products.
Barber Chair – A comfortable and functional barber chair will be essential to your salon operations.
Hair Cutting Tools – An essential part of your salon will be the tools you use to give clients the perfect cut.
Hair Styling Tools – To finish off the perfect cut, you'll have to keep your preferred hair styling tools on hand.
Hair Coloring Products – If your salon will offer coloring services, you'll need the right dyes, toners, and lighteners to get the right tones.
Wrapping Up
After considering the prerequisites to opening your own salon business, it's time to dive in and open your doors to the public.
Take it from Roz, the process of opening a salon as well as the gratification from running one can be extremely rewarding!
Brenna is a finance guru who enjoys writing about entrepreneurial opportunities and personal finance tips. She graduated from Liberty University with a bachelors degree in business and now helps small businesses market their products as a digital marketing consultant.