House hacking is a term that's been gaining popularity in recent years, but what is house hacking?
And more importantly, how can you do it?
What is house hacking?
House hacking is a real estate investing strategy that involves either renting out part of an investment property you own or subletting it to someone else.
It's a way for investors to offset the cost of their mortgage payments and other expenses associated with owning a property.
You can house hack by purchasing a multi unit home (like a duplex, triplex, or fourplex) and living in one unit while renting out the other units.
There are also other ways to house hack beyond purchasing a multi unit home. You can charge to rent rooms in your home, such as through Airbnb or VRBO.
You could look into getting roommates that would effectively offset your monthly mortgage payments by splitting the rent with you.
Another option is to house hack in a different way, such as by renting out your home while you're on vacation or working away from home for an extended period of time.
Trend on the Rise

Converting a garage, attic or basement into a livable space. This is becoming increasingly popular with the rise in urban development, as well as with people looking for ways to save money on rent and boost their income by renting out extra space.
Benefits of House Hacking
House hacking can be a great way to save money on housing costs and generate income.
It's also an excellent way to get your feet wet with real estate investing without having to spend too much money upfront.
Once you own the property, you can often benefit from tax deductions for rental income, rental expenses, and mortgage interest.
This strategy can also help you build equity in the property over time, which can be used as collateral for future investments.
Additionally, house hacking can be a great way to diversify your portfolio and secure your financial future.
Tactic for Success

Have a solid rental agreement in place. Make sure you have an agreement that stipulates the terms of the rental and covers both parties from any potential issues or disputes that could arise. Additionally, make sure you have the right insurance coverage to protect yourself from any potential liability from having tenants.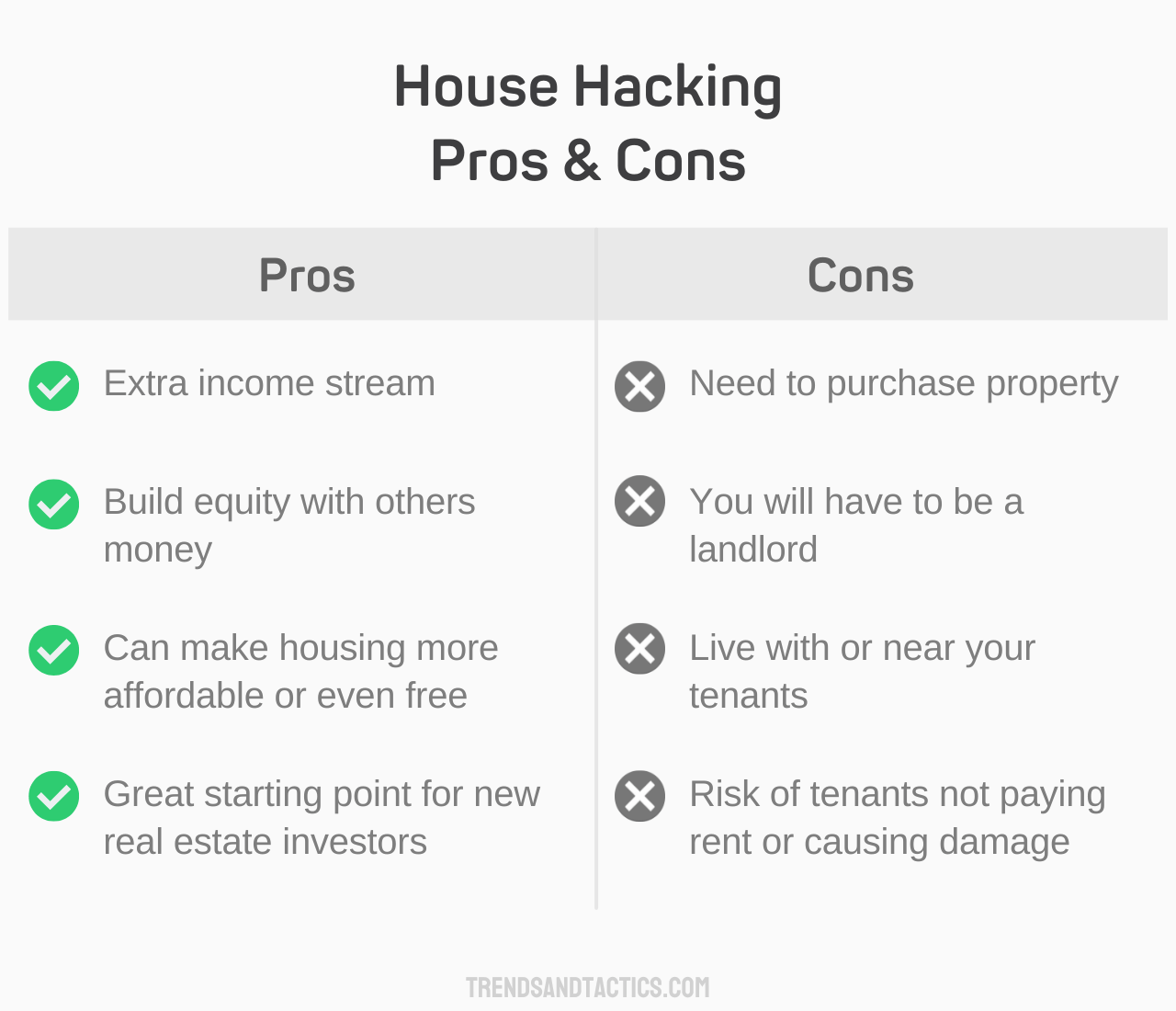 How to Get Started With House Hacking
If you're interested in house hacking, there are a few steps to take before you get started.
Determine if Its Right for You
First, you'll need to determine if house hacking is right for you and your financial goals.
You should consider the risks associated with house hacking as well as the benefits before making a decision.
Research
Second, you'll need to assess whether or not it makes sense financially to buy an investment property with the intention of house hacking.
You'll need to do some research and figure out if it makes more sense to rent or buy in the area you're interested in.
You'll also want to investigate the local rental market and determine what you can reasonably charge for rent.
Check out our guide to finding a house in a new city if you want to expand beyond your current location.
Finances
Third, you should explore financing options.
You'll need to consider how much money you have available for a down payment and if it makes sense to borrow additional funds for the purchase of an investment property.
Additionally, you should investigate financing options that are tailored to house hacking needs, such as FHA loans.
Find Property
Next, you'll need to find an appropriate property for your house hacking strategy.
You should consider the condition of the property and make sure it meets all local zoning and safety requirements.
Once you have found a suitable property, whether it be on Zillow or Redfin, make sure to take the necessary steps to complete the purchase.
Legality
Finally, it's important to understand all of the legal and tax implications associated with house hacking.
In some cases, you may need to obtain special permits or licenses in order to legally rent out parts of your investment property.
Additionally, you'll need to be aware of any applicable federal, state, and local taxes that you may be required to pay.
Different Ways to House Hack:
Multifamily house with long-term renters – If you purchase a duplex, triplex or fourplex and rent out the other units you can live in one unit for free.
Multifamily home with short-term rentals – If you purchase a multifamily home and rent out the other units for short-term rentals like Airbnb, VRBO or booking.com you can earn extra income on your investment.
Rent a room in your house – If you have extra space in your home, you can rent out rooms. You can rent to long-term or short-term tenants.
Rent out storage space – You can rent out your garage or basement for additional storage space for people in your area.
Add a separate unit to your home – You can add an accessory dwelling unit (ADU) to your existing property. This allows you to have a separate living area that can be rented out for extra income.
Convert basement or garage into an apartment – If you have a large basement or garage, you can convert it into an additional living space and rent it out.
Charge rent to have RV or boat on your property – If you have the space, you can rent out a spot on your property for RVs or boats.
Wrapping Up
Overall, house hacking can be a great way to get into real estate investing and start generating income from rental properties.
However, it's important to do your research and understand all of the ins-and-outs before jumping into this strategy.
Tara is a licensed real estate agent in Southwest, FL. She helps buyers and investors find their dream home by educating them about real estate and how they can use it as an investment.