Yugioh cards are extremely popular for trading and playing with: and have created an amazing market for buying them as well.
Unfortunately, many beginners are unaware of where to sell Yugioh cards and which ones are even worth any money.
Whether you're new to the cards or you're a fan who wants to make some extra cash in your spare time, this is a rundown on why you should sell your cards: and the best place to sell Yugioh cards in 2023.
Is it worth selling Yugioh cards?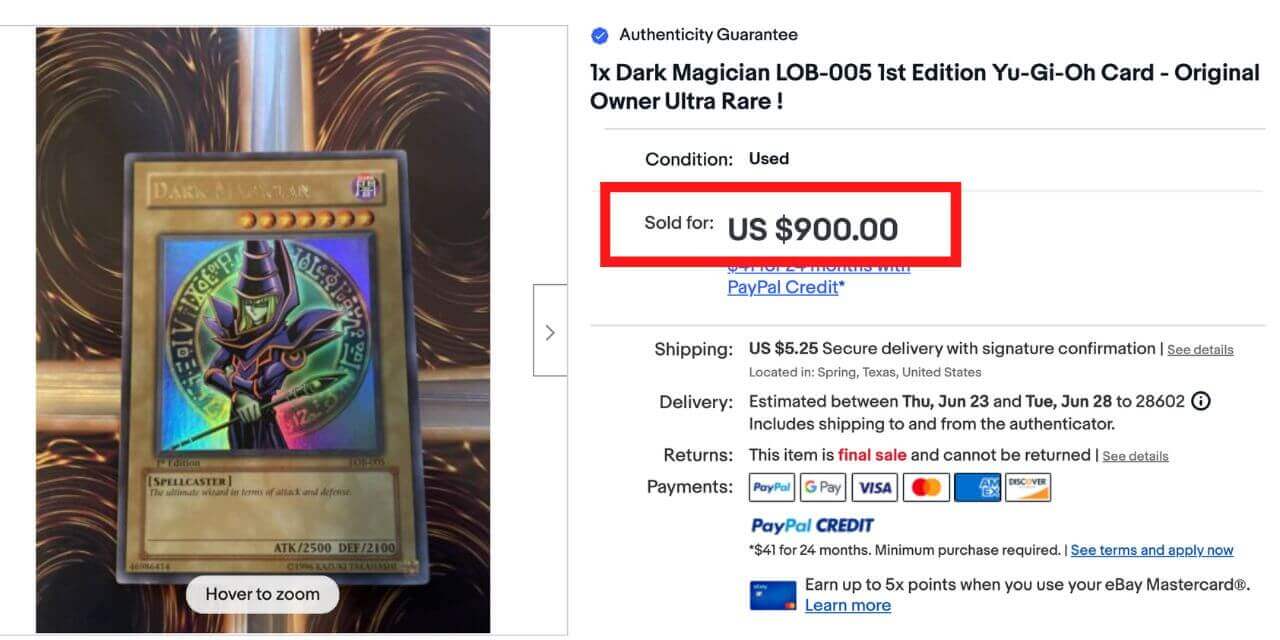 Yugioh cards are celebrating their 20th anniversary in America in 2022, now being considered a piece of nostalgia that's nearly on par with Pokemon cards and baseball cards.
In fact, selling Yugioh cards uses a very similar strategy as selling Pokemon cards and flipping baseball cards.
Fans of the show and card game helped boost these cards during the 2020 collectible renaissance: and lasting effects are still able to be cashed in on in 2022.
Although not every card is worth the $85,000 that you can sell a 2002 LOB Blue-Eyes White Dragon for (one of the best cards to sell for a profit), you can still find plenty of cards worth serious money.
What matters most is learning which cards are valuable, and how cheap you can buy them. With the right background knowledge in place, you can learn how to sell Yugioh cards.
What Yugioh cards are worth money?
In December of 2020, when spirits were at an all-time low due to the pandemic, Konami released 200 rare copies of the spell card United We Stand to random fans who could show they were staying home safe within the USA.
Although these are new cards, their value was immediately recognized: the average card is now selling for $6,500.
The curve for learning how to sell Yugioh cards can vary depending on whether you want to make an auction or sell at a flat price: most sites agree the same cards are the most valuable, but how you sell them can change the amount of money you make.
Many of the most expensive and most sought-after cards in the Yugioh fandom are cards that you won't find by opening a brand new pack of cards.
These are cards that either were printed in the first cycle, were re-released in a super rare form in an older set, or were misprinted.
What Makes a Yugioh Card Worth More
Current Condition – The better condition the card is in, the more valuable it will be.
Rarity of Card – The less common a card is, the more valuable it will become, regardless of how powerful it is.
Misprints en Masse – Misprints created by plates that are then replaced are worth more money.
Language It's In – Japanese Yugioh cards are generally worth more than their English counterparts.
Popularity of Character – There are some cards, like Blue-Eyes White Dragon, that will always have a value higher than others, regardless of what edition it is.
How to Make The Most Selling Yugioh Cards
When you're ready to start into this business, it's important that you work to buy for as cheap as possible so that you can turn around and sell the cards for as much as possible.
This can mean buying in lots or keeping an eye out at garage sales, estate sales, eBay deals where people don't know what they have, and on sites like Craigslist, Facebook Marketplace, and these other sites to sell stuff.
When you sell, price so that you can make a profit, keep an eye on how much you bought a lot for, and make sure that you at least make your money back.
These are some of the top sites and ways to sell your cards to make a fantastic profit.
1. Local Card and Comic Shops
Location's main focus: selling used comics, DVDs, cards, and memorabilia.
Card and comic shops are some of the best places to quickly sell cards if you want to sell them off immediately.
Although these locations don't always pay the best: they know the card's value and understand not to offer you $5 for a $900 card like a pawn shop would.
These will usually turn away more common cards.
Tactic for Success

If selling to local card and comic shops, try to organize your cards by the type, value, and whether it has any damage. Ask if they offer consignment selling if you have a large enough collection.
2. Reddit's r/YGOMarketplace Subforum
Site's main focus: social media turned marketplace specifically for Yugioh cards.
If you're not used to Reddit, this will come with a large learning curve.
This forum allows you to list and buy Yugioh cards and talk to fans of the card game.
If your price is too high, you can expect multiple comments about it, so be careful. This is a tight-knit community.
3. TCGPlayer Marketplace
The site's main focus: is selling collectible cards from multiple interests.
TCGPlayer is one of the most popular marketplaces for buying and selling cards and is well known to every seller.
Although this isn't a great place to buy if you want to sell immediately, this is an awesome place to sell to people who are willing to pay a little more.
A thorough description of the card and its condition can get you far on this site.
4. Comic Conventions
The event's main focus: is gathering points for fans, artists, celebrities, and collectors.
If you love fandom spaces and can talk about Yugioh beyond the cards themselves, it's a good idea to sell them at a comic convention.
Make sure to apply for a merch booth and not an artist alley table, or you could be booted from the convention.
Trend on the Rise

The average convention can have between a thousand to half a million attendees depending on the area and popularity of the convention: this is a great market to sell cards.
5. Etsy
Site's main focus: vintage, used, and collectible items.
Etsy is one of the best-known second-hand selling sites in the world. Surprisingly there are still people wondering should I sell on Etsy.
On Etsy, you can list your cards for whatever prices you want, be as descriptive in the branding and information as you want, and build a shop for yourself.
Unfortunately, Etsy is infamous for how high the fees are, and in April of 2022 recently increased the fees further, causing a week-long strike where sellers closed their stores in protest: the fees are still high.
Trend on the Rise

Etsy has over 82 million active buyers and has been seeing massive growth in the last couple of years since 2020: this is a great place to sell and find customers to sell your cards to.
6. eBay
The site's main focus: is buying and selling used and second-hand items.
eBay is the most popular second-hand marketplace online: and it's an awesome place to sell cards, especially if you follow these top tips on how to sell faster on eBay.
Yugioh cards do really well here since you can be clear on what their quality is and keep track of the price fluctuations.
Avid buyers check here first: but beware, there are some fakes. Make sure to look for reliable sellers with good reviews.
Tactic for Success

Make sure you use the best keywords possible in your title, description, and tags. Don't flood these areas with keywords, but make your best ones front and center in order to attract the right buyers.
7. Card Market
Site's main focus: is selling and buying collectible cards of many types.
This Europe-based card buying and selling site allows you to connect with other fans and sell or buy popular and rare cards.
The market here fluctuates, allowing you to buy a card for low and watch as it gains in value rapidly.
This marketplace thrives on community and connecting with one another, be polite yet firm, and know your cards' values.
8. Game Goblins
Site's main focus: buying and selling collectibles.
The online equivalent of a comic and card shop, Game Goblins buys Yugioh and other collectible cards and resells them for a profit.
Because of this, this isn't a site where you want to sell any high-value cards: you won't get what they're worth.
Game Goblins is an awesome and reputable site, but it's definitely not the most profitable. Sell only cards you want to quickly get rid of.
9. Trading Card Mint
Site's main focus: is buying and selling collectible cards.
This smaller community-based site aims to sell only mint and untouched cards.
This allows buyers to know what to expect when they're making a purchase: but requires your cards to be high quality at all times.
It's vital that if you sell through here, you're able to show the quality of your cards in pictures.
10. Facebook Marketplace
Site's main focus: buying and selling used and second-hand items.
Although FaceBook Marketplace is geared more toward second-hand clothes and furniture, you can still find some awesome customers here.
The main perk of this marketplace is that you can sell to either local customers, who can pick it up in person- or someone from anywhere in the world who can find your store and buy from you, so you can ship it to them.
11. Card Trader
Site's main focus: is selling and buying collectible cards of any kind.
This online marketplace is geared specifically towards selling and buying trading cards, which makes it an ideal space for sellers.
Although it's incredibly laid out and is gaining a lot of popularity, the customer base still has a long way to go.
This is an awesome place to sell if you're willing to wait for a purchase.
Perks of Using Card Trader
The Cart Optimizer – The site has multiple ways to advertise your cards to prospective buyers.
Educated Buyers – The buyers know what they're looking for and may be willing to pay more for it.
Fewer Chances of Fraud – Buyers don't want to risk buying fake cards; this site ensures you're legit.
More Steady Purchases – This site sees steady purchases year-round instead of the ups and downs you'll find on eBay or Facebook Marketplace.
12. Mercari
Site's main focus: second-hand and used item marketplace.
This site is aimed at collectibles and one-of-a-kind items that you wouldn't be able to find anywhere else.
This allows you to sell items for far more than market value, as long as you're able to play on the card's value and authenticity.
Be aware that you shouldn't lie about the quality since this could get your account reported and possibly removed. There are plenty of other Mercari selling tips as well.
13. Starting Your Own Site
Site's main focus: you can make it entirely about your cards.
Creating your own site is a great way to sell cards: but it should only be done once you've gained reliable buyers from other sites.
Not only does this let you skip selling fees that other sites force you to do, but you can create your own pricing without the worries of competitors sitting beside your card.
This is a large step to take, but if you have collectibles of other kinds to sell, it might be worth it.
14. OfferUp
Site's main focus: second hand and used item marketplace.
This used and second-hand item marketplace functions similarly to Craigslist but generally hosts far more collectibles and a more discerning crowd of customers.
Thankfully this allows you to sell locally and meet directly with customers instead of shipping cards.
This can help you get to know the collectors in your area so you can build a return customer base.
15. Poshmark
Site's main focus: second-hand and used item marketplace.
Poshmark allows sellers to list and sell used or second-hand collectibles and antiques.
Because Yugioh cards from the first few generations are now considered vintage, you can find a large selection of people who want to get their hands on them for a touch of nostalgia.
This isn't where you should sell your most valuable cards, but more common cards do well here.
16. Bonanza
Site's main focus: worldwide marketplace.
Similar to eBay, Bonanza is a space that allows you to market yourself as your own shop worldwide.
Lower selling fees and a growing customer base make this an ideal marketplace, but sales can take longer to occur here.
This is a great site to sell through if you're patient or want to build a brand for yourself over time.
Wrapping Up
Whether this is your first venture into selling cards, or you're changing things up from Pokemon cards: you can make a lot of money if you know what you're doing.
Play the game, be careful with where you source your cards and watch the money roll in!
Erin is a business teacher and mother of three. When she's not in the classroom or fulfilling her obligations as an A+ hockey and lacrosse mom, she's working on her latest article.