Streaming has taken the world by storm, and with it has come a push to leave DVDs behind. With so many extra movies, many ask themselves, 'do pawn shops buy DVDs?'.
If they buy them, these shops could be a quick way to make cash on your extra discs.
Will a pawn shop take DVDs? Here's the answer to this question and anything else you need to know on the topic.
Will pawn shops buy DVDs?
In short: yes and no!
Due to the pawn shop business model, some stores will buy them and others won't – it all comes down to shopper demand for DVDs.
This is like any other collectible; if they have enough customers buying DVDs in your area, your pawn shop will be more than willing to buy them from you (and likely advertise this fact).
Follow these tips on selling to a pawn shop for the biggest payout.
Tactic for Success

Check pawn shop sites before you visit to see if they buy DVDs. If they don't have this information on their sites, or they don't have a website, it's generally a good idea to call before you visit so you don't waste a trip.
What does it take to sell a DVD to a pawnshop?
Before you get too far into looking up 'sell DVDs near me,' you'll need to know there's much more in this agreement than exchanging money for the DVD and figuring out how much they pay.
Since most pawn shops work directly with the police, they'll want your personal information and a government-issued photo ID they can make a copy of.
Beyond gathering your personal information, they'll also want to ensure your DVDs are in working order.
Some shops will check for scratches, but others will take out a DVD player and check to make sure the discs work. This can take some time if you bring a huge stack to check.
Not everything about selling a DVD to a pawn shop is bad, though. Whether you're pawning or selling, there are pros and cons to offloading your DVDs to a pawn shop.
Trend on the Rise

Pawn shop owners are seeing a 30% increase in loans and people selling to them in the last six months. Pawn shops will be more aware of the price of items and may be pickier about what they accept.
How much can you pawn DVDs for?
The average pawn shop will sell DVDs between $2 to $20, with an average cost of $5. You may think that sounds good: but they pay far less than this when they buy them from people.
When asked on Reddit, many pawn shop owners said they buy DVDs for an average of fifty cents or a dollar if it's blue-ray. They may pay more if you have box sets, collector editions, or rare older DVDs.
Any defect, even on the case instead of the disc itself, can lower the value.
If you feel like you're getting ripped off or offering too little, you can leave with your discs at any time as long as you haven't signed anything: but many pawn shops stick to the same prices.
If you are looking to make more money at pawn shops, these items can be pawned for $500 or more.
Tactic for Success

Before you take it, please get to know the value of anything you're considering selling to a pawn shop. Although you can expect to gain no more than 70% of its value, some shops may try to drop the price even lower, so you should be aware of your item's value before bringing it in.
What DVDs Are Worth the Most
Although most DVDs aren't worth much: many can be worth a lot! If you have a large collection of movies, it could be a great idea to stop and go through them to see what you have at hand.
Check to see if any of these are in your collection!
Most Valuable DVDs:
WDT: The Chronological Donald – This recently sold on eBay for $210.
The Nightmare Before Christmas Collector's Edition – This recently sold on eBay for $180.
The Midnight Hour (Anchor Bay) – This recently sold on eBay for $150.
Terror (Vinegar Syndrome) – This recently sold on eBay for $140.
Sonic the Hedgehog (1999) – This recently sold on eBay for $132.
When going through your DVD collections, take the time to look up the current selling price for all of them, and keep track, so you know their value.
Knowing the worth of what you have is vital to making a fair sale.
Trend on the Rise

DVDs like Disney's The Jungle Book sell for 700 times their original price. Get to know what's collectible, and you'll make more money.
Where can I sell DVDs instead?
If these pawn shop prices scare you off, you're not alone! Many people will take these low prices personally or get angry about how they initially paid $20 for the DVD less than two or three years ago.
You don't have to accept fifty cents for a DVD: these are some other options.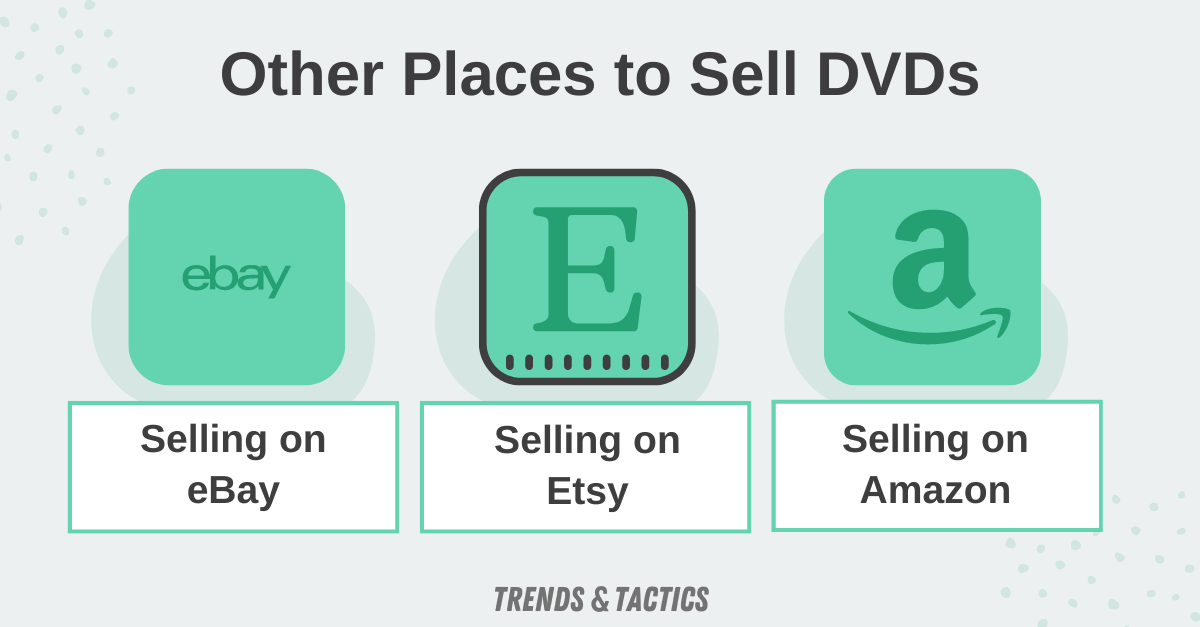 Other Places to Sell DVDs:
Selling on eBay – The top place to sell used and new DVDs for a profit.
Selling on Decluttr – Although this has a smaller customer base, DVDs generally sell for more.
Selling on Etsy – If you have collectible or retro movie DVDs, you'll be able to sell them on Etsy.
Selling on Amazon – If you have a large catalog or run a business, Amazon could be your best choice.
If you're trying to make extra money, these sites generally allow you to get an average of $5 to $10, but they take up to a week to sell instead of how instantly you can sell to a pawn shop.
Wrapping Up
Although most people stream to watch movies: DVDs aren't completely useless! Check if you have any worth money, and consider selling them soon.
Erin is a business teacher and mother of three. When she's not in the classroom or fulfilling her obligations as an A+ hockey and lacrosse mom, she's working on her latest article.