Every aspiring artist dreams of the day they can make money from music. Monetizing your music on SoundCloud can make that dream come true.
Many high-profile musicians, like Billie Eilish and Post Malone, got their start on SoundCloud. It's not difficult to get started, but you do need to know which approaches work best.
We asked alternative hip-hop artist Mike Sb to share his best tips on how to make money on SoundCloud.
Can you make money on SoundCloud?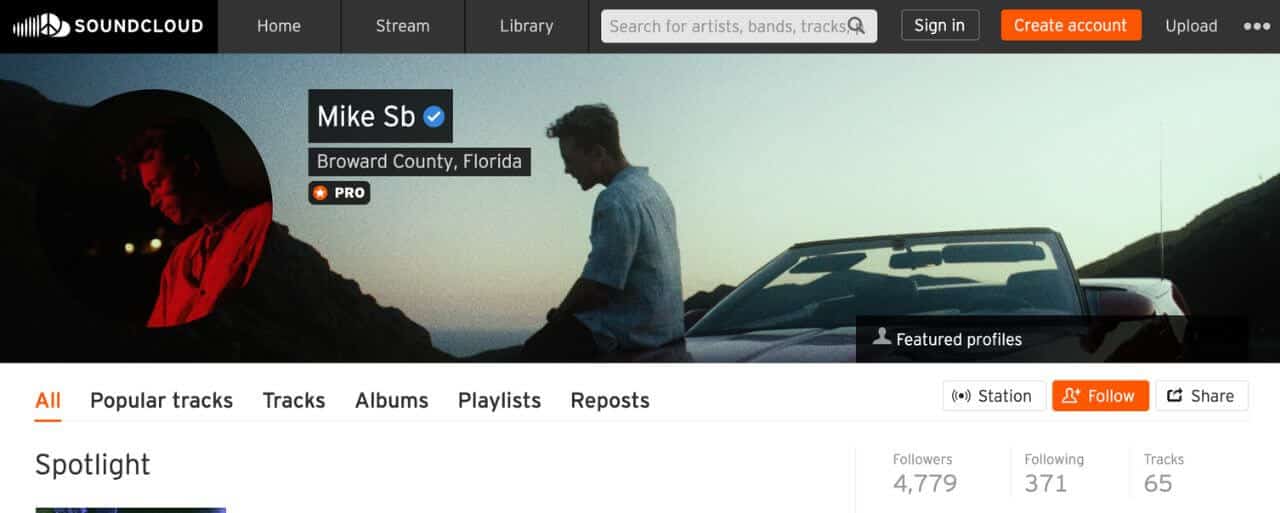 SoundCloud is one of the leading online music platforms. It has over 300 million tracks available for streaming in 190 countries from 30 million creators.
Anybody can create an account on SoundCloud and start uploading their music.
But is it possible for fledgling artists to make money with music online using SoundCloud? "Yes, it is," said Mike Sb.
This is just one way to make money with art skills online.
He explained that SoundCloud offers monetization programs that allow artists to get paid for doing what they love.
These monetization features include SoundCloud Premier, Repost by SoundCloud, and Promote on SoundCloud.
Monetizing your music on SoundCloud requires artists to subscribe to SoundCloud's Pro Unlimited service.
That means you can't make money from SoundCloud without paying a monthly fee. The current Pro Unlimited membership fee starts at $12 per month.
How does monetization on SoundCloud work
After subscribing, you get access to SoundCloud Premier, the platform's primary monetization program. The Premier program pays artists every time someone in an eligible country streams their music.
In April 2021, SoundCloud launched the Fan-powered Royalties program for Premier. Under this model, revenue from streams gets distributed directly to the artists fans listen to.
As a result, independent artists can now make more money from SoundCloud than before.
Digital artists can make money too by teaming up with musicians and creating cover art.
Repost by SoundCloud is a distribution program that artists can sign up for $30 per year. SoundCloud will distribute music from enrolled artists to 25 online stores, including Spotify, Apple Music, and TikTok.
The Repost program has fairly generous payouts as it gives artists an 80% cut of all monetization revenue.
SoundCloud may also invite rising artists to its Repost Select Program.
Musicians chosen for the Select program get additional support from SoundCloud experts and primary placement in promotional programs.
The goal is to help upcoming artists break into the larger music industry.
Promote on SoundCloud isn't a monetization program per se, but it gives artists a chance to get more exposure for their music within SoundCloud. As a result, it can help you make more money.
This model is similar to how TikTokers make money and how influencers make money throughout the different social platforms.
Do you get paid for SoundCloud streams?
SoundCloud will pay you for every monetization-eligible stream on your songs. But not every play will earn you money.
(Mike Sb)
You can only make money from streams that also make money for SoundCloud.
First, the listener must be located in a country that's eligible for SoundCloud monetization. Second, only streams containing an ad can generate income.
Furthermore, some listeners might use ad-blocking software that prevents them from hearing or seeing ads during SoundCloud streams.
As a result, there might be a difference in the number of total plays and the number of plays you got paid for.
If you want to take a chance and potentially make more money for your music, you could look at these ways to make money in the metaverse.
Tactic for Success

"What really counts is how you present yourself as an artist," said Mike Sb. Invest in good recording gear to make sure your songs have high audio quality and use eye-catching press photos and cover art to intrigue listeners. "That's what really sells it in my eyes," Mike Sb added.
SoundCloud Monetization Requirements
SoundCloud has fairly strict requirements for artists who want to enroll in their monetization programs. In order to be eligible for SoundCloud Premier, you must:
Meet the Age Requirement – You have to be 18 (or the age of majority in your country) to monetize your music.
Create Original Music – You have to own 100% of your music rights. SoundCloud doesn't allow monetizing mixes or podcasts.
Have Zero Copyright Strikes – Any copyright notices or takedowns bar you from monetization.
Be a SoundCloud Pro Subscriber – Users with free accounts can't enroll in monetization programs.
Have 500 Eligible StreamsStream in the Past Month – Only streams from eligible countries can create income.
Have Human Listeners – Streams from automated bots don't count towards monetization.
How much does SoundCloud pay?
SoundCloud doesn't release exact figures on how much it pays users per stream. The amount of money you make also depends on where your listeners live.
However, on average, one stream on SoundCloud will earn you between $0.0025 to $0.004.
This means that 1,000 streams of SoundCloud will make $2.50 to $4. But there's also SoundCloud's cut, which in the Premier program stands at 45%.
You still get to take home the majority of your income.
Mike Sb also noted that if you have a music distribution deal with a record company or other music agency, they may also take their cut. Independent artists can avoid this expense, though.
So, let's say you got 100,000 streams on SoundCloud. At a minimum, that would earn you $250.
After SoundCloud's share, you will bring home at least $137.50. That's more per play than what you'd make on Spotify, for example.
Trend on the Rise

SoundCloud's new Fan-Powered Royalties program can increase independent artist income by up to 500%. Previously, SoundCloud placed all streaming and advertising revenue into one pool and distributed it among artists based on total streams. Now, each artist's revenue is based on the actual number of times fans listen to their music.
How to get more listeners On SoundCloud?
The more people listen to your music on SoundCloud, the more money you make.
As such, it's important to maximize your music's exposure to get as many listeners as possible. Mike Sb gave his advice to new artists on how to promote their music:
Talk to Music Fans – Use every social media platform to connect with your listeners. Look up artists who make similar music and let their fans know about your music as well.
Find Yourself as an Artist – Every musician is influenced by others, but it's important to find your own style and voice to stand out from the crowd.
Release New Music Consistently – Don't get discouraged if your stream numbers and revenue are low in the beginning. Keep working on your music to give the fans what they love.
Build Your Brand – Never stop talking about your music! Use guerrilla marketing — low-cost unconventional publicity tactics — to make a name for yourself.
Tactic for Success

Mike Sb advised new artists to avoid fake paid promotions, like services that give you 10,000 streams for $5. These services can take a big bite out of your SoundCloud income. They might also use bots to stream the music, which won't give you any stream revenue.
Can I sell my music on SoundCloud?
In 2021, revenues from paid subscription streaming grew by 21.9% to $12.3 billion. This represents nearly half of the entire global $25.9 billion recorded music industry.
There's plenty of money in streaming music. But Mike Sb cautioned new artists to not rely entirely on it.
"SoundCloud is only a piece of the pie. Focus on the bigger picture. Learn where money is made in music, like the copyrights and the rights owners, and then expand on that," he explained.
One effective way for new artists to boost or supplement their SoundCloud income is to sell their music. Although SoundCloud doesn't have its own music store, it allows artists to add buy links to their tracks.
Many artists put their songs up on storefronts such as Sellfy or Bandcamp.
Using these services also means you don't have to share the revenue with SoundCloud — although the store might take their own cut.
This arrangement benefits both artists and fans. The artist gets additional income, while fans can download the songs for themselves in higher quality.
Trend on the Rise

On the first Friday of every month, Bandcamp waives all of its own fees to direct more money to musicians. Artists have made more than $73 million during these promotional days. Including buy links can give your SoundCloud income a huge boost, especially if you promote these kinds of events on social media.
Wrapping Up
"I've had amazing experiences with SoundCloud over the past years — it helped me build my brand from the ground up when I was first starting to release music," concluded Mike Sb.
SoundCloud might not turn you into a superstar overnight, but with persistence and good planning, it can help you start earning money from your music while you build up your fan base.
Ile Kauppila is a trained journalist and freelance writer covering a wide variety of topics, from general business to 3D printing, motorcycle travel, and coffee drinks. He's written for multiple internationally published business magazines and holds an MA degree in multimedia journalism.