Apple watches aren't for everyone.
After a few months of owning one, I decided to sell my Apple Watch for a few hundred bucks.
Today, I'll share where to sell apple watches for top dollar, and how you should prepare yours before selling.
How to Prep Your Apple Watch for Sale
How to sell an apple watch starts with a full reset.
In other words, wipe any and all watch data, the correct way. If you have a cellular version like I did, we'll need to wipe that too.
But how do you unpair an Apple Watch?
To wipe all the data from your watch and unpair it from your phone, follow these steps: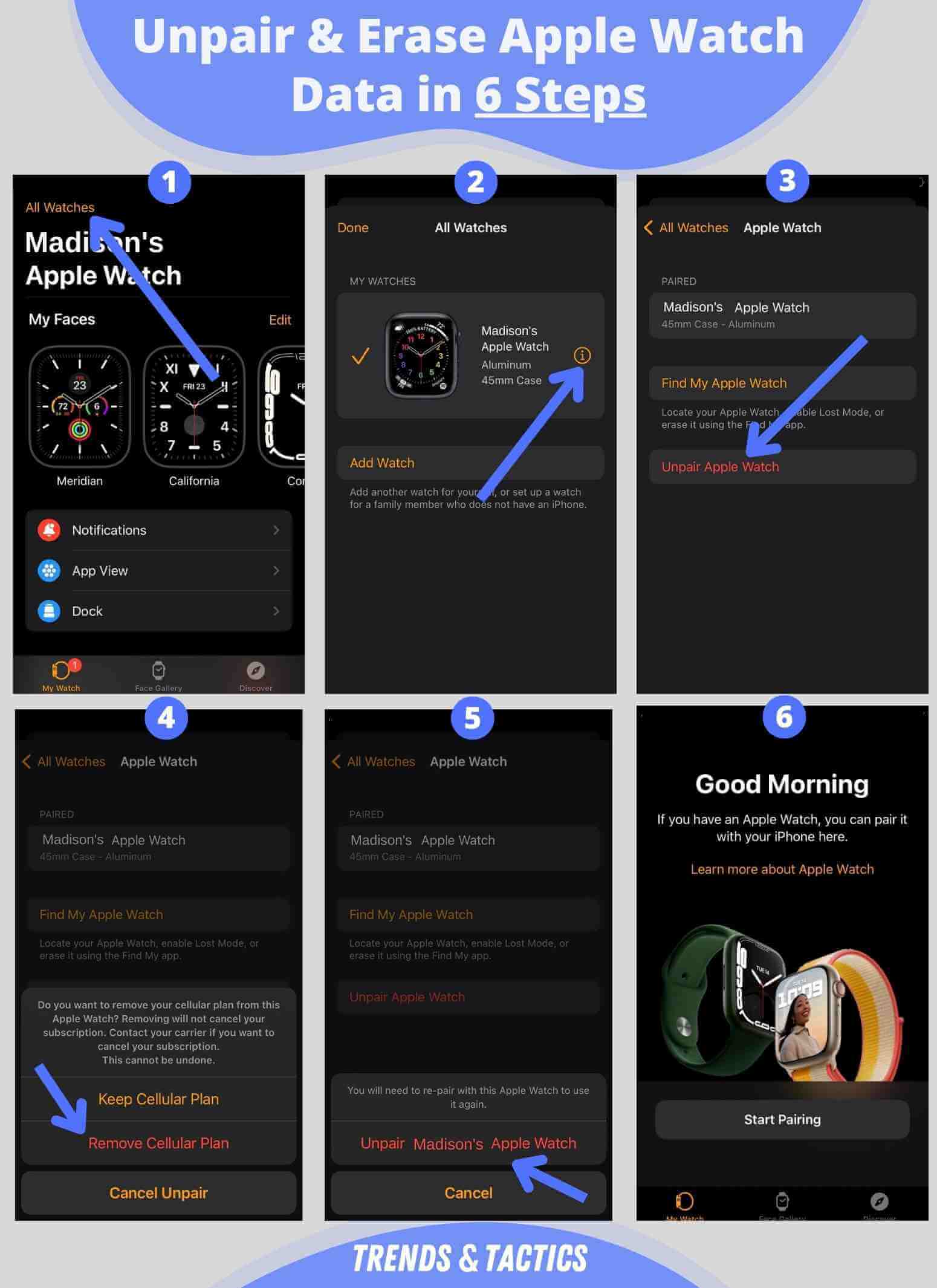 open the Apple Watch app on your phone
Click 'All Watches' in the top left corner
Here you'll see all your connected Apple Watches. Click the info icon next to the watch you plan to sell
Select 'Unpair Apple Watch'
If you have a cellular Apple Watch, it'll ask if you want to remove your cellular plan. Note: this only partially removes the Apple Watch from your cellular plan, you still need to call your cellular company to confirm its removal.
It'll then ask you confirm you want to complete the unpair process by saying 'Unpair [Name] Apple Watch'
After clicking the confirmation, the reset process will take 5-15 minutes.
You'll know the process is complete when your Apple Watch says 'Bring iPhone near Apple Watch.'
Now your Apple Watch is fully erased, and won't receive any texts/calls from your phone anymore.
Next, we'll explore the different ways to sell your Apple Watch with both online and local options.
Where to Sell Apple Watch for Most Money
The best place to sell an Apple Watch for the most money is an online marketplace like eBay, Mercari, or Craigslist, which allows you to sell directly to a buyer.
Places like cellular stores, pawn shops, and big box stores (Apple, Best Buy, etc) will offer you 20-30% less than you'd get from an online marketplace since they'll need extra margin to resell the watch to the end buyer.
So, if you want to get the most money possible for your Apple Watch, you should sell directly to the end buyer, and not a reseller.
In my case, I sold my Apple Watch locally (more on which method below), because I wanted an instant sale.
The tradeoff to getting an instant sale though, is you don't get top dollar for the watch.
Tactic for Success:

Including extras is an easy way to increase your payout amount. This includes things like the watch charger, original box, and extra watch bands. Adding these items to your listings on marketplaces can easily add an extra $50-$75 to your sale price.
Where to Sell Apple Watch Locally (5 Ways)
There are a bunch of great ways to sell an Apple Watch locally.
In fact, that's what I did when I was ready to sell, because it was faster.
1. Cellular Store
These days cellular stores (AT&T, Verizon, T-Mobile, etc) sell a lot more than phones.
Most sell tablets, computers, and smart watches.
So if you want a no-hassle way to trade in your Apple Watch, this is a great option to consider.
One downside though, they'll give you 30% less than what you could get selling directly to the end buyer.
So in my case, they gave me $174 for my watch, when I could have sold it on eBay for $245 (which is after fees and shipping).
2. Selling App for Local Purchase
Most popular selling apps today have the capability to sell locally so you can skip the shipping process.
Additionally these platforms will let you get max value out of your Apple Watch sale, since you are selling directly to the end buyer.
You can sell locally on Mercari, eBay or OfferUp.
If you don't have an account on any of these platforms, Mercari is what I recommend picking.
Mercari offers a streamlined listing process plus you can sell locally without meeting anyone with their Uber pick up feature.
3. Garage Sale
More and more people are getting into garage sale shopping.
Not only do you find amazing deals, but yard sale hosts can liquidate hundreds of items in a day.
If you aren't planning a garage sale yourself anytime soon, you could also partner up with someone who is to sell your watch.
Make sure to advertise the Apple Watch in your garage sale listing though, because high end electronics are one of the most sought after items for yard sale shoppers.
4. Pawn Shops
Selling to pawn shops could be worth considering if you want to get a little more for your watch than what you'll get from a cellular store.
How is that possible?
The amount pawn shops pay depends on a few factors, including: their current stock levels of a particular product in their store, quality of the individual pawn shop, and your ability to negotiate.
So, if you are a skilled negotiator, you can probably eke out a few more dollars on your Apple Watch trade in from a pawn shop.
5. Craigslist
Despite its age-old appearance, selling on Craigslist is still alive and well.
A benefit to selling on Craigslist vs the seller apps mentioned above is there's virtually no account creation process on Craigslist.
This is good in that it's faster to get your item listed, but also means buyers and sellers identities are unknown, which can hurt shopper confidence for Craigslist buyers.
Still there are millions of loyal Craigslist users, making it a platform worth considering when selling your Apple Watch locally.
Where to Sell Apple Watch Online (3 Ways)
1. eBay
Although you can get more money for your Apple Watch selling on eBay, you'll need to take pictures, list it, answer any shopper questions, and ship it.
If you don't mind spending extra time on those steps, you can get a great payout for your watch.

In the last 90 days, over 9,600 Apple Watches were sold on eBay alone!
2. Apple Store
Unsurprisingly, Apple does have a trade-in program for their watches.
They are willing to buy watches from 5 generations ago, with a max payout of $150.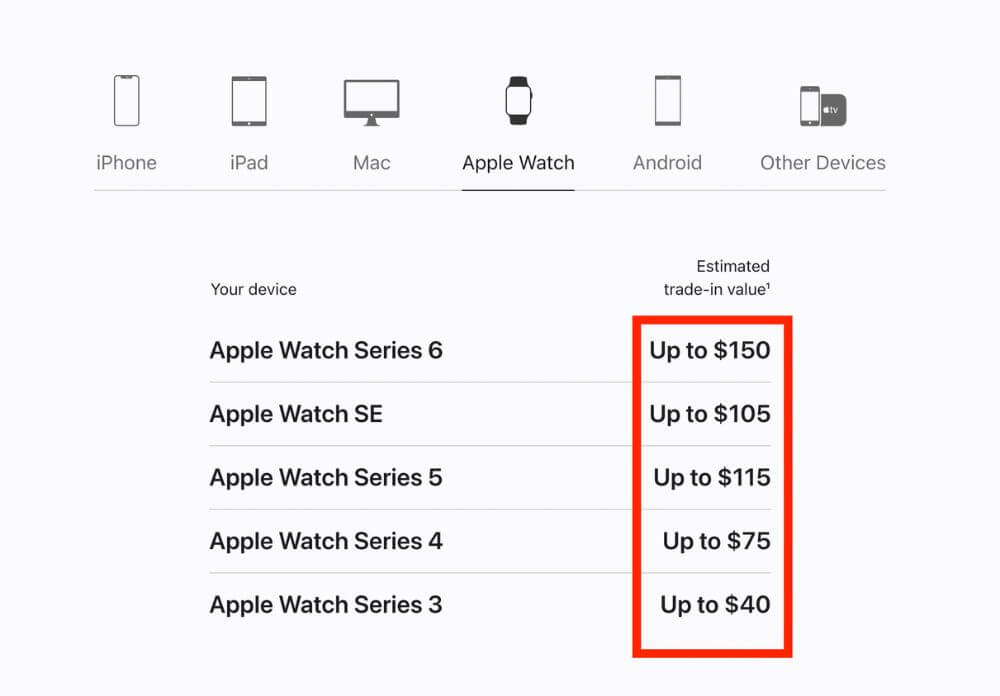 I was surprised to see Apple does not offer a buyback program for their current generation Apple Watch, which could be a problem for some sellers.
3. Electronics Trade in Site
Finally, electronics trade in sites like Decluttr are growing in popularity among watch sellers as well.
Their offers are usually 30% below what you'd get selling to the end buyer directly, but could be worth considering if you want to avoid dealing with shopper questions.
Wrapping Up
Knowing where to sell my Apple Watch felt overwhelming at first.
Hopefully this guide makes it easier for you to sell your apple watch the right way for top dollar.
John-Paul Cody has been an avid online seller for years, across platforms including eBay, Mercari, Craigslist, and more. He has a Bachelor's Degree in Economics from UNC Chapel Hill, and works in data analytics and marketing.