Alyssa Grunza is a home baker turned bakery owner with an unlikely story.
Her dog tragically passed in 2017, and she baked some intricate cupcakes for her vet thanking them for their help during a tough time.
Now, after starting a baking business, she spends the majority of her time taking orders from customers and coming up with incredible creations.
She loves to share how to start a baking business with others, and give tricks she's learned along the way.
How do I start a home based bakery business?
Ready to start your own bakery business?
Starting any business isn't a walk in the park, but baking in particular can be both a therapeutic art form as well as a lucrative side hustle or full time gig.
Starting as a home-based business has allowed Alyssa to save on costs and build up her customer base over time.
If you want to know where to start, you've come to the right place.
Start With Enjoying Your Craft
Alyssa remembers her first days as a baker well: "My business came to be as an accident really. In 2017, my dog Milo got hit and killed by a mail truck right in front of my house."
"My veterinarian and her staff were amazing and so compassionate. I wanted to thank them, so I made cupcakes decorated as different types of dogs, and I had so much fun doing it."
"I finally found what I was meant to do. My passion behind getting into the baking and decorating industry was the complete freedom to create and be artistic in a way some people wouldn't think of."
If you're already baking and enjoying it, your next step might be to start a home bakery. It was for Alyssa!
Tactic for Success

In Alyssa's own words, "Time management is key!" She says stress and rushing will affect your work more than you know, causing poor results and unhappy customers. Allow ample time for yourself to complete each bake.
Considerations Before Starting Your Bakery
Not everyone bakes for fun and then decides to start a home bakery business.
It's definitely wise to recognize if you have a knack for baking, and learn some techniques that will help you create quality and beautiful bakes.
Practice baking for friends and family, learn new techniques on YouTube, and get feedback from your first customers. This will help you recognize if the baking route is right for you.
Starting a candle business from home is another soothing art form that can turn into a respectable business.
With every industry there are pros and cons, and Alyssa has picked up some helpful pros and cons to starting a bakery that would be helpful to know as you start your bakery.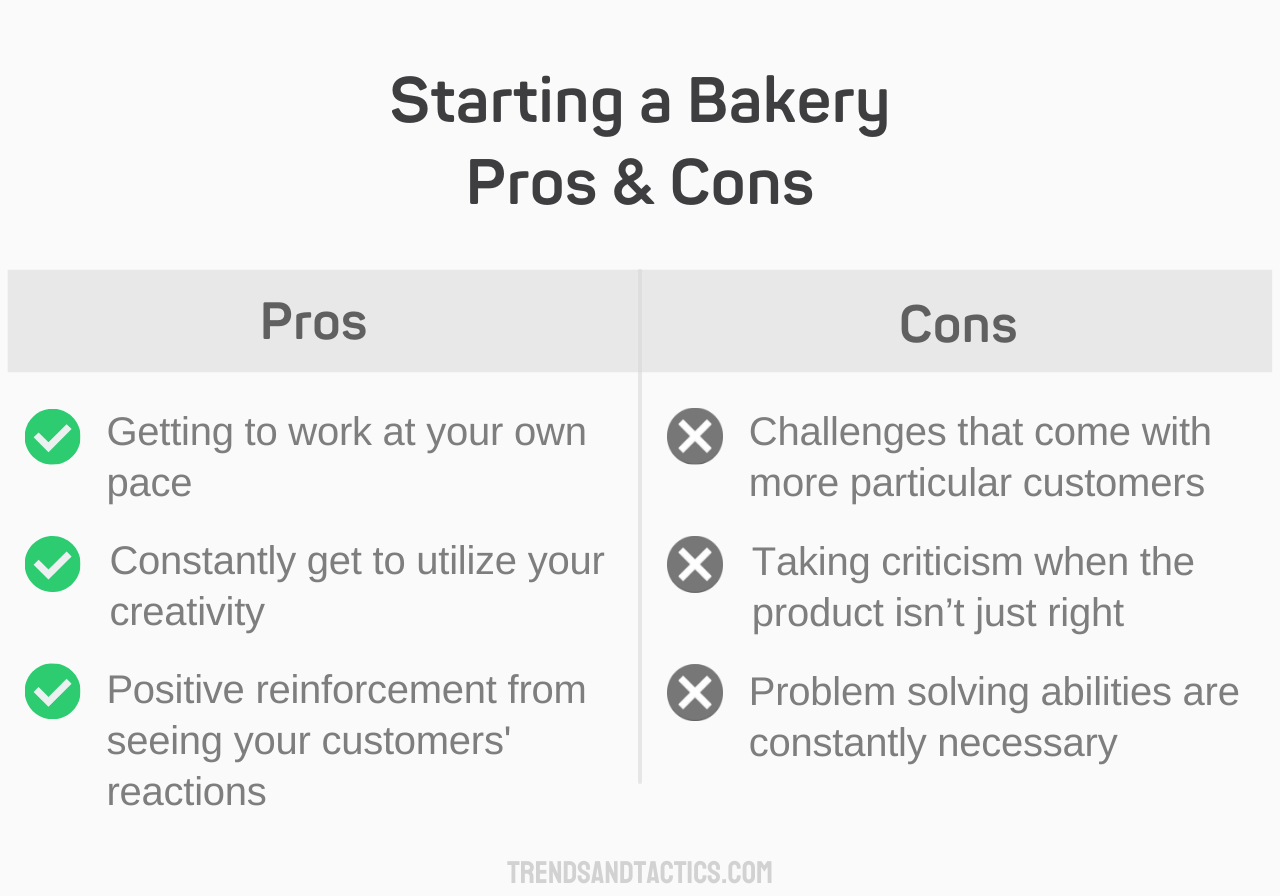 Trend on the Rise

Alyssa has noticed that simplicity is a current trend in the baking world. Bakers and customers are drawn to a less gaudy decoration style, and Alyssa also notes that "people love a simple, clean cake embellished with flowers." If you're looking to keep up with baking trends, try marketing a simple and classy style.
Biggest Mistakes When Opening a Bakery
Speaking of simplicity, when you're first starting a new business it's best to look to those who went before you.
Avoid making common mistakes and check out this list of common mistakes when opening a new bakery.
Mistakes to Avoid:
Under Marketing – To avoid a lack of customers, you'll need to market your business with word of mouth, online, and any other advertising you think would be effective in your area.
Lack of Care – Alyssa says it's essential to listen to exactly what the customer is looking for to deliver them the best product possible.
Inadequate Time – Another tip Alyssa gives bakers is to allow ample time for each bake. This way the product isn't rushed and messy.
Burning Out– Baking is a form of art. If the artist isn't baking things they enjoy, they will inevitably burn out and lose the joy they once had in their business. This makes it a great job for former chefs who have a love for food.
Failing to Obtain Proper Licensure– It's important to check out your state's required licensure, inspections, and insurance to sell food from your home.
If you stay away from these pitfalls, you'll be well on your way to opening a successful home bakery.
How to Start an Online Bakery
Maybe you're interested in a more virtual experience for your customers.
Since social media and website creation can connect customers and makers from all over the world, there's a possibility that you could solely sell your bakes online from ecommerce websites.
The trick here is packaging and marketing.
Packaging
With any bake you create, it's important that it makes it to your customer in one piece. If your talent lies in making smaller items that travel well, an online bakery might be the route for you.
Make sure to carefully package your bakes to keep them fresh, and try testing different postal services to see which one will fit your needs best.
Marketing
If you don't market your products well online, you won't have any customers to purchase them. Several different methods of marketing can draw customers to your bakes.
Marketing Options for an Online Bakery:
Social Media – Places like Instagram and TikTok can help you market your products for free. Alyssa primarily uses Facebook to market her bakes!
Website/SEO Traffic – For legitimacy, you'll want to create a website that represents your business well. You can write different posts and blogs that cater to popular searches and boost your SEO status.
Paid Advertising – Any intricate designs you tackle will require tools to look professional.
Trend on the Rise

The baking arena is getting more competitive. Bakers around the world show off their talents on social media, and more competition gives consumers more choices. Alyssa has noticed this trend and says it intimidated her at first. If you're new to selling your baked goods, set your business apart by honing your niche.
How much would it cost to start a baking business?
One of the biggest considerations to starting a new business is cost.
Most entrepreneurs wonder how many costs they'll incur when first starting out.
Tactic for Success

Alyssa encourages the potential baker turned entrepreneur to stay organized. "Keep a log book of every order you get, including details that are important so that you can make sure nothing gets mixed up." Staying on top of your orders and inventory can make the difference between a success and a failure when baking for income.
Here are a few costs to consider when starting a bakery:
Stocked Inventory – This will include baking ingredients and packaging/boxing for items.
Marketing Materials – If you'd like to brand your business and provide labels, business cards, and online marketing advertising, you'll need to budget for this expense.
Tools for Decorating – Any intricate designs you tackle will require tools to look professional.
Baking Equipment – It's wise to invest in quality baking equipment like an electric mixer to maximize your efficiency when baking.
Licensing and Insurance– You'll need to protect your business legally and physically with business insurance as well as licensing or inspections required in your state to conduct business and sell your products.
Baking license for at home business
Before you take the leap and start selling your product, you need to be sure you have the proper licenses in place.
There can be hefty fees for those who don't obtain a license before selling food made in their residential kitchen!
Federal Regulations
First of all, you'll need to reference the federal regulations set by the food and drug administration for products made for human consumption (when you're selling these products).
Carefully adhere to the requirements and you'll be good to go at the federal level. Packaging, labeling and ingredients are all items you should check on before beginning your baking journey.
State Regulations
State regulations vary by state, so check on your specific state's requirements to see if you'll need a license or a kitchen inspection to begin safely making and selling your bakes.
The easiest way to research these stipulations is simply to google your state and "cottage food" meaning foods baked in a residential home meant for selling.
It might seem tedious, but taking these business details into consideration before starting your bakery can be the difference between a highly successful side hustle and a costly lawsuit for undercooked or improperly packaged food.
They might seem boring, but they are certainly important.
Wrapping Up
Alyssa has braved the baking world for 5 years now, and she's definitely picked up a few helpful tips along the way.
If you're looking to start a successful baking business, take these pointers into account and you won't be sorry!
Brenna is a finance guru who enjoys writing about entrepreneurial opportunities and personal finance tips. She graduated from Liberty University with a bachelors degree in business and now helps small businesses market their products as a digital marketing consultant.