KellyLynn Mulcahy never thought she'd own a highly successful cleaning business based out of Minneapolis, but she's been running her company, Rise Up Cleaning, for five years now.
Starting a janitorial cleaning business wasn't always on her list of "to-do's," but she's happy to share with us her tips on how to start a janitorial business from scratch.
Is a janitorial business profitable?
In the end, businesses and individuals need cleaners and they're willing to pay for these services.
It's certainly a growing market, and with the right tips you can definitely make a profit with this recession proof job.
KellyLynn says it took one year for her business to become profitable, and make back the investments she had made to get it off the ground. She remembers back to starting Rise Up Cleaners.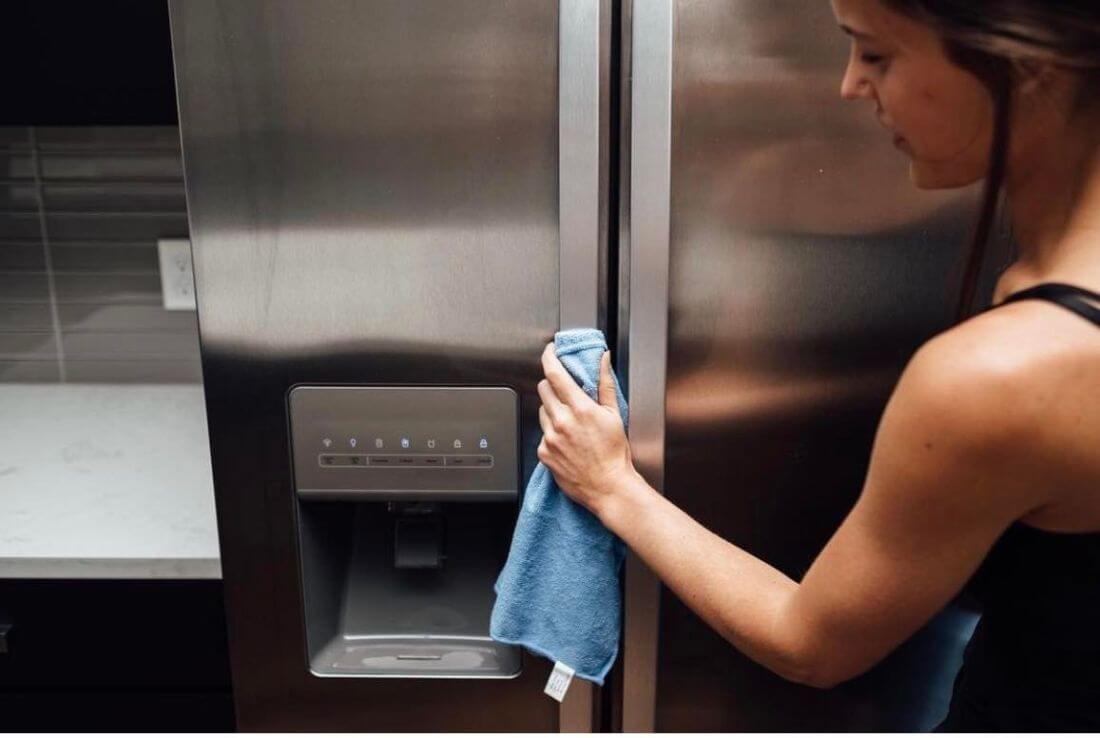 Credit: Rise Up Cleaning
KellyLynn's Story
"I took a job as a maid post-grad, cleaning empty apartments, making $8 an hour so I could pay my rent. While I was there, I worked with many single moms who had to work multiple jobs to make ends meet."
"Within 2 weeks, I learned the value of an opportunity, a dollar, and how to respect people from every walk of life. I also learned that no job is beneath me."
In the end, KellyLynn grew in both knowledge and passion for the cleaning industry, and this inspired her to make her business profitable both for her employees and herself.
She's been successful in growing a janitorial business in the past few years, and it's an inspiring story of an unexpected turn of events that led her to small business ownership.
She points out several reasons one might consider starting a cleaning business of their own, as well as some items that contribute to the challenges of owning a cleaning business:

Tactic for Success

One important aspect to owning a cleaning company is learning to do the cleaning yourself. KellyLynn urges, "Put your head down and do the work. Start doing the cleaning so you know what your team will be doing so you can be a better leader."
What are the 6 steps to starting a cleaning business?
Before you go ahead and start your own cleaning business, you'll need a plan of action. Here are several steps that might be helpful to consider before you begin cleaning.
1. Choose a target market
Who do you want to clean for? At the start of your business, you might be available to anyone and everyone to clean, but you'll want to choose a target market that you can excel at providing great service to.
You can follow these tips on selling locally to decide where to best market your service.
2. Purchase supplies
Next, you'll want to invest in the right cleaning supplies. Consider how many jobs you want to complete per week, and purchase equipment and supplies accordingly.
3. Consider legalities
Before hiring any employees or completing any jobs, you'll want to secure insurance and any licenses required by your state to start your own cleaning company.
Check your specific state's requirements before you start doing business.
4. Advertise and market
Now, you'll choose a method of marketing to get the word out. Maybe it's solely online, maybe only word of mouth. Whatever you do, let your contacts know that you are open for business and ready to clean!
5. Hire employees
If you have a plethora of customers waiting to be served when you start your company, it might be time to hire some help. You'll want to enlist, train, and employ quality cleaners.
6. Adjust your plan as needed
Now that you have your business set up, you'll adjust your plan as needed. Try marketing to a different audience, hiring more employees based on need, and offering additional services to customers as your business grows.
This can also be a great business to start with $10,000 or less.
Trend on the Rise

Within the cleaning industry, KellyLynn says it's common to focus solely on general cleaning. One function to set apart your new cleaning business could be to differentiate your type of cleaning like KellyLynn did. She chose to dedicate her company to cleaning turnover residences (when tenants or owners are moving).
How to Start a Cleaning Business With No Money
KellyLynn remembers starting her cleaning business with just a laptop, an idea, and a few vacuums.
She started from nothing, and 5 years later has a successful business and steady clientele.
The great news about starting a cleaning business is that you can do it with little to no upfront investment.
Most of your businesses success will be dependent on your own hard work and attention to detail.
KellyLynn points out a few challenges and a tip for those getting started with cleaning:
"It's physically, mentally, emotionally, and spiritually challenging. It's a lonely job so stay connected to your family and friends even if they don't support you."
Tactic for Success

Hone in on your target market and advertise away! KellyLynn encourages startup owners to market to their preferred audience, and to choose marketing methods carefully. She chose to go door to door, email, and cold call property managers and real estate agents.
What licenses are needed to start a cleaning business?
Like mentioned before, each individual state requires different licensure for a new cleaning business.
In order to have your ducks in a row when opening your cleaning business, you'll need to research your state's requirements.
However, there are several best practices that any new business owner should consider, especially as a cleaning company if you hope to employ a team of cleaners.
Essential legal action for a new cleaning business:
Start an LLC – Crucial to any business venture is starting your own LLC, and in the process naming your business.
Obtain General Liability Insurance – This insurance will cover your business if any lawsuits or liabilities threaten your success.
Secure Workers Compensation – Take care of yourself and your employees by obtaining workers compensation.
Trend on the Rise

High turnover in the cleaning world contributes to a high rate of failure for startups. As with any small business, the first few years are taxing, yet crucial. In order to beat the odds, you'll need a killer business plan and a market niche to stick to, like KellyLynn has.
What equipment do I need to start a cleaning business?
Although KellyLynn's business was started with just a laptop, a brand, and a few vacuums, there are several other pieces of equipment that might be helpful for you as you venture out and start your own cleaning business.
Most of the cleaning comes from hard work and able bodies, but a few tools are helpful to complete quality cleaning jobs.
Equipment to start a cleaning business:
Vacuum Cleaner – An obvious, but very necessary tool to start your cleaning business.
Rags and a Mop – Save the earth by using reusable rags and a washable mop to clean hard surfaces..
Cleaning Products – Home-make your products or purchase dilutable products to save on overhead costs .
Broom and Dustpan – Don't forget the more obvious items that help make your job easier.
Cleaning Gloves – Cleaning all day can leave your hands dry and cracked. Protect them with a set of quality cleaning gloves.
Should you choose commercial or residential cleaning?
Credit: Rise Up Cleaning
A pressing question within the cleaning industry involves whether to offer your services to commercial property owners, or residential property owners.
There is currently a growing demand for both commercial and residential cleaners, but to know what's best for you and your new business, consider these factors for each route:
Residential Cleaning
Due to the domestic nature of residential cleaning, you might be needed more during the day rather than early in the morning or late at night.
This is a benefit if you prefer more regular hours. Whether you like it or not, you'll be moving and cleaning personal items, so decide if you are comfortable knowing a lot about your clients.
Residential cleaning is more personal in nature. If your client chooses to be home during the cleaning, you might be interrupted or monitored more than you like.
This scenario might not provide the solitude while cleaning that you desire.
Commercial Cleaning
Since you might be cleaning an up-and-running place of business, you might need to clean before or after their office hours for convenience.
This can be less convenient for those who desire more regular hours. Commercial cleaning can also be less personal, and more predictable in nature.
It won't be changed due to vacations or personal schedules, but there won't be much variance in the jobs you complete.
If you do end up working early or late hours, chances are you won't be interacting with many other people, and this can be a blessing or a curse depending on your personality.
Wrapping Up
KellyLynn has found success and fulfillment in her cleaning business, Rise Up.
If you're looking to start your own janitorial business, take her tips to heart and take advantage of the growing demand for both residential and commercial cleaners.
Brenna is a finance guru who enjoys writing about entrepreneurial opportunities and personal finance tips. She graduated from Liberty University with a bachelors degree in business and now helps small businesses market their products as a digital marketing consultant.