Business owners often need people to handle tasks that they or their staff are too busy to complete themselves.
Hiring a freelancer can be a great solution. Worried that you don't know how to hire a contractor? It's easier than you think!
Let's explore how to hire a freelancer and what things you should consider when you are looking to outsource tasks.
What is a freelancer?
Freelancers work as independent contractors. Businesses pay them to perform specific tasks and negotiate salaries for those tasks.
Freelancers often take on jobs like creating websites, writing copy, designing graphics, proofreading, editing video or audio, managing projects, serving as a virtual assistant and more.
High-quality freelancers usually have a wealth of experience in their field and have often worked previously as full-time employees or working for temp agencies performing the types of services they now offer as contract work.
Others may still be working in their industry full-time, but they offer freelance services on the side as a way to earn more income.
Why do people hire freelancers?
Hiring employees can be expensive because business owners must pay benefits and continue paying workers even if work is slow. By hiring a contractor, employers pay per task and only when work is available.
Trend on the Rise

According to LinkedIn, 70% of small businesses have hired a freelancer in the past, and 81% of these businesses plan to hire freelancers in the future. As you find freelancers that you really like, maintaining a relationship with them means you know you have someone to turn to for high-quality work each time you need to outsource a new task.
How much does a freelancer cost?
Hiring a freelancer can be a good use of budgeted funds for a project without adding additional staff. The way that freelancers charge employers varies. Some charge by the hour while others may quote a fixed price for a large project.
Freelancers with a lot of experience may charge significantly more than those who are just beginning to offer their services and need to build a portfolio.
When you find a good freelancer the relationship can continue for years – ensuring you always have someone to depend on for quality work.
I have offered freelance services several times throughout my career and the best jobs have been with employers who hired me again and again for similar tasks.
When you work long-term with a freelancer, he or she will learn your style and expectations – making it easy for you to assign future tasks knowing the job will be done well.
Tactic for Success

On platforms that provide freelancers, you will likely find a wide range of prices that freelancers charge. Keep in mind that most platforms are worldwide and the cost of services vary by country. The best way to vet freelancers is by asking for samples of past work. Then choose the best freelancer that fits your budget.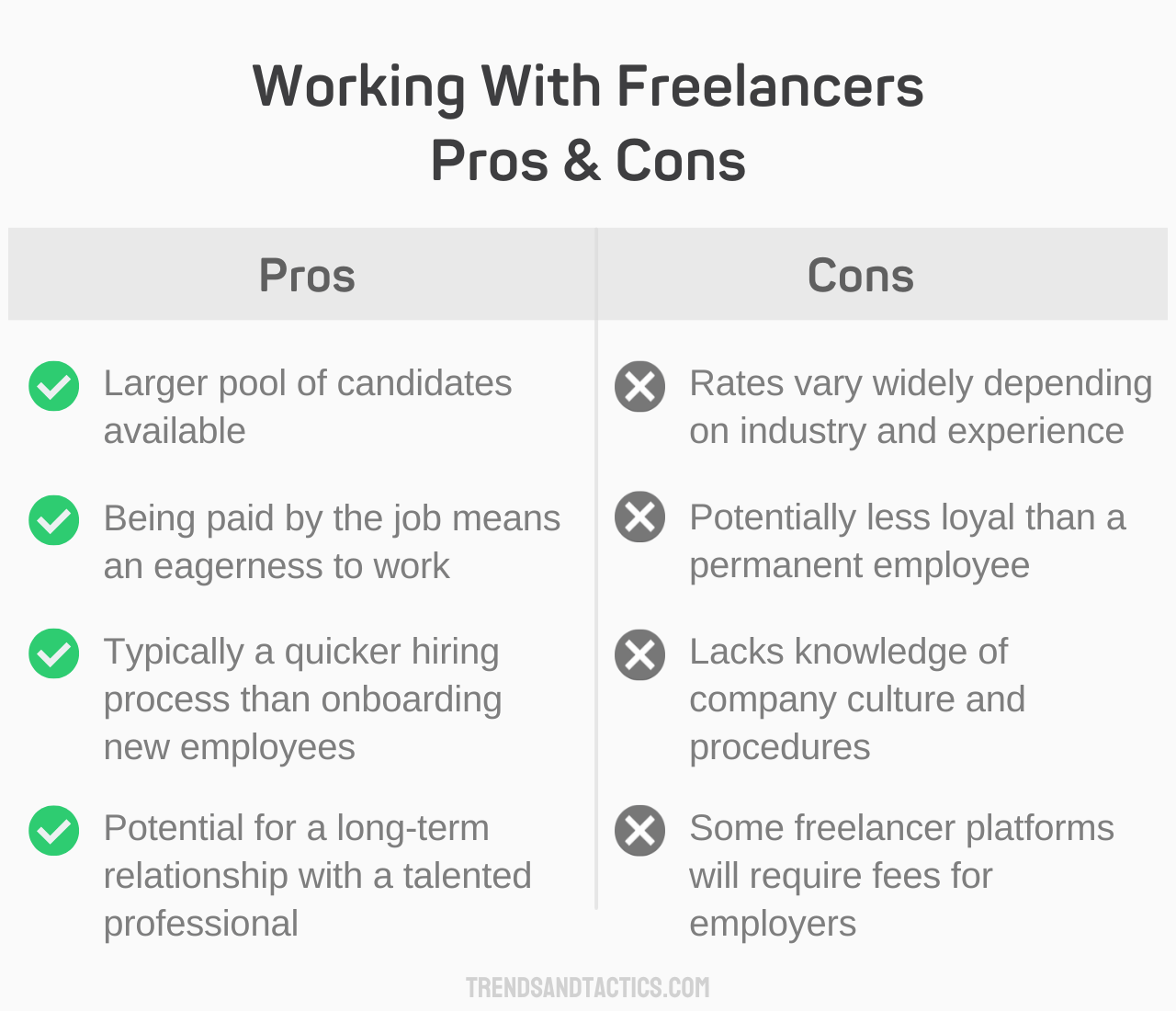 How do I hire a good freelancer?
There are several places to find freelancers. Platforms like Upwork, Fiverr and Freelancer.com are popular places where employers can hire freelancers.
If you are new to hiring contractors, check out our ultimate guide about how Upwork works to get you started.
Some employers also post contractor jobs on Indeed.com, their website, or these other job apps. Referrals from colleagues or other business owners is also a good way to find contract workers.
Regardless of where you look to find freelancers, the process for hiring them is similar.
Here are some steps to include when hiring a freelancer:
Clearly define your expectations – Your posting should include a detailed task description, any deadlines, and any requirements the freelancer must meet including related work experience and the number of hours they have available.
Ask for samples of their work – Most freelancers will have a portfolio of past projects or samples that they can share to demonstrate the type of work they provide.
Consider assigning a test project – Having a freelancer complete an initial paid project before beginning a long-term relationship is a good idea. This allows you to assess the freelancer's skills and ability to meet deadlines.
Determine your budget and agree on a price – Rates will vary and talented freelancers will charge more than beginners. If the freelancer charges an hourly rate, get an estimate of how many hours the project will need.
Determine communication methods – Keeping lines of communication open with the freelancer will be important. Decide if communication should be by text, email, phone or through a freelancer platform, and communicate dates for milestones.
Provide detailed feedback – As the project progresses, or once it ends, let the freelancer know what was done well and what needs improvement. This helps the freelancer adjust to your style.
Maintain a Good Relationship with Your Freelancers
One key is finding the right freelancer for the right projects and then working to build a good relationship.
I worked as a freelancer during college as well as during various times in my career.
My best experiences were with employers that communicated expectations clearly, were available to answer questions and were reliable to pay the agreed amount in a timely manner.
Tactic for Success

Thorough communication is key for a good relationship with freelancers. Inquire what hours they have available, how they prefer to communicate, and when you can expect to hear from them. Additionally, provide feedback and constructive criticism so they know how to meet your expectations in the future.
Wrapping Up
Hiring freelancers can be a win-win for both you and the contractor. Having good relationships with a few talented freelancers can save you time and money as well as allow you to focus on other aspects of your business.
Belinda has been a professional writer for more than 20 years and serves as a career coach in her community helping job seekers with all aspects of their job search. Her educational credentials include a bachelor's degree in Communication Studies and a master's in journalism.