TikTok started as a place for people to share videos of themselves singing and dancing.
When the platform turned average teenagers into mega-rich celebrities, people wanted to know, "how do TikTokers make money?"
If you've ever wondered how much money do TikTokers make, you may be shocked by the truth. It turns out there are many misconceptions about how to make money on TikTok.
TikToker Adrian Brambila (@adrianbrambila) shared secrets to how he's made a million dollars on the platform.
What is TikTok used for?
About half of 18- to 29-year-olds use TikTok and in 2021, the platform hit a milestone of more than a billion users.
The most popular videos on TikTok, in order are:
Entertainment videos – Videos created to entertain viewers
Dance videos – Content creators perform choreographed and trending dance moves
Prank videos – Influencers capture practical jokes played on their friends and family
Fitness/Sports videos – Personal trainers share workout routines
Home reno/DIY videos – Video creators share project tutorials and tips
Beauty and skincare videos – Influencers share product reviews and tutorials
Everyday though more and more interesting TikTok video ideas are hitting the platform.
Stereotypically, it's primarily considered a jackpot for generation Z influencers who have made millions by posting trendy dance videos.
As the platform continues to expand to older audiences, the space has allowed growth for creators in a broader range of niches.
There are now more opportunities for people who don't fit inside the mainstream categories to make a lot of money.
Everyday there are more ways to make money online, and with the right content you can make money on Twitter or even earn money on Discord.
TikTok success isn't just for Generation Z creators
Ironically, 34-year-old Brambila is a former professional dancer for T-Pain, but he doesn't use his TikTok to show off his choreography — instead, he's giving people a look inside his personal life while explaining how to run a business while traveling.
His videos took off when he started showcasing his daily life, making money online while living in a converted van in Ireland with Wi-Fi access only once a week.
TikTok has quickly become one of the best second jobs for many influencers.
"I just kept going viral, I went from maybe 20,000 followers to like 400,000 followers in probably like 30 days, and then it kept growing more and more," said Brambila, who now has nearly 900k followers on his TikTok.
TikTok can turn a personal brand into moneymaker
"I started creating a personal brand from the exposure of the TikTok people, and I got a lot of people saying, "Adrian, I want your life, I want to know how you make money," he recalled.
(Adrian Brambila)
But even with a following of nearly a million people, he admits most of the money he makes from TikTok doesn't actually come directly from the platform itself.
TikTok can be used as a stepping stone that leads people to these websites to sell things and also to sell your brand.
Trend on the Rise

According to TikTok's 2021 Trend's Report, videos with a family-heavy focus have taken off, with the hashtag #MomsofTiktok garnering 76 billion views, #BabiesofTikTok receiving 30 billion views and #DadsofTikTok getting 22 billion views in 2021. Fathers with a sense of humor are skyrocketing on the app, views of the hashtag #DadJokes grew by 311% from 2020 to 2021.
How do TikTokers get paid?
There's more than one way to make money on TikTok, and some strategies are far more lucrative than others.
To receive money directly from the app itself, you'll have to qualify to be accepted into the TikTok Creator Fund and be paid per video view.
You need to have received at least 100,000 authentic video views in the last 30 days to be eligible. Additionally, you need to have at least 10,000 followers and be at least 18 years old. But again, ads are just one way how influencers make money.
Exactly how much you stand to gain from the Creator Fund is unknown.
According to TikTok's website, the amount you could make is calculated by "the number of views and the authenticity of those views, the level of engagement on the content, as well as making sure content is in line with our Community Guidelines and Terms of Service."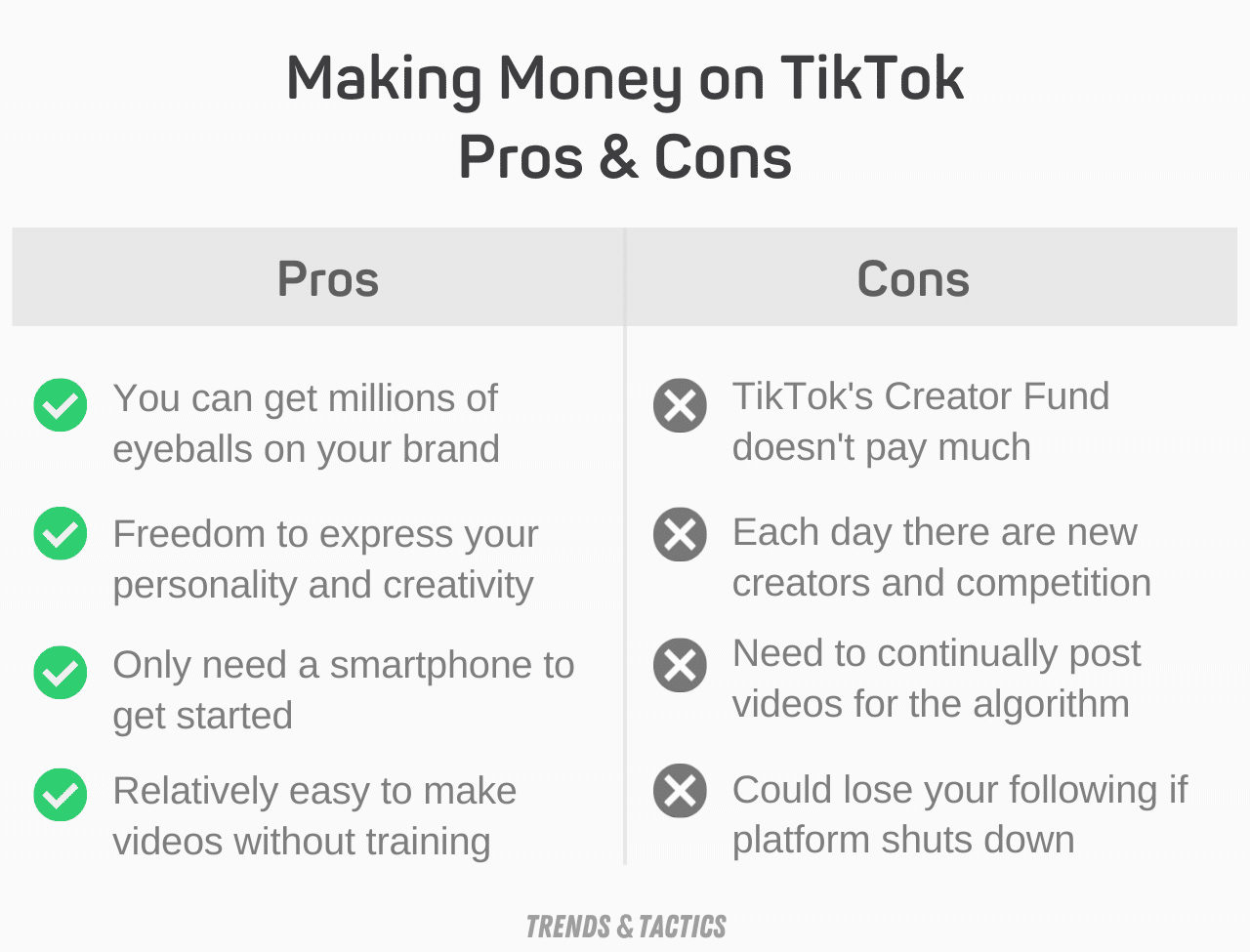 Brambila noted he generally expects to see about $0.03 for every 1,000 views. By that calculation, for this video with 1 million views, he's made about $30.
Needless to say, the creator fund isn't making him rich. His secret is to use the exposure from TikTok to make money.
"Content is how you get people's attention, and it's the best way to reach people," he advised. "But you still need to monetize."
Some of the best ways to monetize are through these high income skills, no matter what your niche is.
What is the fastest way to make money on social media?
Before Tiktok was around, Brambila started his first business using his dance skills to teach people how to do the robot.
Through that experience, he learned a powerful lesson about what exactly it takes to be successful.
Tactic for Success

Start a TikTok with a monetization plan in place. Brambila suggests figuring out what product or service you want to sell before posting your first TikTok video to make money as soon as possible. "The biggest mistake I made is I never figured out my monetization strategy, so I didn't have any focus," he said. "I was just creating content."
"I thought I could just post videos on YouTube, and it would make money all by itself," he said.
"After posting, I think 50 videos, my mom was the only one still watching them. I probably had like 500 subscribers and no money at all."
At the time, he assumed he wasn't working hard enough and powered on doing precisely the same thing he had been doing with limited growth results.
"I literally didn't ask the first question of any online business or just business in general, which is "How do you make money?" I never asked that question," he recalled.
That all changed when one of his subscribers mentioned that they'd pay for an extended dance tutorial, and he created his first product and started making real money off his dance tutorials.
How much do TikTokers make per follower?
When it comes to seeing profits from followers on Tiktok, aspiring influencers might be better off visualizing the people who adore their content as potential customers.
Use a TikTok following to make money with product links
According to Brambila, a majority of his income comes from internet marketing. He owns four companies and has about 30 employees who operate about a dozen different blogs and brands.
He knows his followers are interested in learning how he makes money through his businesses, so he's created several online courses about how to make money online.
"The link in my bio goes to an auto webinar, which sells a $97 program," he said. "I get like 100 or 300 leads a day from my TikTok. So that's where the money's at. You have to have a strategy and a funnel in place."
Secure brand sponsorship deals on TikTok
There are other ways you can monetize your TikTok if you gain a decent-sized following.
The platform has its own Creator Marketplace that allows people to search and apply for Open Application Campaigns.
Brands also can find creators on TikTok and send an in-app invitation to work with them.
Buy TikTok ads to promote affiliate links
Brambila has also experimented with purchasing TikTok ads to promote his affiliate marketing links, but advises that the learning curve for this strategy is much steeper.
"It's really a superpower. It's very rare for someone to be good at it because the only way to get good is by spending money and failing a lot," he added.
"But TikTok ads are really new, so the benefit of trying on TikTok is that your ad will be shown to more people than an ad on Facebook for the same price. You can spend less money and reach more people."
Ways to make money on TikTok:
Sell things – Promote a course or product you created
Share links – Post links to a brand's goods or services and receive affiliate income
Form partnerships – Secure brand deals that pay for sponsored videos posted on the platform
Attract leads – Clients to your business
Earn tips – Accept 'virtual gifts' or money from followers during live TikTok videos
Drive – Boost traffic to another monetized social media platform
Is creating videos on TikTok worth the effort?
While some business-savvy entrepreneurs question the legitimacy of making money on an app with an audience built primarily of younger people, Bramila notes that his success points otherwise.
"TikTok provided viral exposure to a younger audience and demographic that I was definitely not reaching before," he said.
"The level of scale that TikTok provided, I almost couldn't pay for in terms of quality. At one point, I was getting like 20 million views a week or something like that."
He added that an influx of TikTok followers translated to more subscribers on his Youtube channel and Instagram.
He also saw growth in his online coaching programs to help other people learn how to start their own profitable businesses online.
Wrapping Up
"People would say, 'Dude, it's just for kids, there's just a bunch of kids on TikTok,'" he recalled.
"I know it's not a bunch of kids because these 'kids' are buying my $1,000 program, and they're signing up for my emails. There are real people and adults here, and there's something here."
Nikki Davidson is a freelance TV and print journalist who covers finance and real estate news for media outlets across the country. She's also a chronic side-hustler and YouTuber who creates videos about reselling clothing online (Channel Name: Sew Much 2 Wear).