Selling t-shirts online might already seem pretty saturated, but few are using the latest strategies to make money selling t-shirts on the internet.
As an industry, the global market for custom and creative t-shirt designs will hit 10 billion dollars by 2025, and it's projected to grow even more in later years.
If you're curious how to make money online selling t-shirts, leveraging these latest strategies will be vital to your success.
Why Selling Shirts Online is So Effective?
Many get nervous about the idea of narrowing down what they offer to just t-shirts or possibly having to deal with the overhead of buying and printing shirts, but this can be a highly profitable business if run well.
Online Store Benefits
Selling shirts online allows you to create your own brand without needing a storefront in-person to pay rent to.
You can set your hours, avoid having to hire employees and grow at your own rate. When you open a shop in person, you risk pouring a lot of money into a company that you can't guarantee success in.
Are Enough People Buying Shirts Online?
T-shirts are a popular choice for original designs because they have lots of surface area to work with, plus the fact every year two billion shirts are purchased globally.
Shirts are versatile and not only work across different wardrobes, but also body types. T-shirt designs allow us to erase the lines between age, culture, and gender.
T-shirts are the perfect piece of clothing to start a business around.
Is it Worth Printing T-Shirts Yourself?
Printing your own t-shirt can be expensive initially.
The only other option is to order pre-printed shirts, which most companies start with.
Although you can eventually bridge to whatever type of tee-shirt company you want to be, there are a few things to consider when printing t-shirts yourself.
In self-printing your shirts, you need to:
Have an understanding of how to screen print or apply shirts
Have the experience to make sure every shirt looks professional
Be prepared to handle a large overhead without much guarantee of customers
Be able to handle a large number of orders if things pickup
Understand the sizing range to start with before investing in more
Buying shirts pre-printed has its drawbacks, too, though.
Normally a large order must be placed initially, the wait between when you place the order, and they arrive, the chance that the print might not turn out how you want and you have to send them back.
The best solution is to open a 'preorder' sale.
Preorder sales allow for you to be able to tell how many you'll sell, will help you afford the upfront of ordering shirts or the equipment to make them, and will help you see what designs and sizes your demographics are most interested in.
What Designs to Print on T-Shirts?
Peoples' online interests change and shift rapidly.
The brief lifespan of a meme or online running gag is a great example of this.
Usually getting old within a week and dead within a month, it's important to keep your eye on what's hot and know where your brand sits and what could make your company timeless.
Multiple designs can go on shirts, ranging from photographs, words, drawings, or geometric shapes. Although the easiest approach is to sell shirts with funny sayings, that market is quite competitive, and can be hard to stand out.
Must be Unique & Different
Unique art and creative designs can make your brand recognizable and give your customers a reason to return for more. If you can create your own art, this will save you some money, but be brutally honest with yourself.
Don't print a ton of shirts with a single design on them until you've had multiple people look at it and tell you if it's good or not.
We tend to be overly confident in our abilities, and it can lead to shirts with a design nobody wants to buy.
Working With Talented Artists to Fast Track Success
Reach out to a few artists to see if they're open to partnering on designing t-shirts. Great places to find artists include: Upwork, Fivrr, Facebook Groups, Instagram, and you're local network.
Some artists will want a percentage of the profits, while others will want a flat fee. Work with them to find a middle ground that works for both parties, but don't try to underpay them.
If an artist has a bad experience with a brand, word tends to spread quickly and other artists will try to avoid your brand.
Best Print-on-Demand T-Shirt Printing Services
If printing your own shirts isn't your speed, or you want to work up to it, then we recommend having your shirts published by another company.
Not only does this save you some of the work, but you can also ensure that every shirt is professionally printed and looks great.
There are two types of companies. Print-on-demand, like Redbubble, will allow you to upload your designs and then print and mail them out for you.
Alternatively, print-in-bulk companies, like Allied Shirts, encourage brands to buy shirts in bulk to ship out on their own.
Redbubble:
Print on demand
You can set your prices and percentages above their base price that sits between $16 and $20 per shirt. This means you can sell shirts for $35 and make a large portion of the profit, but you'll be competing with many shirts that aim to stay below $25 despite the low yield
A large selection of shirt fabrics, colors, and cuts you can pick from
Allied Shirts:
Print in bulk
Has discounts for larger shirt orders. Shirts start at less than three dollars but can go up in price if you pay for quality or name brands
Has name-brand shirts that you can print on to ensure quality
Zazzle:
Print on demand
You only earn 15% of the sale price
Completely hands-off once uploading design
It started with only t-shirts and has perfected them
Cafe Press:
Print in bulk or on-demand
Shirts start at a base price of $7 and can go up based on shirt quality or down in price for bulk orders
You can choose between listing on the site or printing many and selling them yourself
Team Shirts:
Print in bulk
Average t-shirts cost between $5 and $10 depending on base colors and textures
Huge selection of colors and textures, including tie-dye t-shirts
As you can see, there are plenty of options for the DIYers and non-DIYers when it comes to t-shirt printing.
What are the Different Ways to Print T-Shirts?
First, you'll need a shirt supplier for plain unprinted shirts. After that, there are several methods used today to print shirts, depending on the fit and finish you're after.
Heat Press Method
$500 to $5,000 overhead
A heat press is like a large iron that can help a transfer fully secure into the shirt's fibers. This method is often seen as the simplest, but you need to have a good quality printer and patience to ensure you don't accidentally scorch a shirt.
Screen Printing
$30 to $600 overhead depending on your equipment
Screen printing can limit you if you're not used to working with layers or deconstructing art. If you work with mostly one-color designs, this is a very cost-effective and beginner-friendly way to print on shirts. Otherwise, it will have a learning curve to get used to.
Using a Textile Printer
$6,000 to $80,000 overhead
Working like most printers, this prints the design directly onto the fabric of the shirts without nearly as much work as these other options.
If budget is not a big concern, the best way to decide between these printing methods is to think about what type of look and feel you want with your shirts, and then work backwards from there.
3 Best Strategies to Sell T-Shirts Online
Advertising your designs and getting them onto the screens of the right people can be difficult. These are the best marketing strategies for selling more t-shirts online.
Create a niche on a social media site or app
The best time to have started a YouTube account for making things would have been ten years ago, but the second-best time is now.
Creating an account on social media to showcase your shirt's unique subject matter, colors, and/or ideas will help your brand to flourish.
It's important to stay active, set a schedule, and be aware that interaction is the best way to build a social media presence.
Connect with the right audience
If your shirts cater to 90s and early 2000s nostalgia, you're probably aiming for Millennial buyers. Advertise on the sites where they're more likely to be, like Twitter or Instagram, and try to cater to their interests.
You can push this further by collaborating or advertising with influencers who have a foothold in whatever niche your brand is in. Prices range from $50-$500 per post, so budget accordingly.
Product quality & customer happiness should be top priorities
To this day, word of mouth continues to be one of the most powerful ways to sink or grow a brand.
With higher ratings, more reviews, and happier customers, the bigger your brand awareness becomes.
For example, when a customer buys from you, offer a discount on a future order if they'll tweet or post a review of the shirts they recently purchased. This gets your name out there in a positive way and scores repeat purchases.
Best Ways to Ship T-Shirts
Shipping can be complicated when it comes to selling t-shirts as a beginner. These are the best options for shipping t-shirts quickly and economically.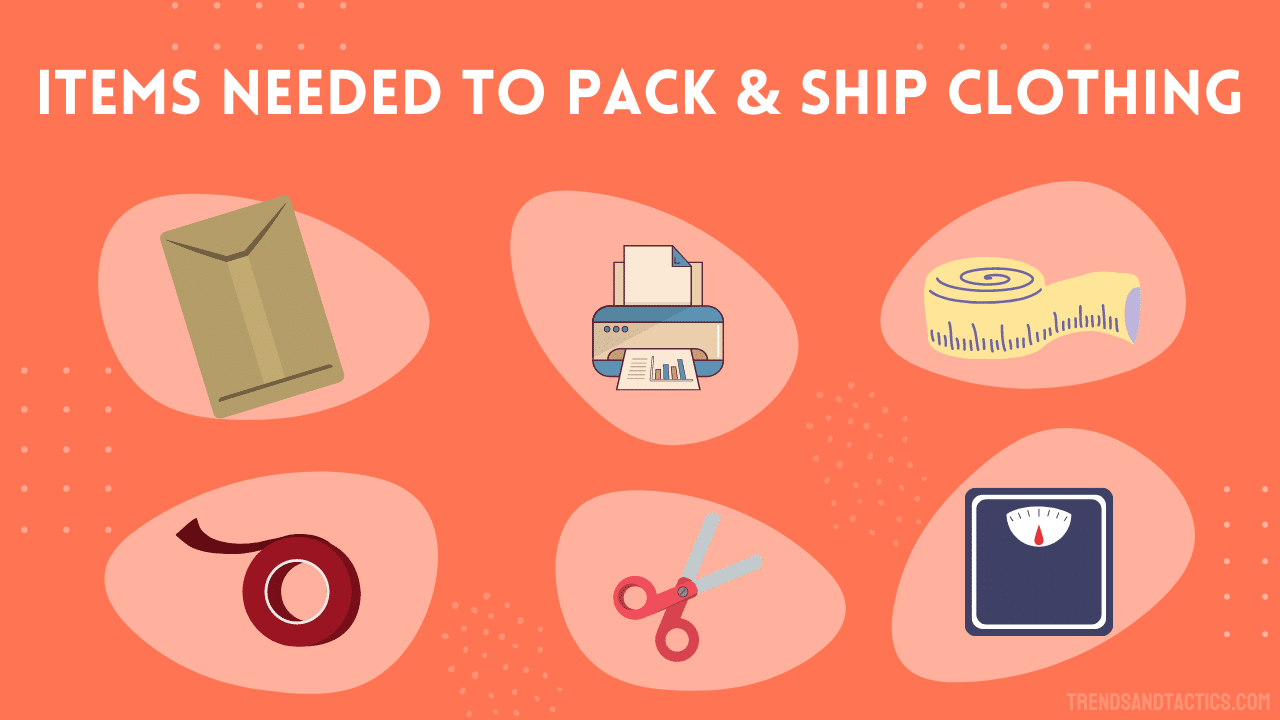 USPS
USPS is awesome for smaller packages, like shirts. This company shines when it's handling and products that are less than two pounds.
Unfortunately, the moment your packages start crossing over this line, your shipping costs will soar. So be aware of how heavy your packages are and switch which method you use at the two-pound mark if you're unsure.
UPS
UPS offers fast shipping times, yet unfortunately, their prices can be a little more steep. Nevertheless, this is a fantastic brand to go for if you want to get products to the customers as quickly as possible.
UPS does have a business shipping side that offers discounts to those who have to ship in bulk, so this may be an option for businesses with large orders.
FedEx
If a large portion of your orders will ship outside of the USA, FedEx could be the right choice for you. Affordable and fast, this company aims to stand apart by offering more places worldwide at a lower price than its competitors.
Erin is a business teacher and mother of three. When she's not in the classroom or fulfilling her obligations as an A+ hockey and lacrosse mom, she's working on her latest article.