The starving artist is a cliche we all know, but it doesn't have to be a reality in the modern day.
Many may be unsure how to make money with art skills, but you'll be amazed at the possibilities out there, especially since the art industry is expected to grow by 8% in the next year.
These are some of the most interesting ways to make money with art skills, but they're not the only ones out there! Let these inspire you, and you'll find your dream art job in no time.
Can You Make Money With Art Skills?
If you're still nervous about your ability to make money through your art, there's no need to be!
There are plenty of jobs, and success stories, that show that careers based around art are a more than viable option for anyone who wants them, with over 4% of all jobs in the USA being based around art.
These are a couple of creators who can make a comfortable earning while doing what they're passionate about.
Success Story (Example 1)
Alice Oseman, a 26-year-old artist, currently earns over $8,000 on her Patreon by creating LGBT+ comics and illustrations.
She now has 2,149 people subscribed to her paid Patreon, which has more than doubled since the last time her income was public in 2018.
She says that the secret to her success is that she creates and posts her webcomic for free but allows people to read early and gain bonus content by subscribing and paying for her Patreon.
It's her main source of income and will enable her to earn over $96,000 a year.
Success Story (Example 2)
Peter Fitzer, an artist out of Los Angeles, has made over $500,000 by selling print on demand designs.
This means he creates the art, uploads it, then customers pay, and another service does the work of creating the physical product and shipping it out to customers.
There's no way to guarantee this income, but it's an awesome example of having only to create art to gain income.
Both of these artists had to seek ways to make money, but both are thriving because they stuck to their plans and made their dreams come true.
Some artists aren't held back by anything except self-doubt. The truth is, there are artists out there who make money from clip art or vector art based on photographs.
If you don't feel like your art is up to it yet, you can take the time to grow this high income skill and become better, but there's a market out there for almost every artist.
The following are ways an artist of any skill level or educational background can make money.
13. Posting Webcomics for Profit
Average income: $60,000 a year
Webcomics are something a lot of illustrators, and character artists aspire to. A good webcomic needs fantastic writing, interesting art, and great characters, and should be updated at least twice a month.
This is a lot of pressure for most artists, so not everyone decides to go into this art line.
When a webcomic succeeds, like Lore Olympus, it becomes a cultural phenomenon, and people obsess over it.
This allows the artist to hire a crew to make creating the comic easier eventually and gives them opportunities like animated show deals and other job openings if they want them.
12. License Your Art on Stock Sites
Average income: 15% to 40% per sale
Stock images are used everywhere by large corporations, students, and even book publishers.
This is a vital type of art that ensures that every website we go to, pamphlet we read, and app we open has art and illustrations where they need to be to create visual interest.
As a stock image artist, your best way to gain an income is to lean into niche topics and pay attention to what trends are coming up.
Another perk, this is a job without deadlines so there's very minimal stress.
Although it may seem obvious to create things for holidays and common occurrences, these are where you'll have the most competition. So try to grow space for yourself in a niche and work out from there.
11. Use Patreon For Monthly Income
Average income: $2,000 a month
Patreon is a monthly subscription site where visitors can pledge from one dollar to an infinite amount per month to support the artists they like.
Artists use this site to do anything from posting early previews of their art, versions that can't be published elsewhere, or exclusive content only for paid eyes.
Artists who post on Patreon have to have an audience to start with. This means having an active following on social media like Twitter, Instagram, Tik Tok, or Youtube.
In fact, students are using the platform to make money in college without a job.
Although building an audience on Patreon alone is possible, it's far less likely since this site is geared more towards fans who want something extra.
10. Teach Classes For Pay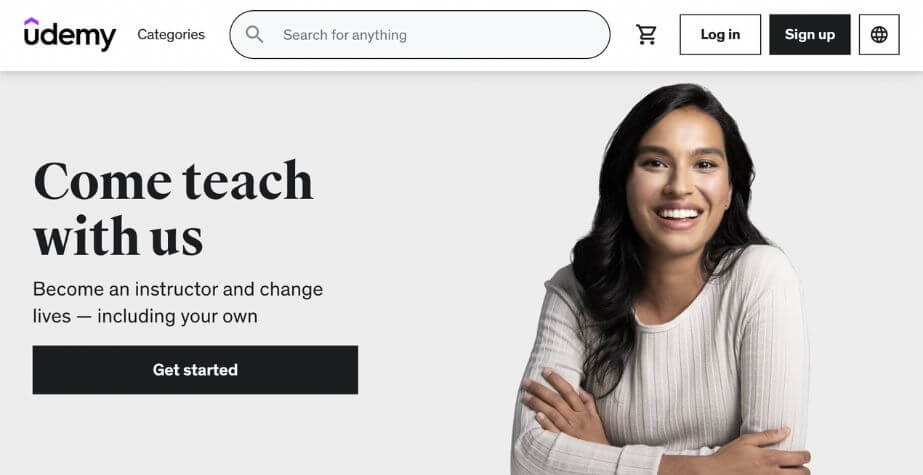 Average income: between $250 to $500 per student when taught online
Although the cliche is 'those who can do, teach' when it comes to art and writing, don't let this phrasing hold you back.
Nobody wants to learn from an artist who can't create, and if you're good enough, this could be a career you make hundreds of thousands of dollars off of.
The key to teaching art online is ensuring that your classes are on things people like in your art or commonly struggle with in the art community.
Art teachers come from all backgrounds – for example, it could even be a way to make money with a history degree.
Because of this, the most popular courses to teach when you're starting are things like anatomy, posing, backgrounds, and lighting.
If you're confident in these and don't mind teaching in front of a crowd, there's income waiting for you.
9. Create and Sell Tutorials
Average income: $25 to $200 per sale
If teaching isn't your passion, or you aren't sure how to interact with people while educating them, that's okay!
Creating and selling tutorials can be a useful way to offer your skills while saving yourself the time and emotional labor spent on teaching.
To create tutorials, you can either make videos, slides or even just text documents with images.
These need to be in-depth, show the steps of how you do something and give your students the tools they'll need to recreate these skills in their art.
8. Design and Paint Wall Murals
Average income: $2,500 to $35,000 per mural
Murals are gorgeous pieces of art that can completely change the face of a city.
Although you will have to put in the time and work in person, and you can't control the environment you'll be in, this is an incredible way to put your mark on a city that will also gain you some major money.
When advertising this skill, it's a good idea to put out ads on local boards and sites like Craigslist with images of things you've painted and your going rates.
It's okay to be picky about which jobs you take on or inform the businesses how much they need to clean or pressure wash their exterior before you start.
7. Become A Children's Book Illustrator
Average income: $60,360 a year
Creating children's books can be an exciting and fun way to make some money without having to take on a ton of different jobs at once.
These projects usually last between one and six months and range between thirty to a hundred illustrations. The best styles of this line of work are watercolor pieces or digital art that feels watercolor or soft.
There's flexibility, though, and the market is always changing, so don't be afraid to use whatever style you currently do if you think a publishing company will go for it!
6. Create Coloring Books
Average income: $2 per download
Don't let that $2 per download scare you away, there are plenty of people making over $40,000 a month selling coloring books that they've created.
However, it's important to remember that coloring books aren't just for kids anymore! In the last ten years, there's been a huge boom in the number of adult coloring books, teen coloring books, and tons for anyone of any age and interest.
If you want to make money in coloring books, the best thing to do is to pick a niche with low competition and lean into it.
This will give you the chance to earn a lot of money without having to worry about fighting off competitors and published lookalikes.
Using Amazon's KDP is a great way to get your things printed without doing the work or spending the money on publishing.
5. Create A Sticker Company
Average income: $50,000 a year
Stickers are for more than just kids! The modern sticker company is a space where an artist can design fun and interesting stickers for everything from cars to journals and work planners.
Although you can outsource your printing and pay someone else to do the work for you, you make a much larger income by doing it yourself.
This means investing in a printer, a Silhouette, or a Cricut machine to cut the designs and handle the packaging and shipping.
Creating a sticker company means that you can drop seasonal releases, make custom orders, and design unique niche ideas that will help your company grow.
This is an awesome option for anyone who has the drive to do everything themself.
4. Sell Designs On Print on Demand Sites
Average income: 10% to 50% of each sale
Consider working through a print-on-demand site if you don't want to deal with the physical work that goes into creating and shipping out stickers!
Sites like Redbubble, Society6, and others offer you the chance to put your design on countless products and then sell through their site without you ever having to touch or manufacture the pieces.
This is awesome for anyone who can put out a lot of designs and can be a high passive income because some designs will continue to sell as the years go on.
Unfortunately, these sites do take a large cut of the profits, so it can take a while to gain a profit. If you do this, it might be a better option as a side gig rather than your only source of income.
3. Become A Tattoo Artist
Average income: $99,956 a year
Tattooing has become incredibly popular within the last twenty years, and instead of being as taboo as it used to be, most young people have or want tattoos.
Because of this, there's a large surge of interest in finding an artist who can offer them the chance to have something unique and gorgeous on their bodies.
Most tattoo shops offer free or paid internships that will allow you to learn the skills on the job in return for working for them for a set number of years.
This will guarantee you a position, as well as educate you on how to do it.
2. Create A Shirt Printing Company
Average income: $100,000 a year
If you can design cool and unique prints for shirts and sweaters and have the $5,000 to $25,000 it costs to start your printing press, it's an awesome idea to create your own shirt printing company!
This can give you the chance to earn some major money while also making cool wearable merch.
If you want to make some extra money, consider offering custom shirts and designs to allow people to create their shirts for large events like family gatherings or corporate events.
1. Design and Illustrate Book Covers
Average income: $53,000 a year
We all know better than to judge a book by its cover, but it's impossible to avoid doing so when so many books have such interesting covers.
So, if you want to take part in the incredible publishing world, book cover illustration and design can be an awesome job for you.
Through this, you'll get to learn about books that haven't hit the market yet, redesign the book covers to classics, and possibly even work one on one with self-published authors!
Wrapping Up
Although art has been a career path that's been sneered at or overlooked for centuries, it doesn't have to be.
With modern technology and connections and the number of incredible fun jobs available, you can make money as an artist in any way that you want.
Erin is a business teacher and mother of three. When she's not in the classroom or fulfilling her obligations as an A+ hockey and lacrosse mom, she's working on her latest article.