Whether you're an experienced handy person or someone who likes to take on projects on the side, there are many things to weld and sell that can bring you extra money.
One of the most lucrative side gigs for people today is creating homemade, unique projects and then selling them online. There are many welding projects you can sell on the side for good money.
Below are some of the most profitable welding projects you can take on.
Can you get rich from welding?
It may come as a surprise, but there is a lot of money in the welding market. Some sectors in the industry are valued at shocking amounts.
For example, the metal furniture market across the globe was valued at $141 million in 2020 — and metal furniture is just one small part of the overall welding market.
Today, people with all different skills create homemade items that they then sell for a profit on popular online marketplaces.
For instance, Etsy has more than 100 million pieces for sale on its online marketplace, and home goods such as those made by welders were among the most popular categories.
This gives you plenty of opportunity to find things to weld and sell.
Trends on the Rise

People today are always looking for ways to save the environment. Steel is one of the most eco-friendly design materials you can use, which makes welding such a hot skill to have now. When you go to sell your creations, market its environmentally-friendly design.
One of the great parts about welding as a side gig is that you don't need a specialized degree to do it. You just need to learn the skills of how to weld, and then as you refine your craft, you can start creating welding projects you can sell.
15 Best Things to Weld and Sell
1. Metal Portraits
Everyone loves art, and people especially love unique art that you can't find anywhere else. Metal welding art is certainly unique, making this a profitable venture.
You can make welded portraits of popular characters or famous people that will have a wide appeal to a number of potential customers. In other words, excellent photos play a huge role in generating sales, and selling faster online.
Or, you could offer custom welding portraits to people who can submit a photo for you to replicate. This could bring in some extra money with this project, as they could sell for $75 or more.
Tactics for Success

If you're going to set up a customizable project, you need to make sure you have a back-end system set up. This includes a submission form where people can send you their photos to replicate.
Also, make sure that you have equipment that can help you create their custom designs.
2. Desk
Desks are always in high demand, but they've been especially so since the start of the pandemic. People need a place to work from home, but they don't want to do it at their kitchen table or on an old rickety piece of furniture.
Welding aside, desks are a profitable item to sell online.
Today's unique health situation across the globe makes desks among the most profitable welding projects.
Not only do these welded desks spice up the room, they make it feel like people are working in an office.
You can make more money with this project by creating corner desks. They look great and help people save space in their homes. Some listings online are going for close to $1,700.
Trends on the Rise

During the COVID-19 pandemic, the sale of home office furniture soared. Sales of office chairs increase 74.8% in 2020, while desk sales increased 62.8%. You can take advantage of this trend when you're looking for things to weld and sell.
3. Firewood Storage
People who have fireplaces get to cozy up next to a fresh fire on cold nights. It looks great in a room, but where do you put the firewood?
A firewood storage rack is one of the best things to weld and sell because it appeals to so many different people. You can set your product apart from others in the market by creating an intricate and unique design that has some flair.
Alternatively, firewood storage units are also popular ways to make money 3D printing as well.
Firewood dollies can go for more than $200.
Tactics for Success

People who have indoor fireplaces not only have a need for indoor wood storage, but outdoor storage for their extra wood.
If you want to make some extra money with your profitable welding projects, consider creating a matching design for your indoor firewood storage. This could include outdoor wood storage that could fit a half-cord of wood at least.
4. Hanging Shelves
The industrial look is alive and well in home design today. People use them in just about every room of their homes, including open kitchen shelving.
If you want to find great welding projects you can sell to a huge market, then hanging shelves could be a great idea. You can find many of these on display at big box hardware stores.
If you want to separate yourself from the run-of-the-mill stuff, put your own personal touch on them and come up with a logo or other design element.
Some interesting designs could sell for $80 or more and would make for relatively quick projects.
5. Garden Trellis
Gardening exploded in popularity during the COVID-19 pandemic, as people looked to take up new hobbies and get outside more. You can take advantage of this if you're looking for things to weld and sell.
A garden trellis is a great project you can take on that will help people bring a unique touch to their own garden.
If you want to make some more money with this project, try offering multiple sizes so you can appeal to people with all different size homes.
Some of these could sell for close to $200.
6. Trolley Cart
Who doesn't need more storage? And who doesn't need a movable table they can take around in the garage, the garden and even when entertaining?
A trolley cart is one of the best welding projects you can sell because it is so versatile.
If you're looking to sell a lot of items with your side projects, it's best to appeal to a wide audience — and this item does just that.
You can make extra money with these profitable welding projects if you market them for multiple uses so people can understand. Depending on the type you create, it could sell for $850 or more.
7. Steel Rose
Nothing says "I love you" like a rose. And if your significant other is into unique metal gifts, then a welded steel rose could be a great surprise.
Flowers are adored by millions of people, but the problem is that they don't last forever. That's not an issue with a steel rose that's been welded by you.
You can make yours stand out more if you can color at least part of it.
These could sell for close to $60.
8. Stool/Chair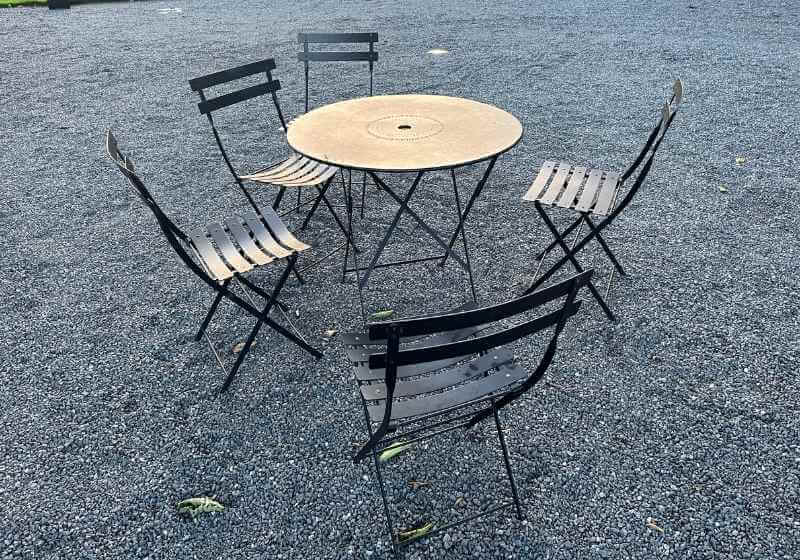 A stool is a versatile piece of furniture. It can be used in a kitchen, a workshop and many other places around the house.
Stools are simple, but they are practical and can even be a showpiece in a home.
The great part about this welding project is it should be relatively quick, allowing you to churn out many in a short amount of time.
You could increase the amount you make by putting a wood seat on the top. Premium stools are common items sold in high paying retail jobs.
Stools can go for close to $200.
9. End Tables
End tables are small pieces of furniture, but they can help a room really stand out if they're the right design.
Wood has always been the traditional material to use, but many people are opting for welded metal legs and even tops today.
This project would be a good one to take on after some other projects above, as the design could even be very similar.
Designing "nesting" tables could increase your profit, as these can sell for $450 or more.
10. Coffee Table
Along the same lines, you could even make a matching coffee table to the end tables set. Or, you could come up with a completely new and unique design to stand out.
This furniture is often the centerpiece of a room since it's so big. You would have an unlimited choice in design and complementary materials to use, too. These coffee tables could sell for close to $600.
11. Dining Table
If you're looking for larger things to weld and sell, then a dining table could be a great project. The basics of the design could be simple and straightforward. It's just that it takes a lot more materials.
Make sure to really pay attention to design here, since it'll be such a big project, with potential big returns. These could sell for more than $2,500.
12. Vase
You could use your welding skills to create décor pieces for the home.
Vases are great because they can be put anywhere and decorated with flowers to make it look nice.
They're always in demand, which makes them great to sell. Depending on your design, they could sell for $25 or more.
13. Wood Burning Stove
Want to help people add a nice touch to their outdoor parties? Try welding a wood burning stove.
This would be a little more complicated project, and the supplies would be more expensive, but it would pay off in the end. These could sell for close to $1,500.
14. Fire Pit
If you want to go a little simpler, opt for a welded fire pit. These are great because they can be used by people in all different living arrangements to increase their outdoor fun.
Coming up with a unique design and etchings could increase your return. These could sell for $400 or more.
15. Pizza Oven
Sticking to outdoor equipment, pizza ovens are all the rage today. They are great unique additions to outdoor kitchens.
Among welding projects you can sell, this one might be the most labor intensive, but it would be worth it. These could sell for more than $2,000.
Wrapping Up
Welding doesn't have to just be a side project, as there are many things to weld and sell for a profit.
If you're looking to make some money on the side, these are just a few of the welding projects you can sell.
Tim is a classically-trained journalist who loves to share knowledge and information with others. In the past, he has worked in TV, online and print media, and currently works with companies to help design, create and strategize their messaging.