If you have a motorcycle that you no longer wish to own, or if you have refurbished a motorcycle and want to make a profit off it, you're probably searching for the best place to sell a motorcycle.
If you're looking for where to sell a motorcycle, you'll be in luck, as there are many different options today.
From in-person dealerships to online, we break down below some of the top ways that you can sell a motorcycle in 2023.
Who buys used motorcycles?
There are many different people that buy used motorcycles. They can range from people who are interested in learning how to ride all the way to the ultra-experienced rider who just wants a second bike to get a different ride.
So, if you're looking to sell a motorcycle, know that you will have many different options for people and entities who would like to buy it.
Types of buyers include:
New Riders – Buying a used motorcycle limits their cost of trying something new.
Bike Collectors – If you have a rare bike, you could sell it to a collector.
Experienced Riders – Some people like to have multiple bikes for different purposes so these tips for selling a dirt bike will help you get top dollar.
Vehicle Dealers – Local dealers may be looking to buy your motorcycle, and then make money flipping it for a higher profit.
These are just a few of the general categories of buyers who might be interested in purchasing a used motorcycle.
Tactic for Success

One of the most important aspects of learning how to sell a motorcycle is knowing who your potential buyers might be. For instance, if you don't have a particularly rare bike, then you shouldn't try to market it to collectors. Knowing your target audience will be key to selling your bike fast and for the most money.
How can I sell my motorcycle fast?
If you want to sell your motorcycle fast, there are two different avenues you can take.
You can either sell it as is and take whatever you are offered, or you can get it in pristine shape and try to get top dollar.
If you go a route that's in between those two general descriptions, it's likely to take longer to sell your motorcycle.
They are really two different schools of thought and approaches to selling a motorcycle, and which one you choose really depends on your preferences for the sales process.

Getting Top Dollar for Your Used Motorcycle
As mentioned, the other option is to get your motorcycle in pristine shape before you try to sell it in order to get top dollar in return.
While you'll be spending some money and time into getting your bike in this condition, it actually could lead to a much shorter sales time.
That's because potential buyers will see that the bike is in great shape and know that they don't have to spend any of their own time or money fixing it.
Buyers can simply purchase your bike and ride away with it right away.
Some of the things you should do to get your bike in this shape is to perform a rather deep cleaning.
Don't just wipe the bike down on the surface. Get under the seat and in to the different parts of the bike to make sure it's free of any dirt, grime, dust or rust.
Touch up the paint, if necessary, so that it looks flawless. And perform all necessary maintenance of the bike so that it's running properly.
If you had this worked performed by a mechanic, keep your receipts so you can show them as proof that the work was done.
Trend on the Rise

Motorcycle sales have been on the decline for a few years, with the total number of bikes sold in 2016 (370,000) about half of that from 2006. This is actually good news for the used motorcycle market, though, as they are less expensive than new bikes. In fact, many bike manufacturers are adjusting their approach to offer less expensive bikes.
What is the best platform to sell a motorcycle?
Selling a motorcycle online is great because you can benefit from a rather large audience.
In addition, you can list your bike for sale on sites to sell stuff that people visit specifically to find used motorcycles.
Some of the most popular online platforms for selling used motorcycles include:
Rumble On – The consumer marketplace is for selling any type of vehicle.
eBay Marketplace – This marketplace allows people to sell virtually anything. In the last 90 days, over 3,900 motorcycles were sold on the platform! Here are some of the best things to sell on eBay.
Facebook Marketplace – A great classified-like marketplace for selling goods locally.
Craigslist – The original online classified listings marketplace. Follow these tips for selling on Craigslist for best results.
Cyber Trader – A site specifically geared toward selling motorcycles.
Tactic for Success

If you're going to sell your motorcycle on a generic online marketplace such as eBay, it will be important that you properly categorize your item. By writing a great headline, description and choosing the right categories, you'll make it easier for buyers to find your bike. Then, of course, make sure you take great photos and describe your bike properly.
Selling Your Bike Locally
There are many advantages to selling your motorcycle locally. Of course, you can gain many benefits to selling on a national online marketplace such as eBay, but there are obvious drawbacks, too.
One of the main advantages to selling locally is that you won't have to worry about shipping or delivery costs.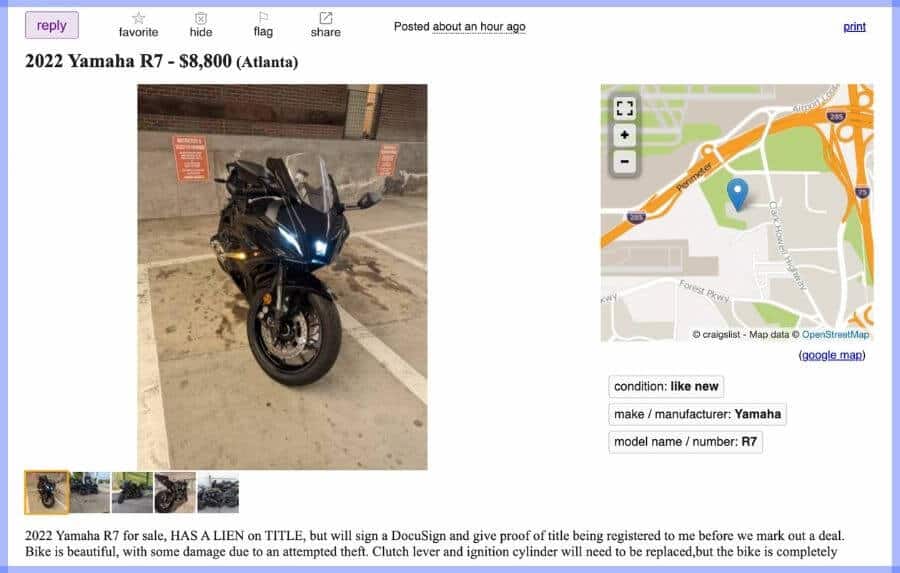 You can arrange to exchange the bike at a public location, or you can drive it to the buyer's house or have them come to your house.
The proximity of the buyer to you will also allow the buyer to check out the bike in person. If you're comfortable with them doing so, you could also allow them to take a test ride.
While there are potential downfalls to having your bike looked at in person, there are many benefits, too.
The major one is that, if your bike is in great shape, having the buyer check it out in person will only solidify their interest in your used motorcycle.
You won't have to worry about buyers thinking that your bike only looks good in pictures.
In the end, that could actually lead to a higher sales price.
Trend on the Rise

Facebook Marketplace is becoming one of the most popular places to buy and sell goods. As of 2020, it was the fifth most popular online marketplace — behind only ecommerce giants Amazon, Etsy, Walmart and eBay. So, there is a big opportunity you can have to find potential buyers for your used motorcycle on Facebook Marketplace.
Sell Motorcycles to a Dealer
Another option is to sell your used motorcycle to a dealership. Not every dealer will purchase used motorcycles, but there are plenty that do.
You will likely have a few different options when you sell to a dealer. You can sell your motorcycle as part of a trade-in if you want to purchase a new motorcycle.
This is perhaps the most common way that people do it — as part of an upgrade.
Even if you aren't in the market to buy a new motorcycle, you can sell the bike you already have to a dealer.
Many dealers will purchase used motorcycles from people and then turn them around and sell them for a profit.
There are even some dealerships that will sell used motorcycles on consignment. In this scenario, you will house your bike at the dealership, and if it sells, you'll get a portion of the overall sales price.
This helps the dealership mitigate their costs and could return you a higher price as well.
Aspects of Selling to a Dealer
One thing to keep in mind is that you will often get less money for your used motorcycle if you sell it to a dealer.
This is because the dealership will be looking to re-sell your bike for a profit. In order to do that, they may have to put some money into the bike and also pay you less than they would re-sell it for.
On the flip side, though, selling your motorcycle to a dealership could be a very quick way of getting rid of it.
You just would have to bring your bike to a dealer that buys used bikes, have them appraise it and make you an offer, then complete the paperwork.
Wrapping Up
If you have a used motorcycle that you would like to sell, know that you will have many different options — whether you want to sell your motorcycle quick and "as is" or take your time and maximize your return.
Follow our guide above for how you can get started on selling your used motorcycle in 2023.
Tim is a classically-trained journalist who loves to share knowledge and information with others. In the past, he has worked in TV, online and print media, and currently works with companies to help design, create and strategize their messaging.