Bars are one of the best ways to socialize and meet other people in the modern age without creating an account online.
But, if you're low on funds and aren't sure about how to open a bar with no money, you're not alone! Thankfully, it's not impossible to start a business when broke.
This is how to start a bar business, even if your bank account looks rough.
Opening a Bar With No Experience
Although many may assume the only reason to get into a business is because you're eager to make money, that's not necessarily true.
Instead, the main reason most successful entrepreneurs get into business is because they want to be free without a boss hanging over them, and they love the flexibility of being their own boss, according to Cox Business research.
Another perk of being your own boss is it's one of the go to jobs that don't have uniforms.
There are many reasons that can convince people, either way, what's important is finding what feels right to you.
These are the pros and cons of financing a pub as your first business.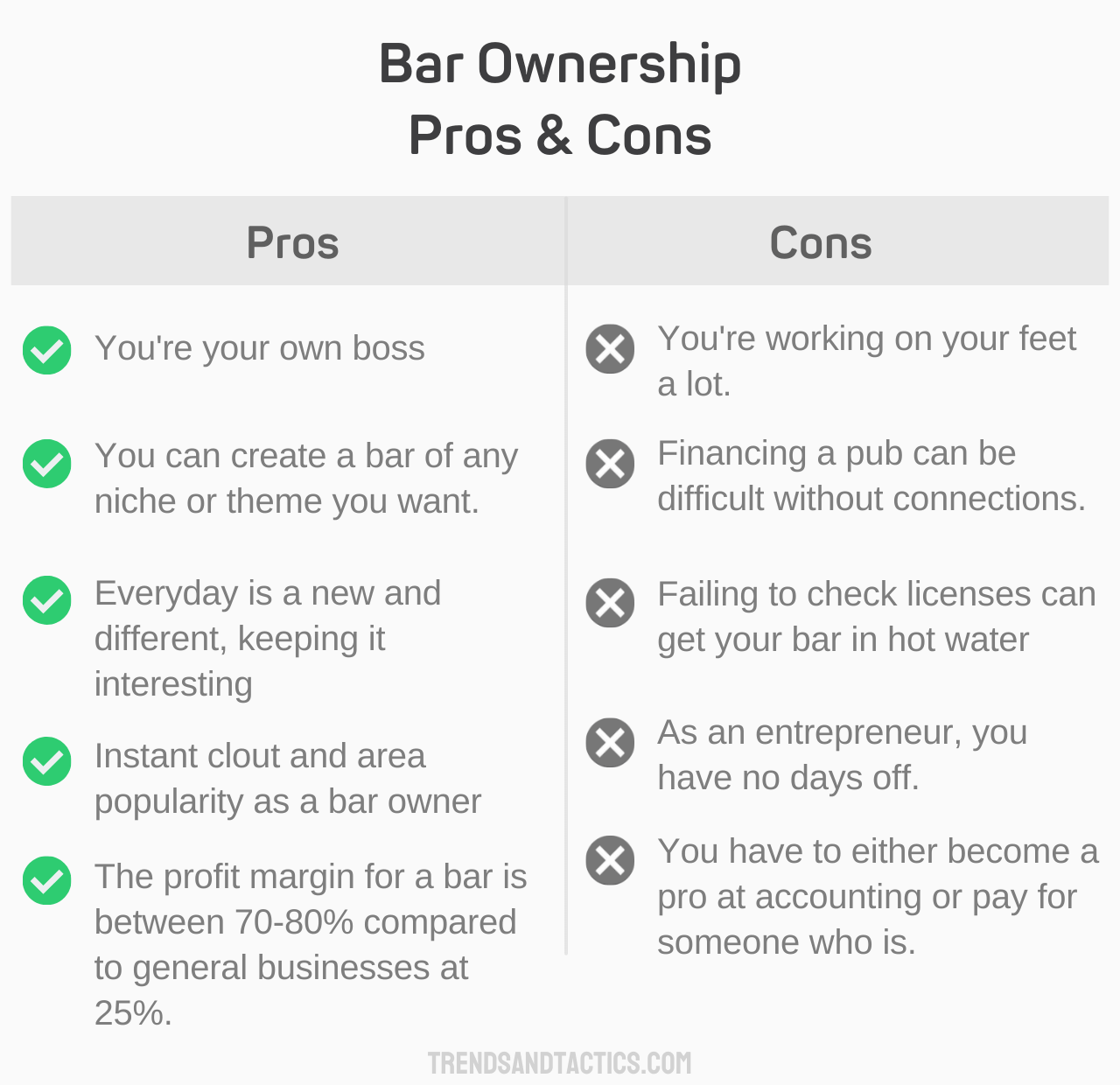 Trend on the Rise

Bars can make 200% to 400% on drinks served, with the average bar gaining revenue of $27,000 per month. This small overhead means that you can turn a bar into a major income opportunity as long as you bring customers in.
How much money is needed to open a bar?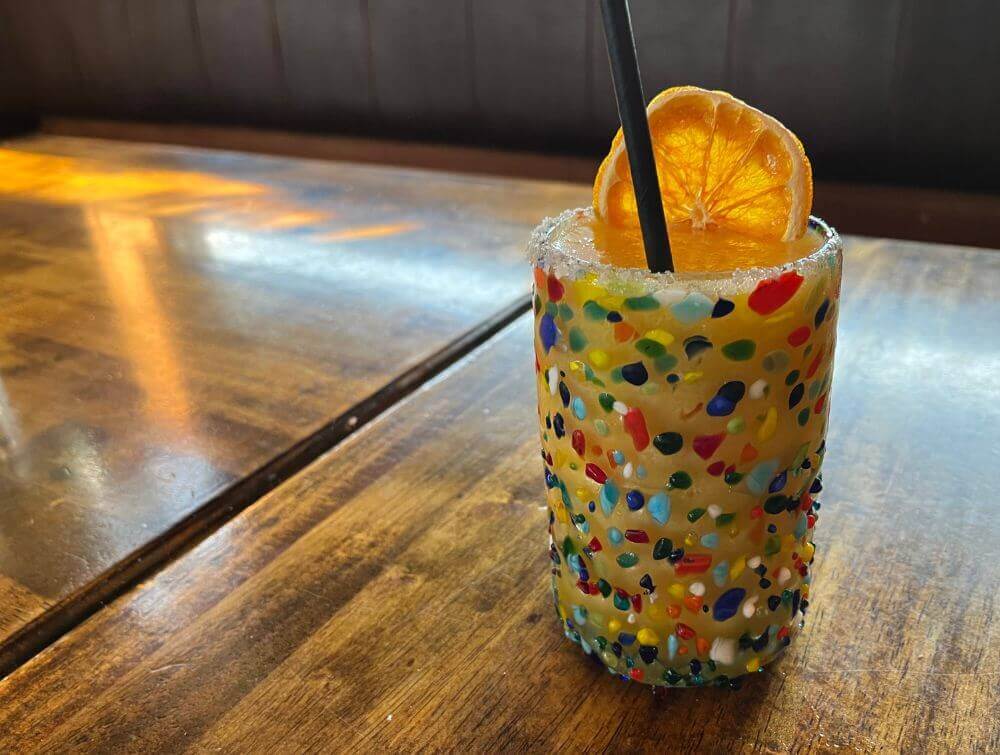 Opening a bar isn't cheap. Although owning a bar offers you a huge return on investment, it only works if you're able to get on the road running: and it costs a lot of money to do that.
According to a Nightlife Industry market overview, total startup costs range from $100,000 to $600,000 depending on the size and location. Working at a startup or running a small business is no easy feat.
This can be an Earth-shattering amount of cash if you're starting with no money, so you must plan around it. These are the largest cash sponges when you're starting.
Main Costs to Open a Bar:
Mortgage or Rent – your bar is nothing without a physical location. For this, make sure you choose a location close to other nightlife attractions like 24-hour restaurants and clubs.
Advertising – to get your foot in the door, you must advertise and get your name out there. People can't go to a bar they don't know exists.
Licenses and Permits – the cost of liquor license fees change by state. In some states, like Vermont, it's as low as $115 per year, while other states like Utah charge $2,200 a year.
Cost of Alcohol – alcohol is expensive! Therefore, it's important as a bar owner you create a relationship with vendors that will eventually help you score a lower price.
General Operating Costs – everything from the cost of hiring and training to turning the lights on and buying furniture will cost money. This adds up quickly.
If you want to save some money, you can go through a franchise instead.
Often these franchises can cost as little as $25,000 to buy into, and if you can buy a location, they'll cover a lot of the overhead fees to get you started up.
But, unfortunately, this isn't a great option for someone who wants to own and run their own business without a boss above them.
Keep in mind that the same bar can have vastly different overhead costs just by a change of zip code or street.
Don't fall in love with a property until you've compared what your monthly costs will be for it and other locations.
If you aren't quite ready to open a bar, a good way to get experience is working as a bartender, a high paying side hustle for men and women alike.
Tactic for Success

Use your money intelligently so that it works harder for you. This means smart advertising, using social media to connect with audiences instead of print or television advertising. Meet your customers where they are, don't expect them to find you.
How to Create a Brand and Niche For Your Bar
All bars benefit from the fact that people know they can arrive and enjoy having a drink and spending time with other adults.
However, a better way to give your bar a chance to succeed not only in finding investors but also customers is to provide it with a theme or niche that allows it to stand out.
Unique Theme
This can be anything from making it an LGBT bar with drag nights to theming it around military memorabilia if you're near a military base.
This can be based on your personal interests, or you could base it on what you think will draw in the most customers in your area.
Themed bars, like arcade bars and nerdy comic pop-culture bars, have been gaining steam recently, allowing bar owners to create a fun and interesting place for themselves to work.
You may even consider a science-fiction theme if you happen to be located around a lab that provides jobs for biochemistry majors.
Consider what themes you'd be most interested in leaning into and whether there's a market for that in your area.
Be aware of what has done well in your area, and research what other bars are currently there.
If nostalgia-themed bars are doing great in your area, but there are three 80s themed bars already: go for a different era or theme so you stand out.
Trend on the Rise

The average game in a barcade brings in $10,000 a year on its own. Barcodes are a great way to make passive income while also actively making money on drinks and food.
How to Get Your Bar Funded
One of the largest questions people have when it's time to start their business is how do they get the money for it?
With opening costs as high as $500,000, you must begin seeking funding as early as possible to get ahead and have your business started.
Gaining funding isn't easy regardless of how you do it: but these are the main ways people gain the financing that allows them to start their dream business.
Top Ways to Fund a Bar:
Grants – grants rely on information about you to decide whether or not you can have the money. Look into what state and local programs you can find that offer you the chance at success.
Small Business Loans – if you have a great business plan, have run a business before, and have a great credit score: you might be eligible for a small business loan!
Find Local Investors – investors are the partners that help start up a business so that they can get a slice of the action when it succeeds.
Crowdfund Online – crowdfunding is the future of business startups. If your bar idea stands out and is awesome and unique, you could possibly get crowdfunded!
Talk to Family and Loved Ones – if you have a relative who has the funds and may be willing to invest in you, it can't hurt to ask. You can offer to name a drink or special after them!
Tactic for Success

Funding isn't cut and dry, so if you can't find your perfect lender or investor: don't give up. Instead, put your best foot forward, and make sure to have a full business plan through every step.
What licenses do you need to open a bar?
Licenses and permits are important because they make the difference between a legal bar: and one that's in hot legal water.
The main three licenses you'll need to get are a business license, certificate of occupancy, and a liquor license.
These are required for every single state and are the bare minimum.
From here, you'll need a resale permit to sell any products that aren't made in-house and both a food service license and food handler's permit if you offer any kind of food.
Since most bars offer at least pretzels, you must get these licenses.
Other licenses have to do with the entertainment, requiring a music license or a live performance or entertainment license and are only if you plan on having people perform in person.
This is a great way to draw in customers: so it should be considered.
Wrapping Up
Although owning a bar and ensuring it succeeds is expensive: you don't have to be rich to start.
Instead, consider funding through some of the options above, and create the business of your dreams.
Erin is a business teacher and mother of three. When she's not in the classroom or fulfilling her obligations as an A+ hockey and lacrosse mom, she's working on her latest article.