Amazon is one of the most popular websites on the planet.
While the company provides an opportunity for small businesses to find customers in ways they might not be able to do on their own, it's still pertinent to ask is selling on Amazon worth it.
There are many Amazon pros and cons, and we'll discuss those below so you can decide if it's right for you.
How much does the average Amazon seller make?
It's no surprise that Amazon is a popular marketplace. In fact, in 2021 alone, an average of 3,700 sellers joined the platform every day.
The COVID-19 pandemic forced many businesses to turn even more toward online retail than they had in the past, and influenced other people to start new ecommerce businesses from scratch.
Whether you are selling laptops for profit or want to sell dirt bikes online, there's opportunities on Amazon for just about anything.
Trends on the Rise

The COVID-19 pandemic forced people indoors, and they spent a lot of time online shopping. E-commerce sales across the globe increased from being 16% of total retail sales in 2019 to 19% in 2020.
In other words, now is a great time to hop online to sell products if you aren't already.
The company's own The State of the Amazon Seller report for 2021 said that new sellers on an annual basis can earn $42,000 on average.
Roughly half of all sellers on Amazon bring in between $1,000 and $25,000 each month in sales. Roughly 20% earn between $25,000 and $250,000 every month.
Only about 6% of all Amazon sellers bring in more than $250,000 in sales per month, but the good news is that at least some do.
One of the biggest differences between sellers in these tiers is knowing the difference between profitable things to resell vs duds.
That's just sales numbers, though. Amazon reports that profit margins for sellers on their platform range anywhere from 10% on the low end to 20% or more on the high end.
That's a pretty solid profit margin and definitely one of the things to know before selling on Amazon.
In other words, not only can you rake in the sales, but your venture can be profitable doing so as well.
Is selling on Amazon worth it?
Unfortunately, there is no straight answer to this question that applies to all businesses and all people.
The fact is that there are many Amazon pros and cons, but if your business is set up right to use the platform and if you take advantage of all they have to offer, you'll find that selling on Amazon can be quite lucrative.
One of the best parts about selling on Amazon is you can take part in their Fulfillment by Amazon (FBA) program. This means Amazon will work as the inventory management and shipment company for you.
You won't have to worry about fulfilling orders at all. You won't have to manage your inventory. You won't have to package the products you sell. And you won't have to ship them to customers.
This is a major differentiating factor of selling on Amazon as opposed to selling on platforms like eBay vs Poshmark vs Mercari.
Of course, you'll pay a fee for this service, but it could be worth it for you.
In fact, some entrepreneurs were able to earn $100,000 per year as an FBA seller.
Tactics for Success

Do you have enough space to hold all your inventory? Do you have adequate staffing to fulfill all your orders?
These are questions you need to ask yourself before deciding whether you want to be an FBA seller. If the answer to either of those two questions is no, then FBA might be right for you.
If this isn't for you, you can always do it all yourself still as a Fulfillment by Merchant (FBM) seller.
One of the biggest factors in determining whether Amazon is a good fit for you is whether you can consistently deliver high-quality products.
Because Amazon is such a huge retail giant, your sales could take off. This will force you to stay up with demand. If you don't, it could doom your business.
Amazon Pros and Cons
There are many Amazon pros and cons you should consider before jumping full-steam-ahead onto the ecommerce platform.
Pro: Easy to Start
One of the biggest pros is that it's very easy to get started.
You don't have to worry about buying your own domain name, hiring a web designer to create an ecommerce platform for you and then marketing it so you can find potential buyers.
Amazon's platform has all the logistics built right in, as well as the huge customer base.
Pro: Tap into Existing Traffic
Another pro is that Amazon already has the traffic. You won't need to worry about getting people to your site.
Amazon already has a huge base of customers who visit every day, making it much easier for your products to be found.
Tactics for Success

If you're going to go the route of selling on your own, keep in mind that one of the biggest factors to your success will be your marketing efforts.
Make sure that you pump your products on as many social media channels as possible, and consider running paid digital advertising campaigns to raise brand awareness even more.
Pro: You Have Options
A final pro is the flexibility that Amazon provides. You can just upload your products, then sit back and let the sales come in.
And if you go the FBA route, you won't even need to fulfill your orders.
Con: Stiff Competition
One con is that other bad actors can see your products on Amazon and then counterfeit them.
They can see what you're offering, see if it's popular and then re-make your product, undercutting you in price.
Smaller platforms like Mercari are usually much easier to break into. Make sure you are utilizing the best tips for selling on Mercari to maximize sales.
Con: Above Average Fees
Amazon takes rather high commissions for your sales that will cut into your profits.
In addition, if you go the FBA route, you'll pay ongoing fees for returns processing, fulfillment, long-term storage and monthly inventory storage, among other things.
There isn't too much you can do to cut back on fees, aside from shipping efficiencies and saving on product costs. On the other hand, there are lots of ways to reduce fees on eBay, which many sellers appreciate.
Con: Playing in Someone Else's Playground
A final con is that the branding of your product will often fall in the lap of Amazon.
You won't have the ability to create a connection with your customers, which can hurt your future sales and the long-term potential of your company.
Your sales, in essence, boost the brand of Amazon and they relationship it has with its customers.
Trends on the Rise

Customer experience and customer relationship are huge factors in a company's success today. In fact, 96% of consumers say that customer service is a vital factor in how they choose whether to be loyal to a brand.
Amazon vs Other Online Marketplaces
Luckily, there are other online marketplaces to sell stuff, which is one of the things to know before selling on Amazon.
The first alternative is to sell on your own ecommerce site. You can use tools like Shopify to help you set up your site and run the back-end operations such as payment processing.
Another alternative is eBay. It's one of the most popular other sites, as it had more than 183 million buyers who were active across the world in 2020.
The site is based on auctions, but you can set Buy It Now prices as well.
Bonanza is another ecommerce platform that is growing every year. There are more than 40,000 sellers on the site right now, which is considerably less than what Amazon or even eBay has.
However, it's still a good option if you're looking for alternatives.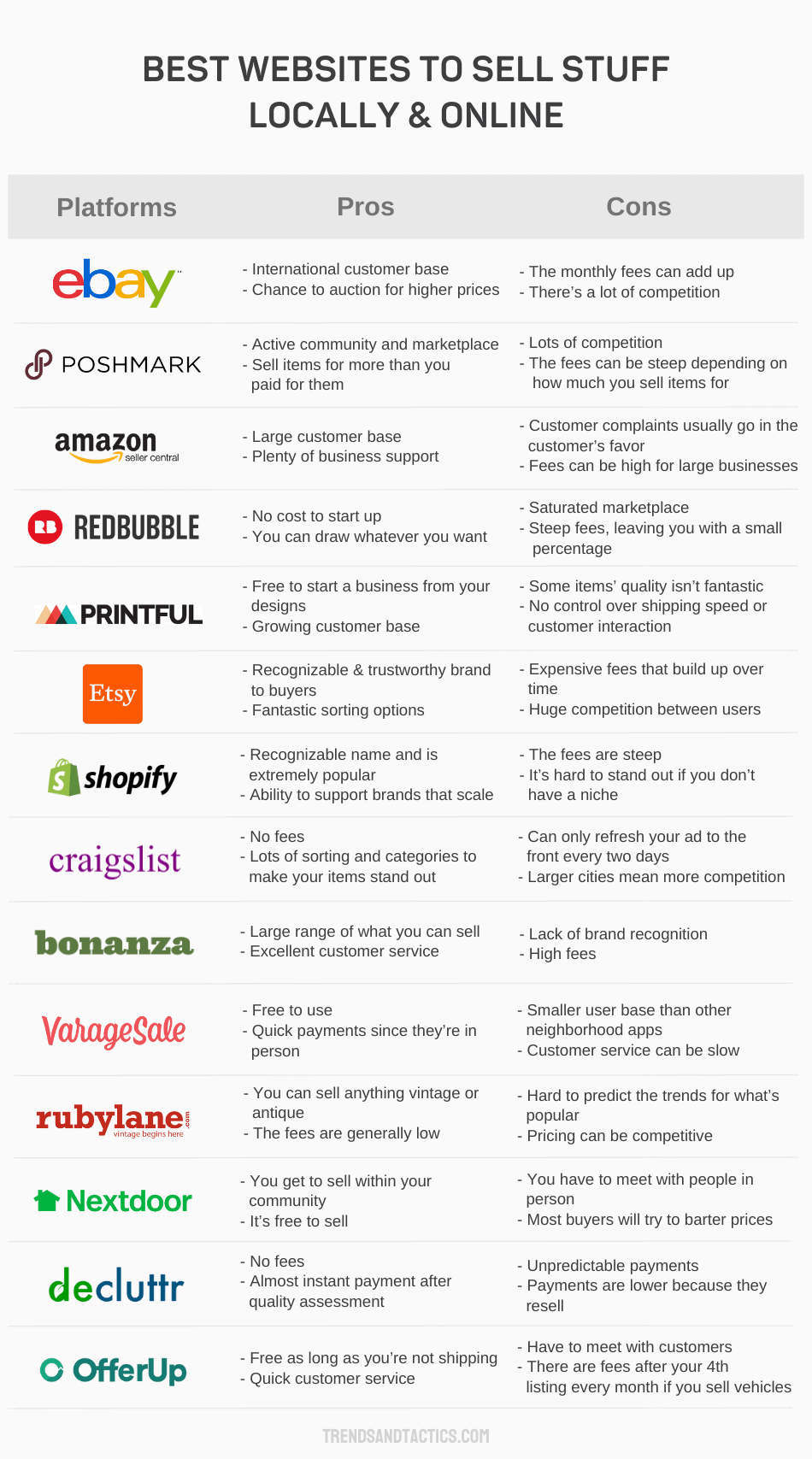 How to make your Amazon store thrive?
Optimizing your Amazon store is critical to putting it on the fast track for success.
Eye-Catching Photos
One of the most important tips is to take great pictures of your products. If you don't have photos, buyers will often be turned off from your products.
It's even better if you can add cool videos that either show your product in action or that describe briefly the benefits of your product.
SEO Optimized Descriptions
Add a great description for your products. Photos are great, but they're meaningless if you aren't describing what your product is and what it does.
Further, you should make sure to effectively describe what your product is made of, instructions for how to set it up or use it, and the dimensions.
You can be even more successful with your product descriptions if you include any warranty that buyers get when they purchase your product.
Choose the Right Category
Make sure that you are properly categorizing your products when you list them for sale.
Amazon's search formula is based on categories. If your products are incorrectly listed, it might be very hard for buyers to find them in the first place.
And if no one can find your products, then you're likely to not make very many sales.
Wrapping Up
Many entrepreneurs ask is being an Amazon seller worth it, and the answer isn't straightforward for every person.
However, after you weigh the Amazon pros and cons, you'll realize that there are great opportunities to make an excellent profit on the ecommerce giant.
Tim is a classically-trained journalist who loves to share knowledge and information with others. In the past, he has worked in TV, online and print media, and currently works with companies to help design, create and strategize their messaging.