Disney is a brand that's been building memories for children and their families for almost a hundred years: so it's no surprise that anything they put out can instantly become collectible.
VHS tapes have been having a strong revival in recent years for collectors, but many who are new to the game are unsure about where to sell Disney VHS tapes.
These are the top areas to sell them and how to sell Disney VHS tapes for a profit!
Are old Disney VHS tapes worth anything?
Disney has an undeniable power over people, so it's an obvious company to consider reselling from if you can get in. Unfortunately, it's also extremely popular.
This means that when people stumble upon an older Disney VHS, they're far more likely to pause and google how much it's worth than they would have otherwise.
Luckily, as with any collectible, Disney VHS tapes get more valuable the more time passes, especially as the more valuable ones become harder and harder to find for sale.
The average Disney VHS isn't going to be worth more than five dollars, with some dropping as low as $1, with $8 of shipping.
They may not be one of the top items to sell on eBay, but if done right you can still make some extra cash and even make money at college without a job.
There are many different VHS tape options out there, ranging from Diamond Edition to the Disney Masterpiece Collection and tons of choices that can make you make more money in the long run.
The only difficulty is that they're rare, and hunting them down at a price you can profit off of can be a full-time job.
Trend on the Rise

The Little Mermaid's original VHS tape, first edition, is now worth $1,500! There's a lot of room to sell Disney VHS tapes for profit if you know how to play this game!
What Makes a VHS Tape Valuable
VHS tapes were made to last. Built stronger than previous forms of media, they're made to stand up to the tests of time: and many have done a fantastic job lasting the decades unscathed.
Fortunately, this means many valuable VHS tapes were able to make it through the years just sitting on someone's shelf or in packed boxes.
The most valuable VHS tapes are ones that sold for average prices at the time and just outlasted the others. These are the marks of something that can sell for a lot of money.
Check out these top online marketplaces if you're thinking about letting your tapes go.
Most Valuable Disney VHS Tapes
Black Diamond Edition – Black Diamond Edition tapes are from the '80s and 90's classics line. You can recognize them by the black diamond on their spine.
First or Second Edition – The earlier the edition, the more valuable the tape will often be.
Misprints and Typos – Misprints and typos can be a problem if you're the one printing them: but when they're on real Disney VHS tapes, they add a lot of value.
Unedited Versions – Throughout the years, Disney has edited or re-released movies with changes in them. The versions without these changes are worth more.
It's important to keep in mind that although these are the marks of a tape that will be worth more money, there are going to be outliers that aren't worth as much.
Most Black Diamond Edition movies are going to be worth at least a couple hundred dollars, with some with banned or outdated covers going into the thousands.
Tactic for Success

When looking at your own collection, or considering buying VHS tapes to add to your collection, discard damaged or unplayable tapes: but consider researching first to see if someone would buy them as a shelved art piece.
Where can I source VHS tapes to flip?
If you want to buy a bunch of VHS tapes for cheap, in the hopes of possibly stumbling upon a black diamond in the rough: it's a good idea to check spots where people are simply trying to get rid of as many items as possible.
This can mean yard sales, church sales, second-hand stores, eBay lot listings, and tons of other places.
Keep in mind that if you buy them online, it's harder to check the quality and authenticity since you can't hold them in your hands.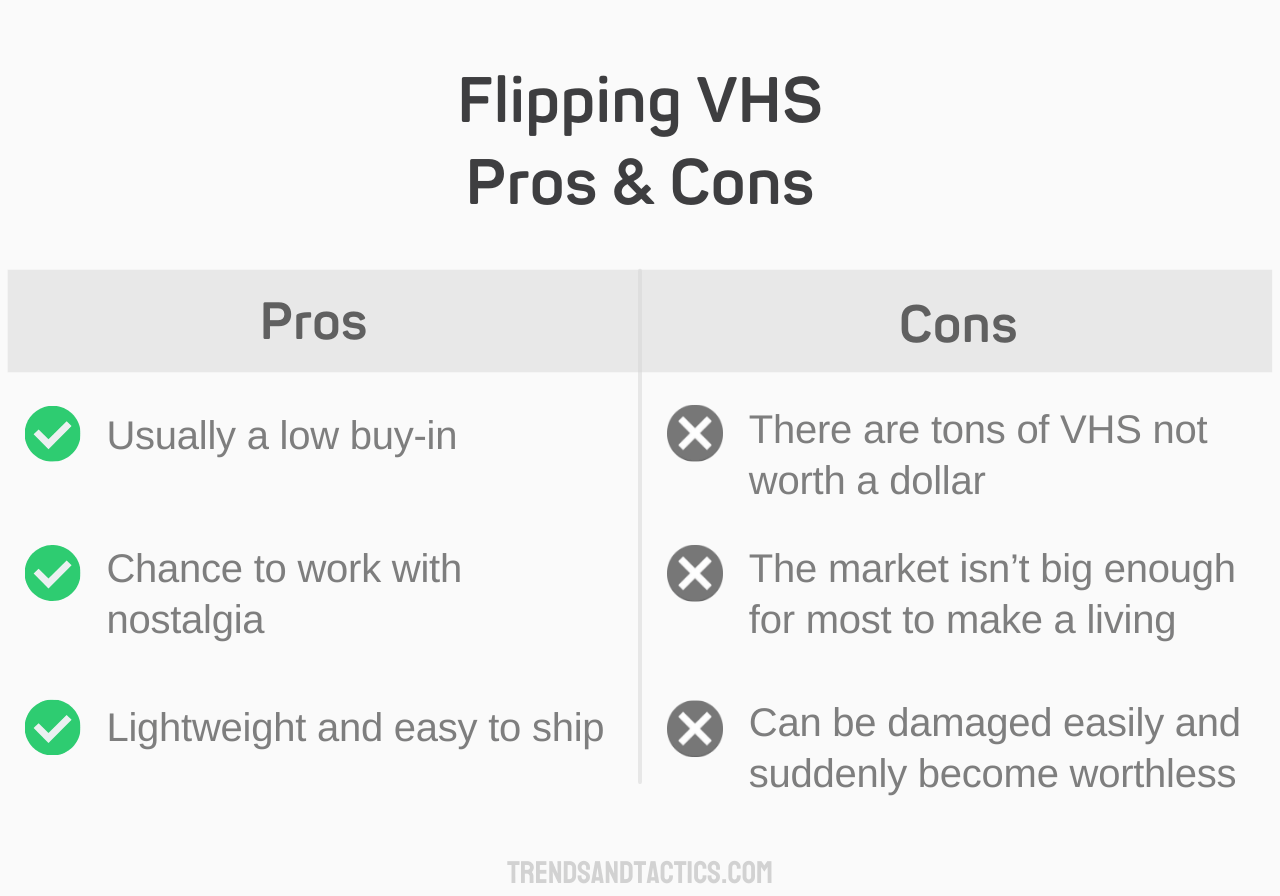 Avoiding getting scammed out of your money is important here. Whenever something seems questionable, or you're unsure- stop and do some research.
Check what the original covers would have looked like, what the case was like, and how it was printed.
Look into the colors and if there are a lot of fakes on the market for these specific collectibles.
Although this can be exhausting if you're buying a ton for cheap: failing to research could leave you with a bunch of useless tapes with fake covers.
Tactic for Success

The most important rule of business is to ensure that when you're buying something to sell it, you always leave a gap of paying no less than 30% lower than the price you think you can sell it at.
Where can I sell Disney tapes?
When you're ready to sell your Disney VHS tapes, there are plenty of locations online and in person where you can sell them.
These are some of the top locations and why they're so popular.
Selling on eBay
eBay has a little something for everyone: which makes it a great place to both buy and sell VHS tapes.
Unfortunately, if you're not careful, you could accidentally buy a fake or a replica.
These tips to sell fast on eBay can help you boost not just your Disney tape sales, but anything from flipping Supreme brand items to an old living room table.
Selling on Etsy
Etsy is an awesome website for connecting with buyers. Not only do you get to sell it as a vintage item on a vintage site, but you can also build a brand for yourself.
Unfortunately, this site has steep fees many sellers don't like.
Selling on Facebook Marketplace
Facebook Marketplace has its perks, in that you can sell locally or nationally, and you can find a buyer for everything.
Unfortunately, there are a lot of fake listings on this site, which is why it's important to follow the right Facebook etiquette when using the platform.
Selling on Poshmark
Poshmark is an awesome site to help you meet collectors from around the world.
Aimed at vintage and older items, this is a great place to sell the VHS tapes as Disney collectibles and boost the price.
Selling on Craigslist
Craigslist is a complicated place to sell since you'll have a mixed bag of buyers who know what they're looking for and those who think you're charging too much for a movie they can pirate for free.
This is a great way to sell quickly, though and close the sale soon. One helpful Craigslist tip, make sure to include very detailed descriptions as this will drive more shoppers to your listing.
Trend on the Rise

Although eBay is one of the best-known, if you have a lot of tapes with their boxes, you can find a lot of collectors on Etsy who are extremely driven and will pay more. eBay's auction function is useful but never a guarantee.
How to Tell if a VHS is Damaged Before Buying
If you're in a store digging through the discount bin of VHS tapes and come across a copy of The Little Mermaid with a black diamond, you may be tempted to quickly buy it: but if it doesn't function, it's barely worth anything.
It's important to know how to check if a VHS tape is damaged and get to know the warning signs of purchase you shouldn't carry out. These are the top signs.
Signs a VHS Tape is Damaged
Visible Mold or Rot – Water is one of the worst things for a VHS tape. Unfortunately, these are often stored in basements or sheds where water can get to them.
Warping from Heat – VHS tapes are durable, but heat can still get to them. This can warm the outside, which may mean the tape is damaged.
Scuffs and Broken Corners – One of the most common injuries against these tapes that are immediately visible is broken or scuffed corners.
The Tape is Visible or Damaged – If you can see the tape and it's curled, broken, or discolored, it's probably not functional.
It Doesn't Play – Some second-hand shops will let you plug in a VHS player to test it out. If you can test it, this is the clearest way to ensure it works.
If your VHS is damaged, there are still other ways to make money off of them! On Etsy, there's a thriving market of people who turn old VHS tapes and cases into fun display lamps.
You can also simply sell it as a visual art piece, something others can enjoy seeing on a shelf without trying to play.
Just make it clear when you sell it that it doesn't work. Most sites allow users to rate sellers, and you can tank your ability to sell and your reputation by selling a VHS that isn't in working order.
Wrapping Up
Whether you're selling VHS tapes you once enjoyed as a kid or you're offloading extra boxes of tapes you bought at an auction: there's a lot of money that can be made out of the right tapes.
Consider selling yours soon!
Erin is a business teacher and mother of three. When she's not in the classroom or fulfilling her obligations as an A+ hockey and lacrosse mom, she's working on her latest article.