Are you curious about how farmers make money?
Believe it or not, there are ways to make money farming – but it isn't always easy to turn the hobby of farming into a lucrative business.
You have to have a clear idea of your goals as well as some smart ideas on how to monetize your passion.
Ready to learn how to make money on a farm? Grab your muck boots and your ledger – and let's get started.
How much do farm owners make?
According to the USDA, the average income for "traditional" small farms is around $8,000 in profit per year.
That's not very much, as you can see – which is why many farmers have to take on a job outside the farm to supplement that income. In addition, there are creative ways to save money if you want to start a farm.
While most farms gross a much higher number than this, farms have a notoriously high level of overhead expenses that can make profiting much more challenging than it might seem.
On my farm, for example, we bring in around $15,000 in profit each year. However, we have at least $25,000 in expenses.
Since we are a new, first-generation farm, we don't expect to turn a profit for another few years (there's too much that needs to be done in terms of improving infrastructure and growing the size of our breeding herds).
Tactics for Success:

One of the best things you can do to improve your farm's bottom line is to diversify. Consider branching out and offering more than one commodity from the list of options below as it can save you (and earn you) additional money.
For example, if you sell meat chickens, you could also sell manure – you won't have to find another way to dispose of the manure and you'll be able to improve your profits by selling a waste product.
1. Sell Eggs
The first easy way to make money on a farm is to sell eggs. A flock of a dozen chickens will lay a few dozen eggs per week.
You'll need to put about 100 pounds of feed into them over the course of a month, which will cost around $30 to $60, depending on whether you buy organic feed.
Earning Potential: Up to $5 per dozen
Trends on the Rise:

More people than ever before are raising their own chickens – up 758% between 2020 and 2019 alone. Make your homegrown eggs more competitive in the market by raising chickens whose eggs are organic or pasture-raised.
2. Grow and Sell Gourmet Mushrooms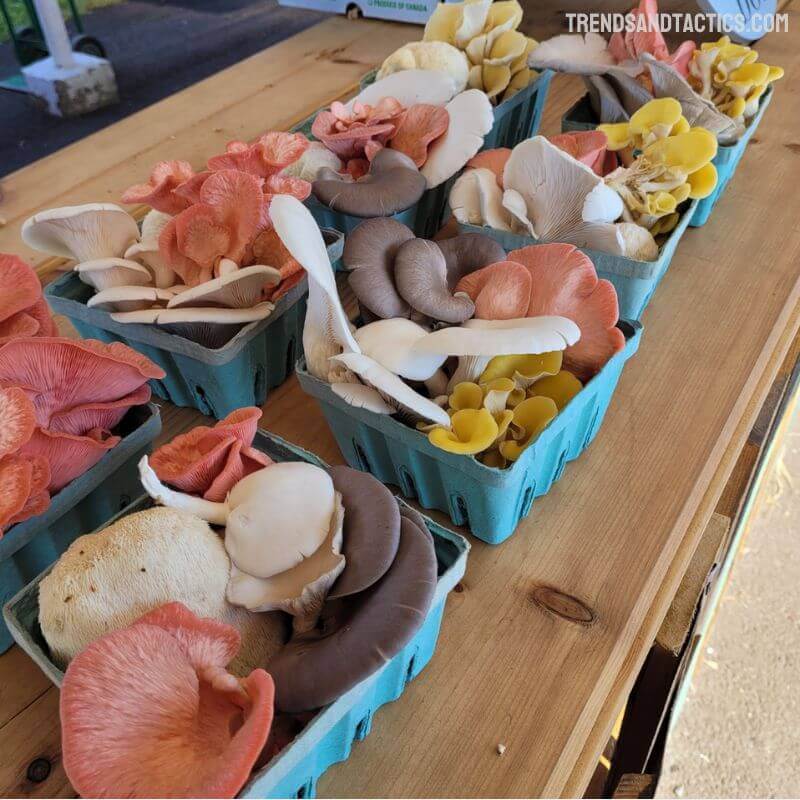 Growing mushrooms is another way to make money on a farm.
You don't need much space – just a dark, damp area. In just 100 square feet of growing space you can harvest around 2400 pounds of mushrooms per year, with a harvest about once every eight weeks.
The key here is to pick a highly profitable strain, like oyster mushrooms or shiitake. Regardless, starting a mushroom farm takes serious work.
Earning Potential: $6-$10 per pound wholesale (ProfitablePlantsDigest)
3. Sell Meat Chickens
Selling meat chickens is one of the best ways to make money on a farm.
Because most commercial meat strains, like Cornish Cross chickens, are ready for the table in just six to ten weeks, you don't have to keep these animals around for very long in order to turn a nice profit.
The average chicken sells for around $3 to $5 a pound in most areas (we charge $3.99 per pound) so one chicken will gross about $15 to $25.
You'll have to pay for the baby chick – around $3 – and for feed – another $3 per bird or so.
Fixed costs like waterers, feeders, and transportation aside, that means you can earn around $9 or more per bird. That's not bad, considering the short amount of time involved in caring for these animals.
Earning Potential: $9 per bird (NC Farm School)
Tactics for Success:

Raise your meat chickens on pasture to help them grow out faster (see image). They'll consume less feed and produce better quality meat (higher in omega-3s and other vital nutrients).
If you can, slaughter your meat chickens yourself. This eliminates an expense that can really cut into your profits ($3 or more per head is what most facilities charge) and an additional hassle. The USDA allows for a maximum of 1000 birds slaughtered on-farm without additional permitting required.
4. Raise Bees
There are lots of different ways you can make money raising bees. The beauty of this endeavor is that you can monetize a number of different areas within your operation.
You can sell honey, nucs (the bees themselves), beeswax, or processed products like candles or other products. You can even sell pollen and propolis, both of which are often used as health supplements.
For natural honey, you can charge at least $10 per pound.
While there is a serious learning curve involved with raising bees, once you get the hang of things, this is a relatively low-maintenance business idea.
Earning Potential: $10 per lb of honey (CompleteBeeHives)
5. Sell Pork
Another way we make money on my farm is by selling pork. Although extra permitting is required if you plan on slaughtering the hogs yourself, it's easy enough to find a facility that will handle this for you.
We charge $2.80 per pound on unprocessed pork (the buyer has to pay the slaughtering fees).
Since feed costs are relatively easy to keep low and we breed our own sows to raise our own piglets, we have very little money in the endeavor.
Expect to profit around $100 per pig, depending on where you live, what kind of grain you feed, and other factors.
Another cost saver of working as a farmer is that no uniform is required for the job.
Earning Potential: $100 per pig
6. Grow Flowers
Although lots of farmers specialize in growing fruits and vegetables, there are very few that grow flowers – and flowers can be expensive.
As a result, it makes flower farming one of the most profitable areas of farming to get into.
Cut flowers are some of the best cash crops in the United States. They don't take up much space and if you have a climate-controlled greenhouse, you'll have better control over all the variables.
It's likely that you could also recycle ballasts for extra cash from your greenhouse.
Earning Potential: ~$25,000 per acre (GrowingforMarket)
7. Start an Aquaculture Farm
Aquaculture, or fish farming, is another way to make money on your farm. You can raise fish in ponds, pools, or concrete tanks.
The most common types of farmed fish are tilapia, catfish, salmon, carp, trout, and cod.
You'll need some space and the ability to make a pond but the beauty of this system is that fish farming is profitable and the fish grow out fast – meaning very little time involved.
Earning Potential: $44,852 per year
Trends on the Rise:

About 63% of all fish consumed each year are actually farmed (not wild-caught). As an aquaculturist, you have the potential to make some serious money, especially if you have the ability to send your products out of your local area.
8. Grow and Sell Seedlings
If you're already starting most of your plants from seed anyway, a great way to double up and make a little extra cash is to sell seedlings. You can easily charge $6 or more for a six-pack of plants.
Find out more about other items you can buy and sell for profit.
There's not a ton of overhead for this farming endeavor, although there is quite a bit of work (between sowing, watering, fertilizing, transplanting, and all the other tasks associated with caring for young seedlings).
Earning Potential: Up to $3,000 per month (WomansWorld)
9. Rent Out Space for Agritourism
Agrotourism is another avenue to explore if you want to make use of the land you already have.
From opening up a bed and breakfast to operating corn mazes or hay wagon rides, this is a great way to monetize your existing space.
Of course, depending on the option you choose, you'll have to put some money into it before you see a profit (if you want to rent out space for a wedding venue, you can expect to spend several thousand dollars just to get the place rental-ready).
Earning Potential: $24,240 (FarmProgress)
10. Grow Garlic
Like mushrooms, garlic is another profitable crop, allowing you to earn up to $10 per square foot of growing area.
Again, you'll need to pick a gourmet strain and be able to sell wholesale to restaurants or grocery stores (most people aren't going to be interested in buying three pounds of garlic just for their house).
However, if you're short on space, this is a great way to make a large amount of money in a small area.
Earning Potential: $40,000 per year (Profitable Plants)
11. Start a Raw Milk Dairy
The average $3.50 gallon of milk takes around $2 for a farmer to produce. As you can see, that's not a lot of profit.
One way that dairy farmers are making more money (where it's legal and allowed) is to sell raw milk instead of pasteurized. Raw milk has alleged health benefits that allow it to fetch a much higher price.
That said, it can't be transported across state lines, and permits are required. That said, a gallon of raw milk sells for more than twice the price of traditional milk – making the effort worth it.
Earning Potential: $44,132 per year (Zippia)
12. Raise Sheep
Raising sheep is another profitable idea to try. Although no individual aspect of raising sheep is particularly profitable in and of itself, the beauty of sheep is that they are triple-purpose animals.
When raising pigs, you really only get one product – the pork. However, when you raise sheep, you can harvest wool, milk, and meat, as long as you choose the right breed.
We charge $11 per pound for our lamb and while we don't harvest milk or wool, we easily could.
The average full-time sheep farmer makes around $67,950 per year, though there are a lot of overhead expenses (like milking equipment, slaughter fees, housing, hay, mineral supplements, etc) that need to be taken into consideration.
Earning Potential: $67,950
13. Grow Organic Vegetables
Vegetable farming can be profitable as long as you have the land to do so.
You'll have quite a bit of money in the equipment – several thousand dollars or more – but if you commit to growing organic vegetables, the profit margin is about 22 to 35% higher.
Save money by finding the places to sell used tools and equipment locally or online.
Earning Potential: $64,170 per year (Comparably)
14. Grow Microgreens
Microgreens are edible immature greens (usually things like cauliflower, broccoli, sunflower, buckwheat, chia, etc) that are harvested just a month after germination.
They're often used as garnishes and salad ingredients by restaurants.
They can be grown in a small space and often sell for $50 per pound or more. They're ideal for small farms and those in cities.
Since this is a job you could do year-round with some grow lights, it has the potential to be a self-supporting, year-round endeavor.
You can easily earn over six figures because the crop cycle is so short and easy to repeat.
Earning Potential: $100,000 plus per year (Grocycle)
15. Sell Compost
Selling compost is another profitable farm idea to try.
It's in high demand because just about every person who grows plants will want to provide them with high-quality fertilizer.
You don't need a biochemistry degree to produce the best fertilizer, but here are some other ways to earn money with a biochemistry degree.
You can make your own compost with kitchen waste, animal manure, and other things that tend to be in constant supply around a farm (like waste hay).
Unlike most farming projects, there's not much overhead on this kind of business so the profit margin isn't quite as razor-thin.
Some businesses gross in excess of more than $1 million per year, though the average is about half of that.
Earning Potential: $500,000 per year
Wrapping Up
There you have it – a few ideas of how farmers make money – and some actionable tips you can follow for yourself.
Don't expect to hit it rich your first, tenth, or even twentieth year in farming – although this isn't a career for those who want to get wealthy in a hurry, it's one of the most rewarding jobs you can do.
Rebekah is a writer who covers all things education, business, agriculture, and finance. She owns a small farm business in upstate New York. Her educational credentials include a bachelor's degree in English from St. Lawrence University and a master's in special education from SUNY Plattsburgh.