If you're like most business owners, then you're always looking for ways to save money. One great way to do that is by buying liquidation pallets.
However, knowing how to buy liquidation pallets can be a bit tricky!
In this blog post, we will outline the best way to buy liquidation pallets. So, if you're interested in saving money on your next purchase, then keep reading!
Can anyone buy a liquidation pallet?
A liquidation pallet is a type of merchandise pallet that is composed of overstock, returns, and closeout items from major retailers. These items are typically sold at a steep discount in order to move them quickly.
Liquidation pallets can be a great way to save money on high-quality merchandise, especially if you want to earn money reselling them, but they can also be risky.
Because the items on a liquidation pallet are typically sold as-is, it is important to inspect them carefully before making a purchase.
Trend on the Rise

Why are liquidation pallets a smart purchasing choice? Consumers are buying less but returning more, so retailers are forced to sell to liquidators at steep discounts. Those discounts are being passed on to people who choose to purchase liquidation pallets to resell.
Are liquidation pallets worth it? It depends.
The products on a liquidation pallet come from different sources, so there is no guarantee that they will be compatible with each other.
That said, anyone can buy a liquidation pallet – and for anyone looking for a great deal on merchandise, liquidation pallets can be a great option.
Whether you're looking to sell on online auctions or try your hand at online arbitrage, sourcing your product through liquidation pallets can be quite profitable.
These pallets are typically composed of overstocked, returned, or otherwise excess inventory that retailers need to get rid of. As such, they can be a great source of deeply discounted goods.
Here are some pros and cons of buying liquidation pallets.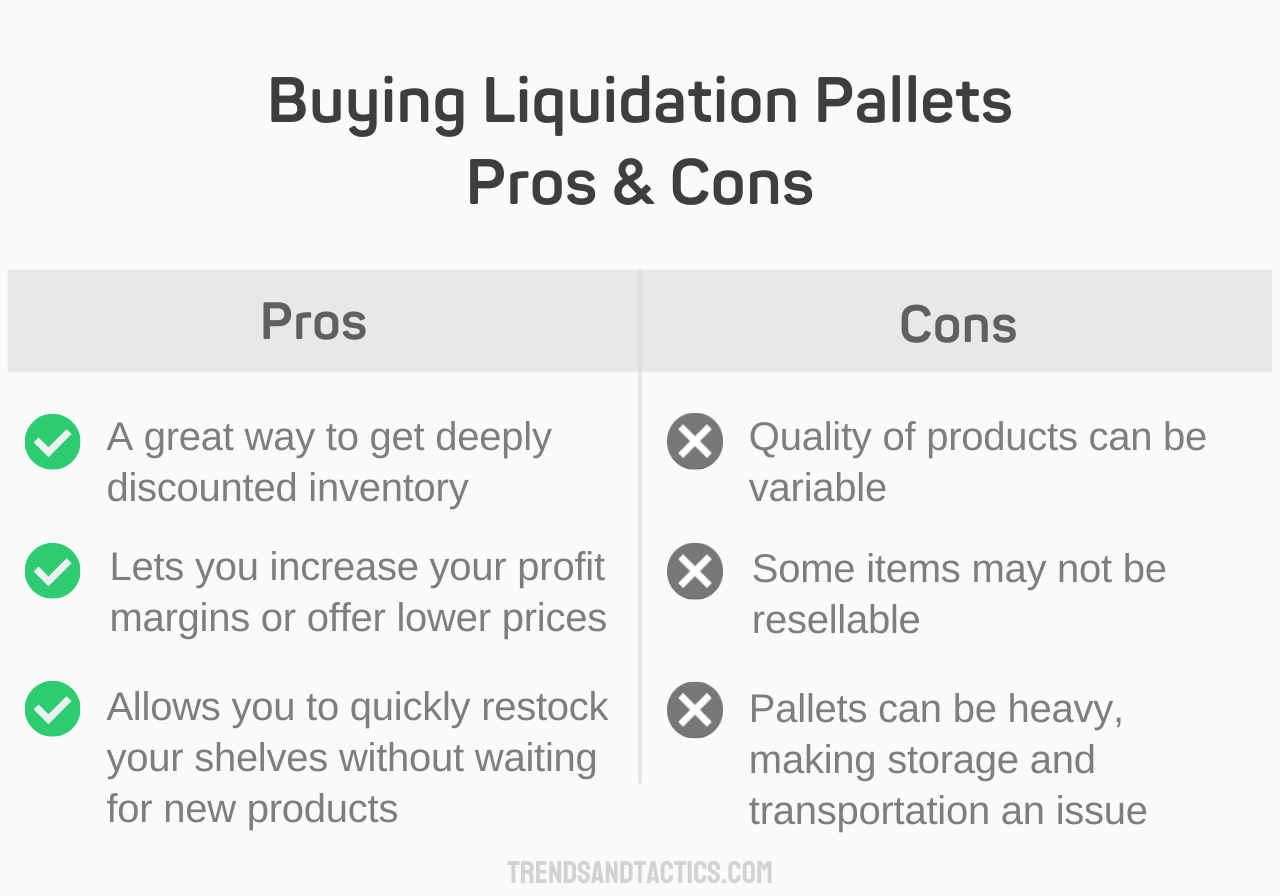 Tactic for Success

Be sure to find the right kind of liquidated stock for your business. The most common type you'll find is customer returns, but you can also find overstocks or closeouts for sale. Closeouts are often overlooked but offer a great value for the money since they are typically brand-new items that can be sold close to full price.
Buying a Liquidation Pallet Sight Unseen
But what about buying a liquidation pallet sight unseen? Is this a good idea?
There are a few things to keep in mind if you're considering buying a liquidation pallet without knowing what's on it:
Do Your Research – Research the company you're buying from to make sure they're reputable.
Understand Return Policy – You may not be able to return the pallet if you're not happy.
Have Clear Expectations – Know what you might find to determine if it's worth the risk.
With these things in mind, buying a liquidation pallet sight unseen can be a great way to get some amazing deals on merchandise.
Trend on the Rise:

The liquidation market has more than doubled since 2008, reaching more than $644 billion in 2020. The numbers are only rising and the prices of pallets are getting cheaper, meaning it's a good time to start thinking about buying liquidation pallets.
What is the best liquidation site to buy from?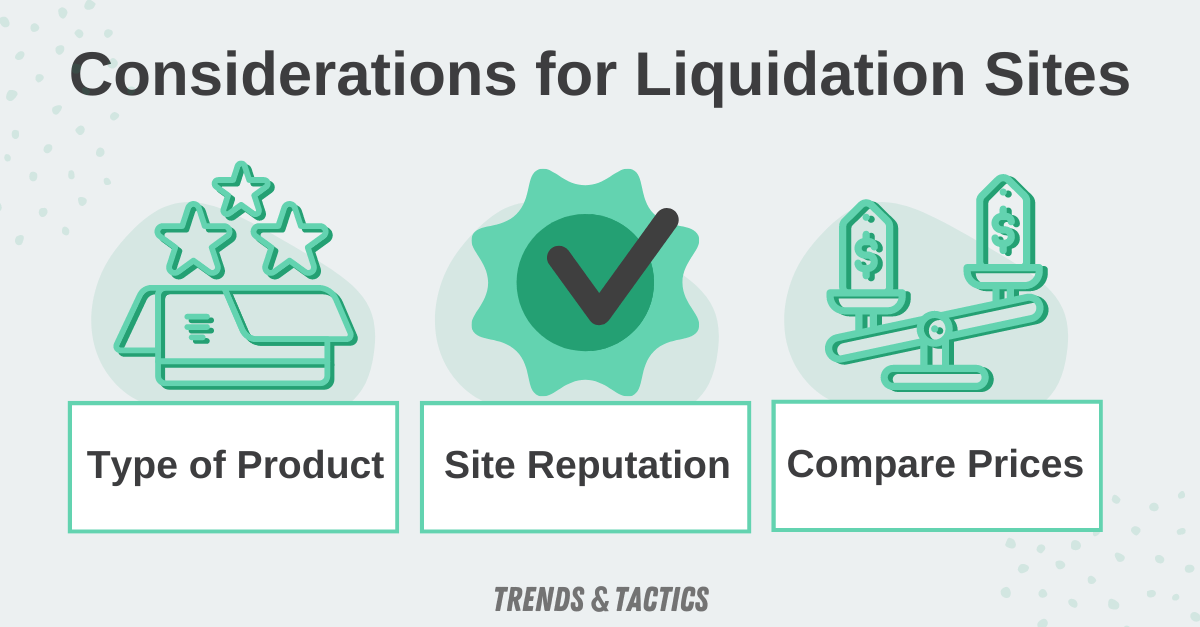 There are a few things to consider when looking for the best liquidation site to buy from:
Type of Product – Sites specialize in certain categories so find one with the merchandise you want. For example, if you want to sell clothes on eBay, be sure to look for a clothing liquidator.
Site Reputation – Look for reviews from other buyers to get an idea.
Compare Prices – Shop around to find the best rates for your chosen merchandise type.
With that said, here are some of the best liquidation sites to consider.
BlueLots
Bluelots is a platform that connects businesses and individuals who are looking to sell or buy liquidation merchandise.
The site offers a wide variety of products, including overstock, returned, and refurbished items.
Follow our guide on how to price used items (or refurbished) to increase your profits.
You can search for the type of product you're interested in and see what's available from different sellers.
B-Stock
For businesses looking for a great deal on inventory, B-Stock is a great option. B-Stock sources liquidation pallets from some of the largest retailers in the world.
These pallets can contain a wide variety of merchandise, from clothing to electronics.
Because the merchandise is sourced from returns, overstocks, and other liquidations, it is available at a fraction of the retail price.
This makes B-Stock an ideal option for businesses looking to get the most bang for their buck.
Liquidation.com
Businesses of all sizes rely on Liquidation.com for inventory needs.
Whether you're a small business owner looking for a great deal on overstock merchandise or a major retailer looking to load up on closeout goods, Liquidation.com has what you're looking for.
Best of all, you can shop from the comfort of your own home – no need to trek out to crowded warehouses or dealing with pushy salespeople.
Simply find the pallets or lots that you're interested in, place your bid, and wait for the auction to close. It's that easy!
American Merchandise Liquidators
When it comes to finding low-cost, high-quality merchandise, American Merchandise Liquidators is the place to go.
With locations across the country, AML provides businesses with a convenient way to buy liquidation pallets.
Each pallet is carefully curated and includes a variety of items from top brands. Best of all, AML offers competitive pricing that can help businesses save money.
Tactic for Success

If you're bidding in a live liquidation auction, which is the typical course of action for liquidation sites, consider setting a live email alert on each pallet you're interested in. Have a clear idea of your maximum bid for the pallet so you don't let things get out of hand in the frenzy of bidding!
How do you buy pallets from box stores?
Liquidation pallets are a great way to get your hands on products from box stores at a fraction of the retail price. But how do you go about buying them? Here's what you need to know.
Plan for Transportation
First, it's important to understand that liquidation pallets are typically sold by truckload. That means you'll need to have a way to transport them.
If you don't have a truck, you may be able to rent one or find someone who can help you with transportation.
Find a Company
Next, you'll need to find a liquidation company that sells pallets from box stores. There are a few different ways to do this.
One option is to search online. Another option is to contact your local box store and ask if they sell liquidation pallets.
Place an Order
Once you've found a liquidation company, you'll need to place an order for the pallets you want.
Be sure to specify the type of pallets you want (e.g., box store, grocery store, etc.) and the number of pallets you need.
You should also ask about any other fees that may be involved in the transaction, such as shipping and handling.
Receive the Delivery
Once your order is placed, the liquidation company will typically deliver the pallets to your location.
When they arrive, be sure to inspect them for damage and make sure they're the right type of pallets before accepting them.
Once you have the pallets, you can use them for whatever purpose you see fit!
Selling Liquidation Pallets
Many business owners buy liquidation pallets as a way to acquire cheap inventory. Others, however, purposefully buy liquidation pallets with the intention of reselling them for a profit.
If that's your plan, here are a few tips.
First, do your research. It's important to know what similar products are selling for so that you can price your pallets accordingly.
Checking online auction sites and wholesale forums can give you a good sense of the going rate for liquidation merchandise.
Know your buyer. Liquidation buyers come in all shapes and sizes, from small businesses looking for bargain inventory to resellers who turn around and sell the merchandise on online marketplace platforms.
Take good photos. Buyers will often make their decision based on the photos you provide, so it's important to make sure they're clear and accurate.
Images should show all sides of the pallet, including the bottom so that buyers can see what condition the merchandise is in.
Finally, be honest about the condition. Liquidation merchandise is often sold as-is, which means buyers are expecting flaws and damage.
Be upfront about any damage in the descriptions and photos, as this will help manage buyer expectations and avoid negative feedback later on.
Wrapping Up
Whichever one of these methods works best for your business, we hope that you are now armed with the information necessary to make an informed purchase.
Liquidation can be a great way to get quality merchandise at a fraction of the retail price, so be sure to consider these tips when making your next purchase.
Rebekah is a writer who covers all things education, business, agriculture, and finance. She owns a small farm business in upstate New York. Her educational credentials include a bachelor's degree in English from St. Lawrence University and a master's in special education from SUNY Plattsburgh.