Fewer people are venturing out to stores in the hopes of finding things they want.
Instead, the average shopper is searching online to buy what they need: which leaves an opening for you to make a sale.
Unfortunately, many seeking out websites to sell stuff aren't sure what to expect in terms of fees or process, so we're going to break that down for you!
These are some great sites and the best apps to sell your stuff and what they offer!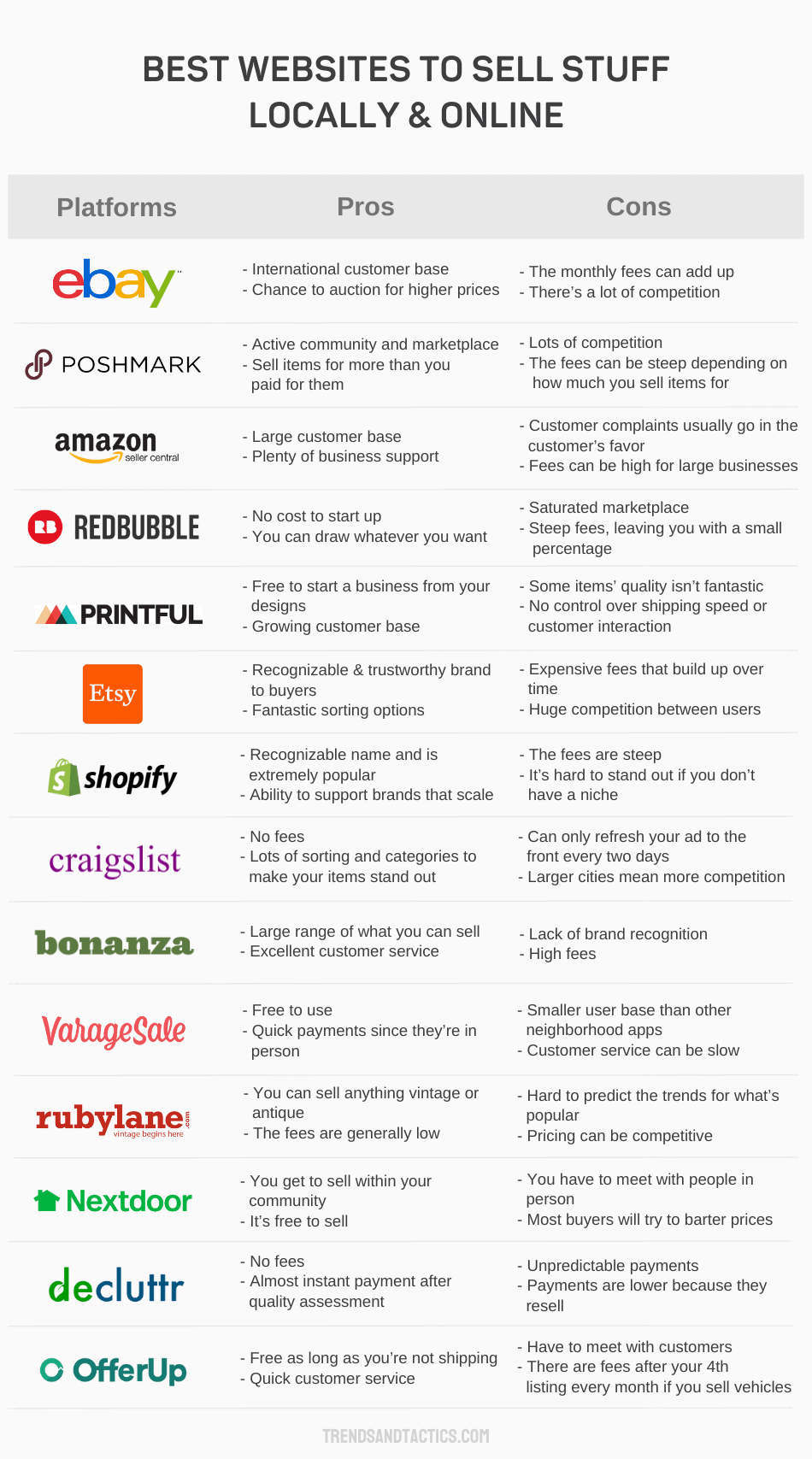 1. eBay
Best known for auctions and consumer-to-consumer sales, eBay is coming back into popularity as an e-commerce giant.
This site offers the chance to sell whatever you want, wherever a customer may be.
What types of items sell well? Cell phones and electronic accessories are among the best items to resell on eBay. These are expensive to buy new, and many other second-hand stores are shady about whether their products will work, so consumers trust eBay.
Who is this platform great for? This is awesome for a business that's starting out or for someone who has collectible goods that they don't think will sell well in their area. (Related: How to Sell Fast on eBay: 9 Secrets)
Pros:
International customer base
Chance to auction for higher prices
Cons:
The monthly fees can add up, although there are ways to reduce fees on eBay
Also, there's a lot of competition
2. Poshmark
Poshmark is a very popular social marketplace for second-hand clothing and items, mostly geared at women.
This site has become a top spot for resellers and people who love to thrift and then sell their found prizes. There is actually a lot of overlap between Mercari vs eBay vs Poshmark.
What types of items sell well? Women's clothing sells faster than anything else on this site. This speed can be boosted even more if they're vintage items in a style that's back in popularity. If you want to sell clothes online for profit, Poshmark is usually the go-to.
Who is this platform great for? This site is great for anyone who loves thrifting or is looking to make more room in their closet.
Pros:
Active community and marketplace
Sell items for far more than you paid for them
Cons:
Lots of competition
The fees can be steep depending on how much you sell items for
3. Amazon
Amazon is one of the most powerful marketplaces online, with revenue of over 380 billion a year.
However, it's best known for fast shipping, constant customer service, and the numerous subsidiaries it has like Audible and Whole Foods Market (We recently tried out this service and were pleasantly surprised, check out the Whole Foods grocery delivery review).
What types of items sell well? The top-selling items through amazon are electronics, video games, and books.
Who is this platform great for? This platform is great for small companies or individuals who aren't sure where to sell stuff and have something unique that will stand out.
Pros:
Large customer base
Plenty of business support
Cons:
Customer complaints usually go in the customer's favor
Fees can be extreme for large businesses
Tactics for Success:

The most successful small businesses on Amazon created a niche for themselves so that they have little or no competition.
Amazon sides more often with customers when problems arise, so make sure you do everything by the book.
4. Redbubble
Redbubble is a design marketplace for print-on-demand products based on creator-submitted work.
This is a fantastic site for those who can make plenty of designs but don't want to deal with shipping or the time spent printing the designs. Whether you want to make money selling clip art or selling stickers, this site has you covered.
What types of items sell well? Children's apparel and stickers. Stickers are the main draw because of how inexpensive they are and their flexibility of use, while children's clothing is popular here because of unusual designs.
Who is this platform great for? This platform is great for artists and designers to build a brand for themselves.
Pros:
No cost to start up
You can draw whatever you want
Cons:
Saturated marketplace
Steep fees, leaving you with a small percentage
5. Printful
Like Redbubble, Printful is a print-on-demand drop shipping company that allows you to sell your designs on anything you want.
Printful has seen a 66% increase in traffic and customer purchases in recent years, boosting creators' incomes. Sites like this are also heavily used by folks in marketing fields.
What types of items sell well? Tee-shirts and bags, with more colorful designs selling faster. When joining this marketplace, ensure that your creations are brighter and more impactful than the average.
Who is this platform great for? This is another fantastic platform for artists and designers who don't want to hold onto inventory.
Pros:
Free to start a business from your designs
Growing customer base
Cons:
Some items' quality isn't fantastic
No control over shipping speed or customer interaction
Trends on the Rise

A quarter of retailers like Printful use dropshipping to get products out quickly and according to customers' needs. When going without print on demand sites, 4 of 10 American artists make less than $10,000 a year from their art. So this is a great way to make a passive income while getting your brand out there.
6. Etsy
Etsy is known worldwide as the place to go for custom and interesting items.
Although it also offers antique and used pieces, most people arrive here for the available one-of-a-kind art. Some sellers have even started selling 3D printed items on Etsy.
What types of items sell well? Jewelry and art pieces. You can sell almost anything on Etsy, though, since there's a large market out for unique items.
Who is this platform great for? This site is best for artisans and companies with a fun and interesting product.
Pros:
Etsy is a recognizable and trustworthy brand to buyers
Fantastic sorting options to make your niche
Cons:
Expensive fees that build up over time
The huge competition between users
7. Shopify
Shopify is an eCommerce platform for online stores and retail point-of-sale companies.
Through this site, you can build a storefront that's unique to you, advertise your items, and make your business into your own.
It's being used by a wide range of sellers, some are even making money on Instagram without showing their face by using a Shopify store.
What types of items sell well? Cosmetics, but this changes often, so it's hard to predict what will be popular from week to week. Most things that sell here are small and easy to ship.
Who is this platform great for? This site is best for a business that's starting up and doesn't have the funds to make its own shop site.
Pros:
Shopify is a quickly recognizable name and is extremely popular
Many brands have seen up to a 3,846% growth in the last year because of the eCommerce boom
Cons:
The fees are steep
It's hard to stand out if you don't have a niche
Tactics for Success:

When selling on Shopify, include an opt-in so customers will leave you their email address so you can contact them later about promotions.
Shopify offers in-site advertising, but you can also take advantage of cheap advertising on apps like Instagram and Twitter.
8. Craigslist
Craigslist is a local marketplace that allows you to sell to anyone in your area. There are no fees for anyone who uses the site, and you can list as many things as you want.
What types of items sell well? Home appliances and electronics. Home appliances go quickly because people want to save as much money as possible, and electronics are popular because of the large range available. Flipping video games is also quite popular on Craigslist.
Who is this platform great for? This site is great for people wanting to sell one-off items to small companies trying to get their footing.
Pros:
No fees
Lots of sorting and categories to make your items stand out
Cons:
You can only refresh your ad to the front every two days
Larger cities mean more competition
Trends on the Rise

Craigslist still gets more visitors than Netflix every day, which means you could be leaving a lot of money on the table if you're not investing in getting your items for sale on this site. You can do more for your business than sell on Craigslist: since it only costs $25 to post a job listing to find a possible future employee.
9. Bonanza
This online marketplace allows you to sell directly to buyers with your shop front. This site focuses mostly on home goods and collectibles but offers many items.
What types of items sell well? Collectibles and home decor since rarer things are available here, and many are excited to see what they can find. Other items that sell well are clothing and home goods, but they often don't sell quickly.
Who is this platform great for? This platform is great for anyone who has a collection they want to sell or a closet they want to declutter.
Pros:
Large range of what you can sell
Continuous customer service
Cons:
Lack of brand recognition
High fees
10. VarageSale
This virtual garage sale app lets users buy and sell items in their communities.
VarageSale is free to use and offers users support whenever they need it.
What types of items sell well? Vehicles and furniture, both of which are expensive items otherwise, and buyers want to avoid having to go pick them up. Sellers are more popular if they're willing to deliver large items. The platform is well suited for buying and selling dirt bikes.
Who is this platform great for? This platform is great for anyone decluttering or starting a small business and trying to see if it has the chance to grow consumer interest.
Pros:
Completely free to use
Quick payments since they're in person
Cons:
Smaller user base than other neighborhood apps
Customer service can be slow
11. Ruby Lane
Ruby Lane is an antique and vintage shop that allows people to sell any old treasures they have within their homes.
Operating since 1998, it's made a big name for itself in the world of collectors and those who love antiquing.
What types of items sell well? Antique and vintage jewelry and fashion. The popular era changes from month to month, so it's hard to predict.
Who is this platform great for? This is best for anyone who wants to sell some older heirlooms or has luck at second-hand shops and thrifting.
Pros:
You can sell anything vintage or antique, and there's a buyer for it
The fees are generally low
Cons:
Hard to predict the trends for what's popular
Pricing can be competitive, possibly swaying you into lowering your prices
12. NextDoor
Nextdoor is a hub for neighborhoods and communities to gather and discuss what's going on in their area.
In addition, this site offers the chance to sell and trade your items, which has become an incredibly popular market for second-hand items.
What types of items sell well? Furniture and home goods. People like that they can buy from someone they live near and possibly know, and the prices are low enough that it's very affordable for most people.
Who is this platform great for? This is best for anyone who runs a small business in their neighborhood or for someone who's trying to sell the occasional item but doesn't often hold a large inventory.
Pros:
You get to sell within your community
It's free to sell, and you can earn money the same day from buyers
Cons:
You have to meet with people in person
Most buyers will try to barter prices
13. Decluttr
Decluttr is an owned and used goods sale site similar to eBay.
However, this site and app focus mostly on electronics and media items like CDs and DVDs.
What types of items sell well? Electronics and cell phones. This is because of the incredibly low prices these items can be found on these sites.
Who is this platform great for? This site is best for anyone getting rid of their own electronics or goods.
Pros:
No fees
Almost instant payment after quality assessment
Cons:
Unpredictable payments
Payments are lower because they resell
14. OfferUp
This local mobile marketplace has made a name for itself, competing against Craigslist.
Offerup allows you to list your items for sale or auction and sell to people in your area.
What types of items sell well? Furniture and electronics, mostly because people go on this site to avoid shipping and save money on discounted goods. This isn't ideal for businesses but is good for one-off selling.
Who is this platform great for? This platform is great for anyone wanting to declutter or who hates shipping and mailing goods but doesn't have a storefront.
Pros:
Free as long as you're not shipping
Quick customer service
Cons:
You may have to meet with customers
Also, there are fees after your fourth listing every month if you sell vehicles
Wrapping Up
Starting your own business is difficult and expensive, and this can be made even worse if you have to start up a website to sell your items.
Instead, any of these websites are a great alternative to build revenue without having to take so much of a risk to start your business!
Erin is a business teacher and mother of three. When she's not in the classroom or fulfilling her obligations as an A+ hockey and lacrosse mom, she's working on her latest article.