If you're looking at visiting America and looking for the most fun but unsure where to go, we have created an article that might give you some insight. The states within this article are branded as the most fun, so if you're looking for an adventure with lots of activities, then it's worth visiting them.
Hawaii
If you're an adventure seeker who likes to spend time outdoors, Hawaii is a great place to visit, according to many Americans. You might already know that you can swim in the ocean and be met with world-class waves, but you can snorkel, scuba-dive, whale watch, hike through the jungles, or relax on the clean beaches. Due to Hawaii's temperature climate and many diverse landscapes, you can be sure to be met with activities that last all year.
Washington
Believe it or not, Washington was classed as the better state out of the others. It has many diverse attractions that are great for all ages. Whether you prefer visiting indoor attractions or outdoors, Washington has something for everyone. Washington also holds fantastic iconic sites like Olympic National Park and Mount Rainier. You can expect kayaking, hiking, and skiing if you prefer being outdoors. You would instead explore the local breweries and vineyards. Washington is a fun state, offering cultural diversity, adventure sports, entertainment, music, and water activities.
Colorado
Due to its regional diversity, Colorado has been placed in the top 10 states to visit. You can enjoy many outdoor activities, including mountain biking, skiing, and hiking. If you decide to go to Colorado, you can take a short trip to the capital, Denver, which has a vast arts and culture scene perfect for visiting galleries, museums, and music venues. You can visit the stunning Garden of the Gods and Pikes Peak. Many national parks, such as Great Sand Dunes and Mesa Verde, have many unique wonders. Adding a mixture of breathtaking scenery, adventure, and culture, Colorado is a fun place to visit in the United States.
Illinois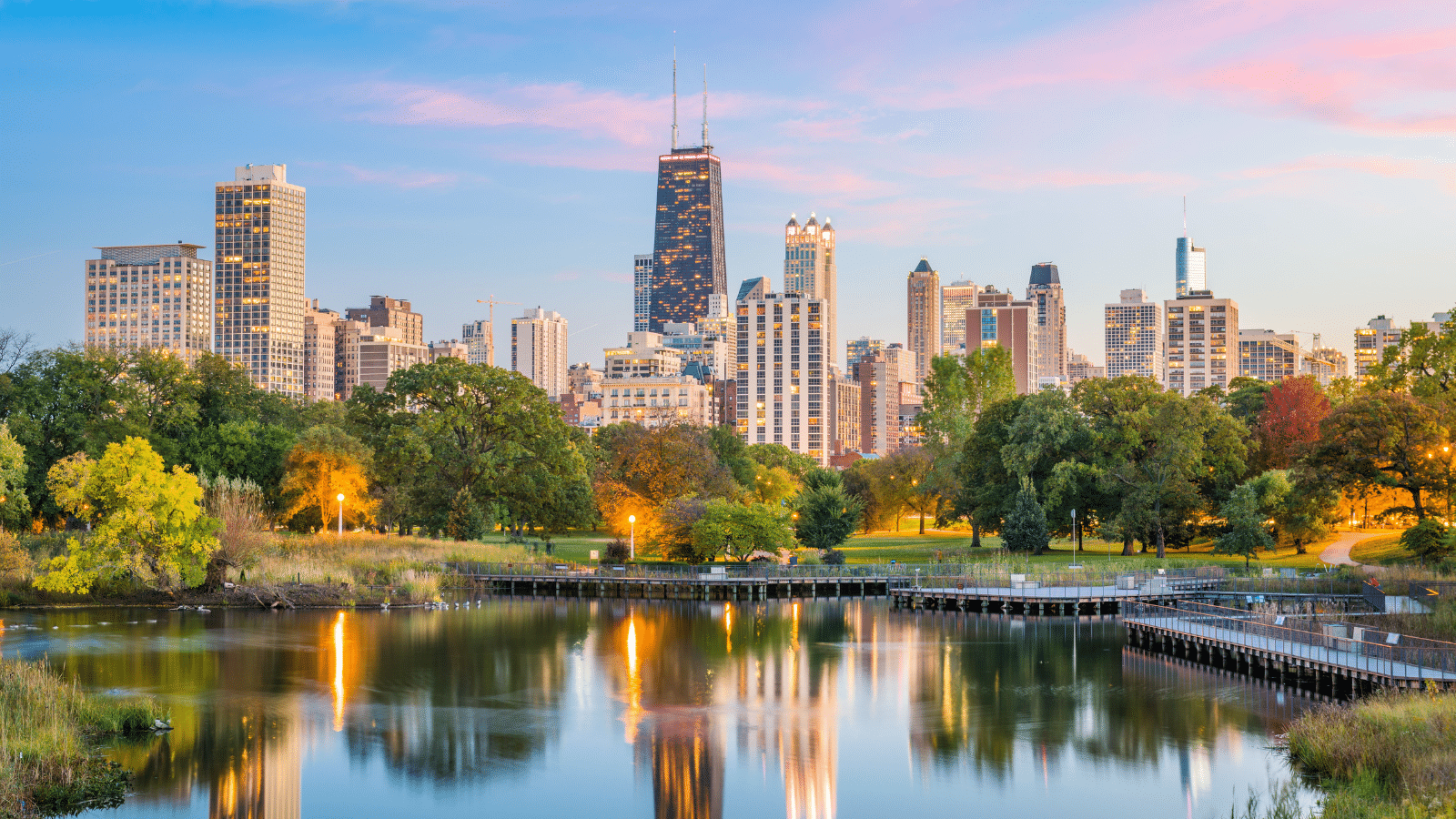 Another fun place in the USA to visit is Illinois. It is an iconic city with incredible architecture, museums like the Art Institute of Chicago, and various culinary options. If you want to expand your time in Illinois, just outside is the historic Route 66, Shawnee National Forest, and Galena, which give you an excellent opportunity for the ultimate road trip. You could even visit Abraham Lincoln's Springfield's sites, home, and library. Whether you want to expand your culinary experience or see some natural and incredible beauty, Illinois is a fun place to visit.
Tennessee
No matter what age you are or what background you have, you can experience everything in Tennessee. You could visit cool Knoxville or Nashville, the capital and home of country music. Nashville has a lot of live music venues. If this isn't enough, you could also visit Memphis, which has fantastic sites like Graceland, the home of Elvis Presley. The Great Smoky Mountains National Park offers stunning vistas and endless hiking trails if you want outdoor activities. There is a unique charm with Tennesse, and the barbecue joints, music festivals, and hospitality contribute to it.
California
Whatever you're looking for in a holiday, then a visit to California is for you. Los Angeles is the home of Hollywood and comes alongside cultural diversity and world-class entertainment. If you have children with you, then it's vital to take a trip to Universal Studios and Disneyland, which can give you all the entertainment and excitement you've longed for. In San Francisco, you can see Alcatraz Island, the Golden Gate Bridge, and the history of cable cars. You can witness the picturesque drives along Highway 1 and visit the beautiful beaches. California offers a natural beauty and gives you many recreational options that you will fall in love with.
New York
One of the most popular tourist states to visit, New York has many activities and fun things for the whole family. You can indeed have a good time if you want to visit landmarks like Times Square, Broadway shows, or Central Park. You could attend museums if you're an art and history enthusiast, and on the outskirts of New York, you can visit Niagara Falls and the Finger Lakes. Whether you're looking for indoor or outdoor activities, you will be satisfied visiting New York.
North Carolina
If you're looking for more outdoor adventures, much like California, North Carolina has much to offer. Whether you want to go hiking, you could travel along the Blue Ridge Mountains or visit the Great Smoky Mountains National Park, which offers a wide range of outdoor activities. You can expect water sports, beautiful beaches, and lighthouses when visiting the Outer Banks, or if you're looking for an artistic experience, looking around the city of Asheville is a win. There are many diverse offerings from North Carolina, which can ensure you have a great time packed full of fun.
Texas
Another fun place in the US to visit is Texas. It has a diverse range of attractions that include live music, a thriving food scene, and cultural festivals. A trip to Houston will give you many diverse neighborhoods and world-class museums, including the Space Center. If you're looking for a fun beach holiday, The Gulf Coast will give you perfect sandy beaches and endless water activities while having the Big Bend National Park to walk or hike around. If you travel to Dallas, many shopping malls, cultural districts, and barbecue eateries ensure your senses are satisfied.
Florida
Florida provides everyone with everything they could've ever hoped for beautiful beaches, vibrant nightlife, and cultural diversity. There are many theme parks if you take a trip to Orlando, where you can expect Walt Disney World and Universal Studios. If you want outdoor fun or a pleasant, relaxing experience, Florida has it all. The Flordia Keys will give you a tropical getaway with many different experiences, such as snorkeling, and the Everglades National Park is somewhere you can take in the true beauty of wildlife and ecosystems. Florida has diverse experiences, entertainment, and natural beauty, which you will surely fall in love with.
Louisiana
There are many different attractions in Louisiana that you will always want to stay at; with New Orleans being the heart of live music, annual Mardi Gras festivities, and the historic French Quarter, there is something for everyone. A vast culinary scene is known for its Cajun and Creole scenes, so that you can expect delicious dishes like beignets and gumbo. If you're looking for a more historical holiday, then the plantations along the Mississippi River can offer a glimpse into the rich history of Louisana. Louisiana offers a blend of influences and has many festivals celebrating food, music, and culture. A fascinating place to visit!
Nevada
Nevada is a great place to visit if you're looking for a historical holiday. With a diverse culture and incredible landscapes, you won't be disappointed. Known as one of the sunniest states in the country, Nevada is always sunny, and you can expect 210 days of sunshine per year. This means that you won't lack any Vitamin D when traveling here. If you're looking for a good hike, Nevada has some of the best US mountains, and you must climb at least one of the 2,100+ of them! There is never a reason to be bored when visiting Nevada, as there are many incredible national parks and forests to play around in. It's worth a visit.
Minnesota
Minnesota is a picturesque state and for many reasons. They have the most lakes, providing incredible views and walks you can take with your family. They have 10,000 lakes to choose from. Of course, not all are walkable, but you can sit by them all and enjoy a picnic or spend quality time together. If you'd rather walk around and spot the wildlife, then Minnesota is perfect for that, too. Minnesota also hosts a state fair, the biggest in the US. It does get busy, but it's worth a visit.
Arizona
Arizona takes place on this list for many reasons. It is a great and fun place to visit, and you can go at any time during the year and expect lovely weather. When visiting Arizona, you will feel like you're part of a painting with stunning landscapes, making it a wonderful place to sit back and relax. However, it is also culturally diverse and home to 22 Native American tribes, including Navajo, Hopi, and Apache. If you're looking for a fun holiday, Arizona is one for you, especially if you're an outdoor enthusiast. Many outdoor activities can be enjoyed all year round; whether you want to climb, hike, or bike ride, there are many different opportunities.
Oregon
If you find nature fun, look no further than visiting Oregon. The Pacific Northwest is known for its volcanic peaks and breathtaking beaches. Oregon has the deepest lake in America and the deepest river gorge in the country. Oregon also has over 774 wineries, so if you're looking for an adult-only holiday and want to have some fun with wine tasting, this is the place for you. Whether you prefer being indoors or want the excitement of being out in the open, Oregon has over 350 miles of bike lanes, so you will never get bored of cycling the different routes. If you're traveling alone and expect to make friends or find people willing to show you around, Oregon is one of the friendliest states, with people always giving you a friendly hello as you pass.


21 Things That Shout You're "Lower Class" According To Men
Class wars creep up in all aspects of life, including dating. We take a look at the things that men believe are telltale signs that you are lower class.
21 Things That Shout You're "Lower Class" According To Men
Boomer Zoomers vs. Millennial Meh: 10 Cars the Older Gen Loves but Millennials Just Can't Stand
The change in the automotive industry has been incredible over the year. Baby boomers born between 1946 and 1964 can't get enough of the cars listed below, as muscle cars emerged in the 1960s, and new technologies appeared in the 1970s and 1980s. You can imagine why boomers genuinely appreciate these vehicles.
Boomer Zoomers vs. Millennial Meh: 10 Cars the Older Gen Loves but Millennials Just Can't Stand
Across the Pond Disdain: 18 Horrendous American Habits Foreigners Just Can't Stomach
There is a lot to love about America, from the bright lights of New York to the incredible breakfasts, but foreigners also dislike many things. We look at everything from poor public transport to an intimidating tip culture, sharing 18 things that America could be better at.
Across the Pond Disdain: 18 Horrendous American Habits Foreigners Just Can't Stomach
Out with the Old: 18 Gen X Fads That Millennials and Gen Z Just Can't Vibe With
While some old habits die hard, there are some things that Gen X need to eliminate as they are no longer relevant.
Out with the Old: 18 Gen X Fads That Millennials and Gen Z Just Can't Vibe With
18 Unpleasant States You Might Want to Skip on Your Next Trip
When thinking of America, we don't expect there to be boring or unpleasant places to visit. We see all the different states on the TV, and they show the best parts. However, there are some states you won't want to visit, and you should brace yourselves if you ever happen to stumble into them.
18 Unpleasant States You Might Want to Skip on Your Next Trip