People tend to overcomplicate how to ship clothing.
In fact it's one of the least expensive and easiest items to ship, when using the right process.
After shipping hundreds of packages as an online store owner, I have learned the most effective strategies for packaging clothes to sell and shipping clothes, and will share them with you today!
What you need to package clothes for shipping?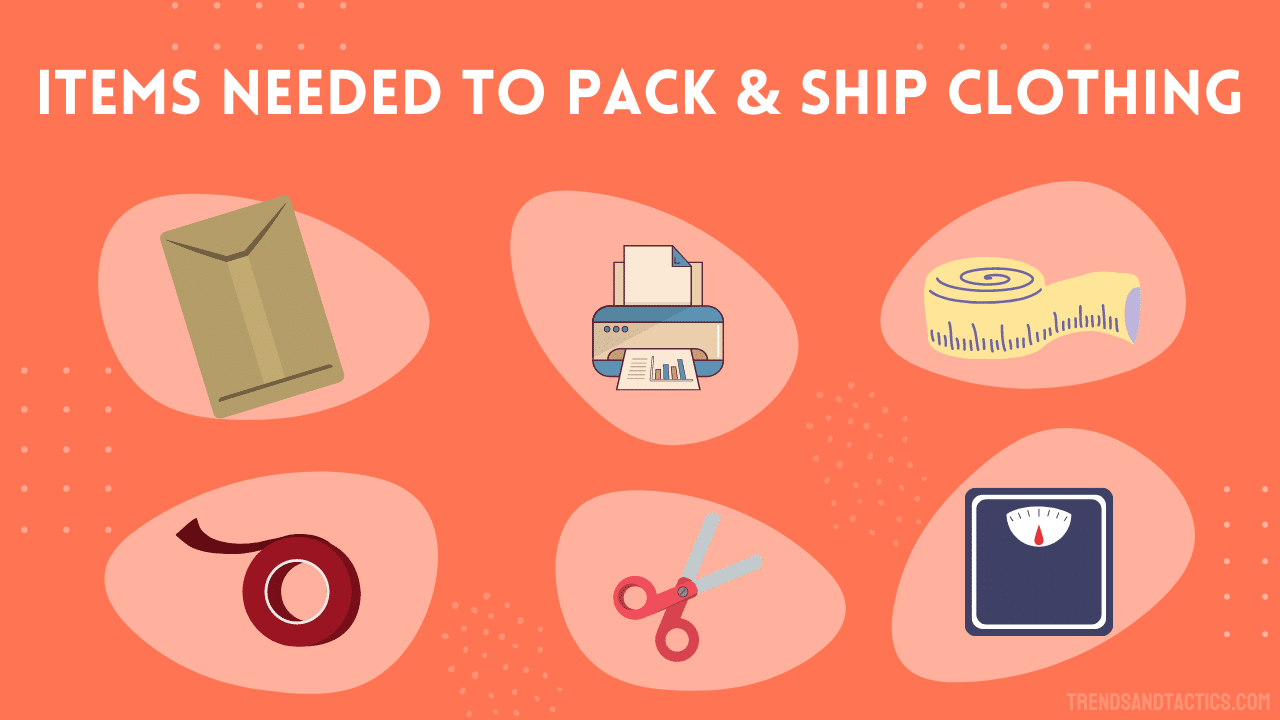 Fortunately clothing cannot be broken or dinted, so shipping is a breeze compared to other items. You only need a few things to safely package your clothes for shipping.
These are the items needed whether you are pre-paying postage at home (printing a shipping label on eBay or Pirate Ship) vs paying for postage at your local shipping store.
Items needed when buying postage at home
If you are buying postage from home and plan to simply drop off the package at a shipping drop box, you'll need these 5 item:
Padded Envelope or Tear-Proof Poly Mailer – protects clothing in transit
Scale – used to weigh package to get accurate shipping rates
Printer – used to print the shipping label
Ruler/Tape Measure – used to measure package dimensions for shipping rates
Scissors – used to cut out shipping label (skip if have adhesive shipping label for printers)
Tape – used to tape shipping label on package (skip if have adhesive shipping label for printers
Items needed when buying postage from shipping center
If you prefer to simply pack the clothing at home and finish the shipping process at a shipping carrier like USPS or Fedex, you will only need 1 thing:
Padded Envelope or Tear-Proof Poly Mailer – protects clothing in transit
How to package clothes for shipping?
There are 5 steps to packaging clothes for shipping to guaranteeing they arrive safely.
This process works whether you are making money selling t-shirts online or getting rid of a whole dresser of clothes.
1. Neatly fold clothing
Folding clothes before shipping is a great way to minimize creases and wrinkles during transit.
It's not a positive experience for the receiving party to open up the package and find the garment was randomly put in an envelope and now has to be ironed.
2. Wrap in poly bag (optional)
If you want to go above and beyond when packing clothes for shipment, poly bags are a great idea.
Poly bags are clear bags used by major retailers to protect clothing from dust and moisture while also allowing people to easily see the garment.
At only $0.05 a bag, it's a worthwhile investment if you plan to be shipping clothes on a regular basis.
3. Pack into envelope (ensure watertight seal)
Once folded and possibly sealed in a poly bag, the next step is packaging. The 2 most common packages for clothing are padded envelopes and poly mailers (preferably tear-proof).
Both packaging solutions will offer plenty of protection from handling during shipment and the elements, while keeping the overall package weight to a minimum.
Online sellers usually opt for poly mailers because they are marginally cheaper.
Here are the average prices for packaging:
Padded envelopes – $0.30 per envelope
Poly mailers – $0.12 per mailer
4. Apply shipping label
These days shipping labels can be purchased from home or inside a shipping center (Fedex, UPS, USPS). Use this chart to determine which shipping method/carrier you should use to save the most money.
Purchasing from home has the advantages that you don't have to wait around in lines, and you can shop for the cheapest shipping rates using services like Pirate Ship.
If you are shipping a sale from an online platform like eBay, Poshmark, or Mercari, discounted shipping labels can be purchased and printed on the platform itself which is handy.
If printing your shipping label at home
Get out your scale (bathroom and kitchen scales work fine), and place your package on the scale.
Always round weight to the nearest ounce to account for shipping label weight (if 1lb 8.6oz, round to 1lb 9oz).
Next, input the package weight into the shipping rates screen on the seller platform website, or other postage site (Pirate Ship is a great choice for discounted rates).
Finally, measure the length, width, and depth for your package and input those measurements into the shipping rates screen.
At this point, you'll be able to see what it costs to ship the garment. The average cost of shipping for clothing items is between $3 and $6.
Print out the label, cut it out (if not adhesive label), and tape it onto your package. Voila you are good to go.
If printing your shipping label from a shipping center
After packing your item in step 4, no other prep is needed if you plan to ship your label at a shipping center. Head on over to a nearby shipping carrier and they'll take care of the rest.
Shipping carriers ask these questions when printing out your shipping label:
What's in the package? (feel free to be vague)
Where is it going?
When should it arrive at its destination?
5. Drop off at shipping carrier
If you paid for and printed your shipping label from home, you'll need to drop off your package at the same carrier from which you bought your shipping label.
If you are printing your shipping label from the shipping center, you'll skip this step since they would already have your package
How much does it cost to ship clothes?
Shipping clothes usually costs between $3 and $6, depending on transit distance and weight of the package. However, shipping larger items like winter coats and sweaters might cost closer to $10.
Finally, make sure to get discounted shipping rates from platforms like Pirate Ship to get the best price on shipping.
Online marketplaces like eBay, Poshmark, and Mercari offer sellers great shipping discounts as well.
Cheapest way to ship clothes internationally?
USPS Priority Mail International is the best way to ship clothes internationally.
With this service you can ship to over 190 countries around the world, and add additional insurance coverage as well.
Average international shipping times range from 6 – 10 days, but will vary depending on the specific location.
Customers receive a tracking number as well if they want to keep an eye on the package's journey.
Can I ship clothes in a manila envelope?
Manila envelopes are thin paper packages great for mailing paperwork, but not a good option for shipping clothes. During transit, packages are often handled roughly and exposed to the elements.
A manila envelope is unlikely to hold up in those situations, which would result in damage to your clothing.
Padded envelopes and tear-proof poly mailer are recommended when shipping clothing due to their extra durability and protection.
Conclusion
With the right approach, shipping clothing is quite inexpensive compared to other items. If you have any questions, let us know.
John-Paul Cody has been an avid online seller for years, across platforms including eBay, Mercari, Craigslist, and more. He has a Bachelor's Degree in Economics from UNC Chapel Hill, and works in data analytics and marketing.