There's one thing that all injuries have in common, they make it extremely difficult to work.
Despite the fact that roughly 45% of workers never return to full employment after absences due to injury or illness, according to the WSDLI, there are ways to make money when injured.
If you're wondering how to make money with a broken leg, arm, or neck, you have options.
Jobs by Injury Type
Let's dive in – safely, of course!
How to Make Money With a Broken Leg
When you're trying to figure out how to make money with a broken leg, it's important to consider the extent of your injury and how long it might last.
These jobs are great opportunities for people who can only sit while at work, though it's important to note that some do require some prerequisite training while others are entry-level positions that anyone can apply for immediately.
12. Manicurist
An entry-level job that's perfect for someone who can't be on their feet, whether due to a leg injury or something else, is a manicurist (or pedicurist).
While some cosmetology jobs, like a hairstylist, require time on your feet, you don't need to stand at all when you're a manicurist.
When applying for manicurist roles, it'll be important to ensure you avoid the most common reasons people don't get hired.
You'll work to clean, polish, shape, and otherwise care for a client's fingernails and toenails, and it's a fun alternative to a traditional 9 to 5 job.
Average Pay: $27,870 (Bureau of Labor Statistics)
11. Receptionist
A receptionist isn't the highest-paying job on this list, but it requires little to no experience – a great opportunity when you've just injured yourself and you aren't sure what to do for work.
A slow-paced, low-intensity job, the work of a receptionist requires very little standing and generally requires just a high school diploma. It's more than just answering phones, too.
As a receptionist, you'll be tasked with things like scheduling, data entry, and interacting with visitors.
People can usually pick these jobs up quickly, so it's a great option when you need cash immediately.
It's a fantastic way to build transferable skills that will prove to be useful in any other jobs you have later on too.
Average Pay: $31,110 (Bureau of Labor Statistics)
10. Bank Teller
Being a bank teller might not be the most glamorous job, but it's a great opportunity for someone who can't spend long periods of time on their feet.
You'll process transactions like withdrawals and cash deposits, interact with customers, and conduct other tasks as necessary at a bank. If you have a business background, this can also be one of the potential side gigs for accountants and other finance professionals.
It's a low-stress job that requires just a high school diploma and occasionally, an on-the-job training program. Plus, you can sit down the entire day!
Average Pay: $32,620 (Bureau of Labor Statistics)
9. Paralegal or Legal Assistant
When you become a paralegal, your job duties will consist of preparing legal documents and affidavits, gathering and analyzing research data, and directing various law office activities.
The best part? No walking required, making this a perfect job for someone with a broken leg.
You do not need an advanced college education, but an associate's degree or certificate is generally all that's required.
This is also a great job to introduce you to other higher-ranking opportunities later on, such as becoming a lawyer or to jobs in other research or writing-focused industries.
Average Pay: $52,920 (Bureau of Labor Statistics)
8. Graphic Designer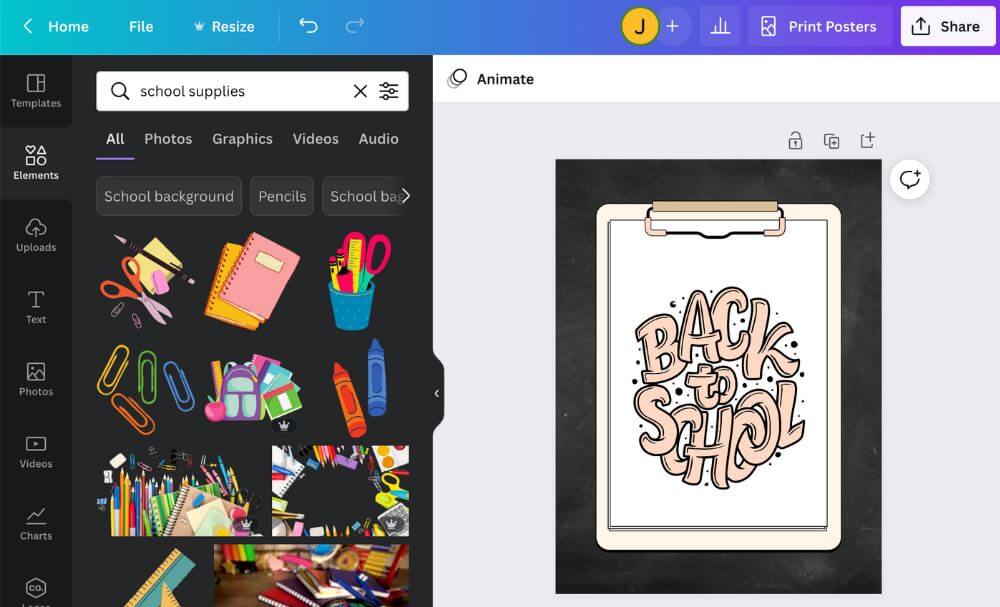 Being a graphic designer is a good choice for someone with a broken leg because it requires zero standing.
Plus, it allows you to work as a self-employed or work-from-home employee, meaning you'll have total control over the hours you work and the conditions you work in.
This is also a fantastic slow processing speed job due to the more laid back natured of the work.
As a graphic designer, you'll use computer programs to create informative and engaging designs.
You don't have to have a degree to work as a freelance graphic designer, though some creativity and artistic skills are necessary.
Average Pay: $53,380 (Bureau of Labor Statistics)
7. Freelance Writer
The average pay for a freelance writer varies widely because it's the type of job where you can work as little or as much as you'd like.
For someone who is recovering from a leg injury, that's vital!
Of all the jobs on this list, the job of a freelance writer is perhaps the most accessible for someone with a severe leg injury that makes even sitting down a challenge.
If you still need to keep your leg elevated or have trouble getting comfortable in a traditional desk chair, then being a freelance writer could work well for you – you can type on your laptop even while laying down in bed!
You don't have to have a degree at all – even a high school diploma – but having strong communication skills (particularly written communication skills) and a go-getter attitude is essential.
Average Pay: $67,120 (Bureau of Labor Statistics)
6. Accountant
Did you know that the word "accounting" comes from the French word for "computer," which means to "count" or "score?" If you're out of work due to an injury, then count yourself lucky to find work as an accountant!
You'll earn a high average salary in this type of job, which requires little to no physical activity.
You will need a bachelor's degree in accounting or a related field, but if you already have this, then all that's left to do is earn your CPA certification.
Average Pay: $73,560 (Bureau of Labor Statistics)
5. Consultant
This is a great job opportunity for people who are temporarily out of work due to a leg injury, but still want to stay connected to their industry.
You can work as a consultant for just about any niche, from business to IT to education.
As an IT consultant, for example, you'll often be able to work from home and give assistance to companies that are struggling with computer issues.
The average pay varies widely, since this is generally considered freelance work – so your salary will be determined more by how many hours you want to put in than anything else.
Average Pay: $90,467 (Glassdoor)
4. Actuary
If you've just broken your leg, you may have done so by engaging in some risky behaviors – like driving a car too fast, engaging in adventure sports, or something else of a similar nature.
You probably understand the impact that risk has on your day-to-day life now!
However, as an actuary, you'll take that understanding of risk to a whole new level – you'll be analyzing the financial impacts of risk and uncertainty.
This job is perfect for people who are great at mathematics and want to work in the insurance industry.
While a degree is required, it doesn't always have to be in actuarial science – so do some research to find out whether this is a good fit for you.
Of course, being an actuary is all bookwork, so there's no standing required.
Average Pay: $111,030 (Bureau of Labor Statistics)
3. Software Developer
In today's world of rapidly evolving technology and related advancements, software developers are needed more than ever before. In fact, about 409,500 new jobs are expected to be created by 2030!
As a software developer, you'll create applications and software systems for computers and/or mobile devices. Best yet, you'll be able to work behind a desk – no walking or standing required.
While a college degree in this field can be helpful, it's not a requirement, and you can take courses on free online course platforms like Udemy to help you get ahead.
Average Pay: $110,140 (Bureau of Labor Statistics)
2. Human Resource Manager
Did you know that about 84% of managers think they're doing a good job at leading their teams?
Chances are, you've had at least one bad boss that proves that statistic wrong – but probably felt as though there was nothing you could do about it.
As an HR manager, you'll finally have the power to make a difference in how workplaces are managed and run.
You'll deal with all the ins and outs of employee management, from hiring and firing to handling disputes.
Best yet, this is a job that requires lots of face time, but minimal time on your feet, perfect for someone who is recovering from an injury.
Average Pay: $121,220 (Bureau of Labor Statistics)
1. Computer Scientist
Another job that requires primarily desk work is that of a computer scientist.
It's one of the few jobs you can pursue that allows you to work from home, too making it a good option if you're laid up with a broken leg and can't even get out of bed.
There's nothing stopping you from working on your laptop amid a cloud of comfy pillows!
As a computer scientist, you'll use technology to solve software problems and develop new applications.
Average Pay: $126,830 (Bureau of Labor Statistics)
How to Make Money With a Broken Arm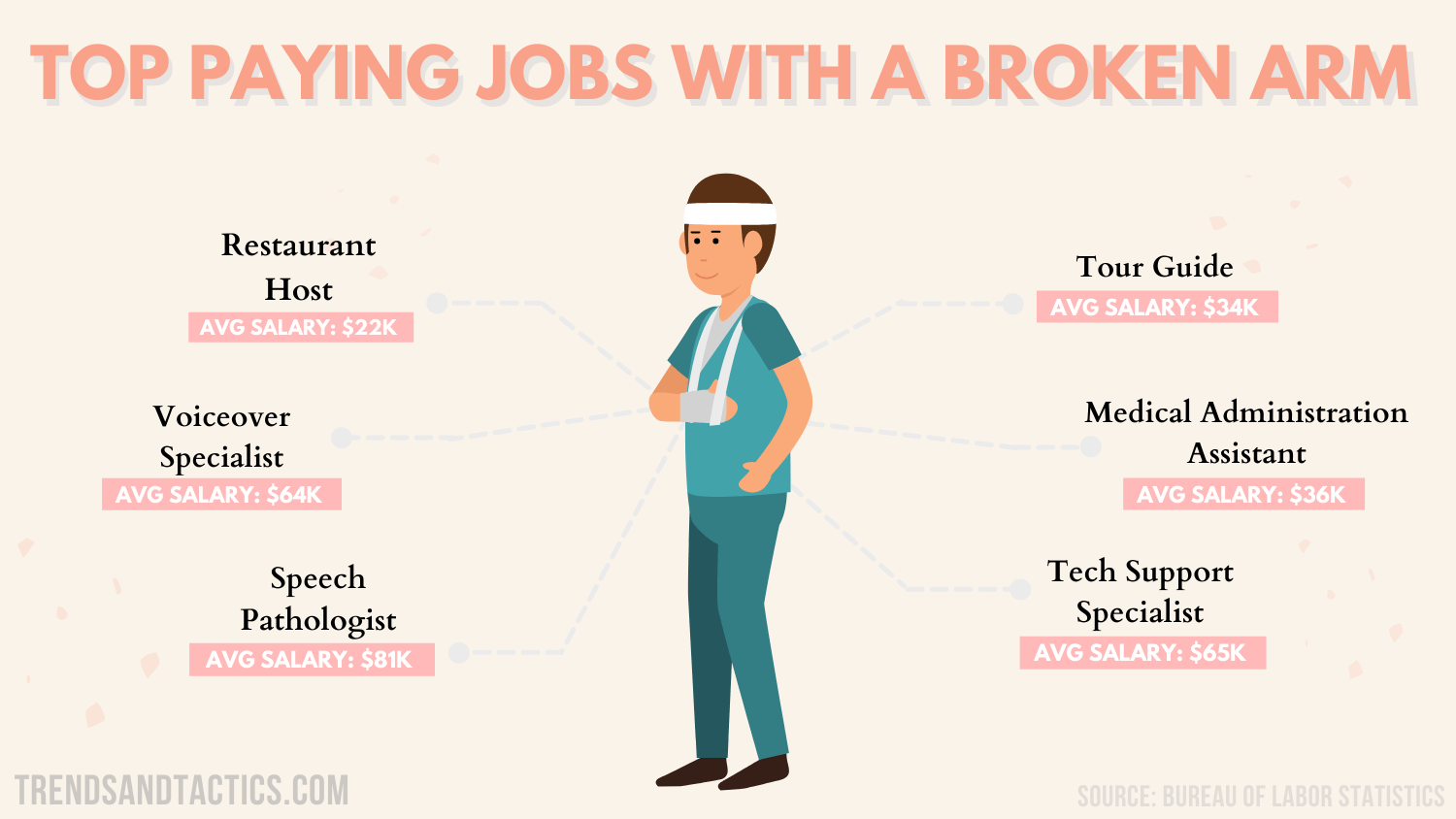 Even if it's your dominant arm that you injured, there are certain jobs that can be done entirely or mostly hands-free, allowing you to earn a reasonable income.
Again, some do require some background education or training, so choose wisely.
12. Restaurant Host
While other restaurant jobs, like waiting tables or cooking, might not be the best for someone with a broken arm, the work of a restaurant host can easily be handled with just one arm.
In this job, you'll seat customers, take reservations over the phone, and help with scheduling.
It's an easy job that won't make you a ton of money but will help you get by until you can get back to your regular job.
Average Pay: $21,980 (Bureau of Labor Statistics)
11. Tour Guide
As a tour guide, you'll simply be walking around and talking. You could become a museum tour guide, a city tour guide, or some other sort of guide whose work caters primarily to tourists.
No arms (or education or even experience!) needed.
Average Pay: $34,130 (Bureau of Labor Statistics)
10. Customer Service Representative
As a customer service representative, you will sit at a desk and answer customer calls, responding to their inquiries and resolving problems they might have.
Plus, you won't have to worry about doing a lot of heavy lifting. You can sit at a desk and if you have a hands-free headset to answer calls, you won't need your arms at all.
Plus, many of these jobs allow you to work from home so you can take advantage of regular stretching, ergonomic chairs, and other resources that will help your arm heal up fast.
This is one of the most common jobs without using hands.
Average Pay: $35,830 (Bureau of Labor Statistics)
9. Medical Administration Assistant
Working as an assistant in a medical office is just like working as a receptionist or medical assistant anywhere else.
However, you will likely have an easier time finding a job since healthcare positions are so in-demand.
On-the-job training might be needed to acquaint yourself with the unique demands of a medical office, but it will pay off since you won't have to use your arms much while on the job.
Average Pay: $35,850 (Bureau of Labor Statistics)
8. Therapist
Working as a therapist, either a mental health therapist or some other sort of therapist, is a good job for someone with a broken arm.
Your job will consist primarily of talking clients through their problems, and while you might need to take notes, you can get around this by simply asking the client if you can record the session with a voice recorder.
Average Pay: $58,290 (Bureau of Labor Statistics)
7. Sales Representative
Again, sales is another job that doesn't require your arms. You can work in a storefront selling products to customers or do another sales-related job, like pharmaceutical sales or marketing sales.
Some of these positions, particularly those that require applicants to have experience or degrees, pay quite lofty salaries.
Average Pay: $62,070 (Bureau of Labor Statistics)
6. Teaching or Tutoring
Again, to be a teacher, you'll need some background training and education. In some states, a master's degree is required to become a classroom teacher.
If you already have the credentials, then becoming a teacher is as simple as filling out some applications, passing a background check, and having your fingerprints taken.
If you don't have a degree, consider working as a tutor – you can easily find tutoring jobs (even online, so you can work from home!) that pay more than $20 per hour.
Average Pay: $62,870 (Bureau of Labor Statistics)
5. Voiceover Specialist
As you might expect just from the name of this job alone, becoming a voiceover artist doesn't require anything besides a clear, easy-to-understand voice.
Freelance voiceover opportunities are available on sites like Upwork or Freelancer if you want work right away.
Voiceover work is notoriously slow paced, so it's a great job for people with anxiety as well.
You don't have to have any kind of education, either, making it a perfect opportunity for someone suffering from an unexpected injury or illness.
Average Pay: $64,012 (Ziprecruiter)
4. Tech Support Specialist
You can work a tech support job right from the comfort of your own home, making it the perfect opportunity for someone with a broken arm.
As long as you have some technical skills and know how to troubleshoot common issues with computers and other devices, there are few other credentials you'll need in order to make money.
Average Pay: $65,450 (Bureau of Labor Statistics)
3. Freelancing
The "gig" economy is exploding right now – in fact, as of 2018, more than 35% of all workers did some sort of freelance work, and despite a lack of studies since then, the numbers have likely increased dramatically since then.
Consider your existing skills and how you can leverage those skills even with only being able to use one arm.
Being a freelance writer, artist, or photographer might be out of the question if you only have one functional arm, but there are other opportunities you can pursue.
Web design requires just one hand to run a mouse, or you could become a freelance recruiter or coder. There are all sorts of opportunities if you're willing to look for them!
Average Pay: $67,169 (Ziprecruiter)
2. Vocational Counselor
As a vocational counselor, you'll talk with others, drawing upon your own experiences, to help them figure out what to do with their lives.
From figuring out what kinds of classes to take to how to find a job, your work will be instrumental in improving the lives of disabled students and adults alike.
Average Pay: $67,920 (Bureau of Labor Statistics)
1. Speech Pathologist
Unlike most of the jobs listed, a master's degree is needed to become a speech pathologist, but this is another job that is great for someone with an injury.
You wont need both arms to evaluate clients for speech deficits, and to implement therapies to improve their speech!
Average Pay: $80,480 (Bureau of Labor Statistics)
How to Make Money With a Broken Neck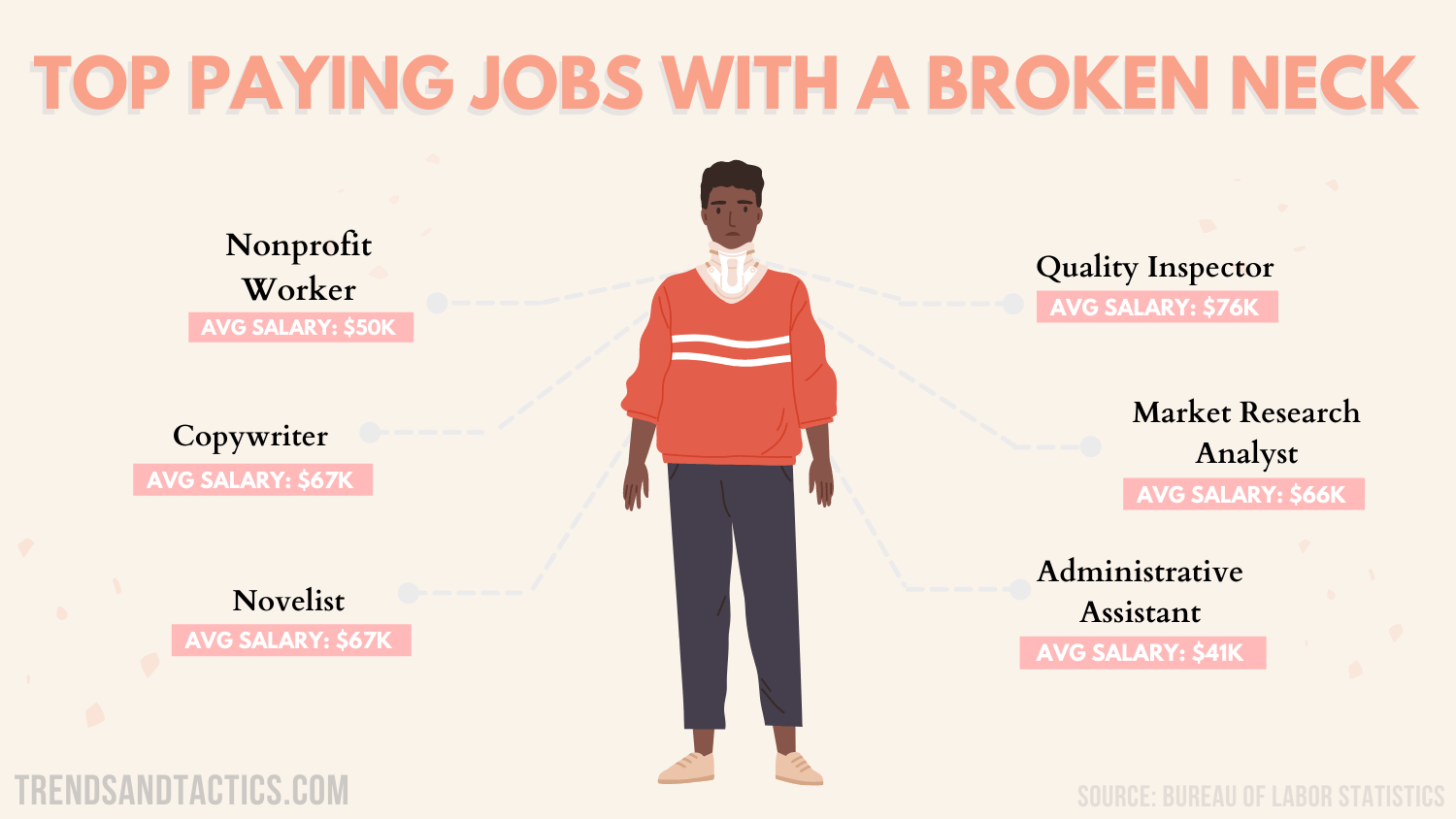 Working with a broken neck can be challenging, but if your break was simple and didn't involve the spinal cord, you may be able to continue working your regular job.
If not, there are several jobs that require very little range of motion and might be suitable picks.
5. Administrative Assistant
The bad news about working as an administrative assistant is that if you sit all day at a desk staring at a computer screen, it's probably going to take longer for your neck to heal.
However, if you invest in some ergonomic furniture and take regular stretch breaks, this is a good job opportunity for you to consider.
It's low stress and requires little physical exertion. Plus, you don't have to have any experience or have a certain type of education.
Average Pay: $40,990 (Bureau of Labor Statistics)
4. Nonprofit Worker
Nonprofits are organizations that work to solve specific societal or community challenges – an example would be a local charity organization.
Nonprofit work is a good option for someone who's injured their neck since they tend to have more flexible work schedules and demands.
Average Pay: $50,030 (Bureau of Labor Statistics)
3. Market Research Analyst
As a market research analyst, you'll conduct research to help companies identify current trends for customers with the ultimate goal of guiding marketing and advertising decisions.
It's a great job for someone with a broken neck because you won't spend all of your day in front of a computer which can be difficult.
But during times you do have to sit, there are all kinds of software programs that can help you make quick work of the research.
Average Pay: $65,810 (Bureau of Labor Statistics)
2. Copywriter
Working as a content writer or copywriter is a smart choice for someone with a broken neck, especially if you can do this work on a freelance basis.
If you can, you'll have control of your own schedule, so you won't have to worry about reporting for duty at a specific time.
As a copywriter, you'll work to provide written material for website landing pages, bios, and similar services.
Average Pay: $67,120 (Bureau of Labor Statistics)
1. Quality Inspector/Compliance Officer
If regulations are high and penalties could be a major setback, companies will often hire individuals to ensure that their teams are compliant.
The most common industries that hire quality inspectors are those in healthcare, chemical production and distribution, and food.
You won't have to worry about a neck injury, since this is a job that mostly requires face-to-face time visiting companies and just a small amount of paperwork.
There's little physical strain and it's a good blend of sitting and walking so you won't have to stay in one position for too long (as is the case with many desk jobs).
Average Pay: $75,620 (Bureau of Labor Statistics)
Conclusion
No matter which of these jobs you decide to pursue, it's important to note that the Americans With Disabilities Act requires employers to provide reasonable accommodations to perform essential job functions.
That's true even for people with temporary disabilities, like injuries.
Therefore, there are few jobs that will be out of reach to you, so the list of opportunities with a broken arm, leg, or neck is likely more extensive than what we've presented in this list.
Do your research and be creative, because there are countless ways to make money while injured.
Rebekah is a writer who covers all things education, business, agriculture, and finance. She owns a small farm business in upstate New York. Her educational credentials include a bachelor's degree in English from St. Lawrence University and a master's in special education from SUNY Plattsburgh.