There is no doubt that online real estate services are booming. People are interested in buying or selling property online, thanks to the ease and convenience it offers.
Two of the most popular names are Zillow and Redfin. Both offer a wealth of features and benefits for home buyers and sellers.
But, which is better, Zillow or Redfin? In this blog post, I will compare Zillow vs Redfin, and see which one comes out on top.
Homepage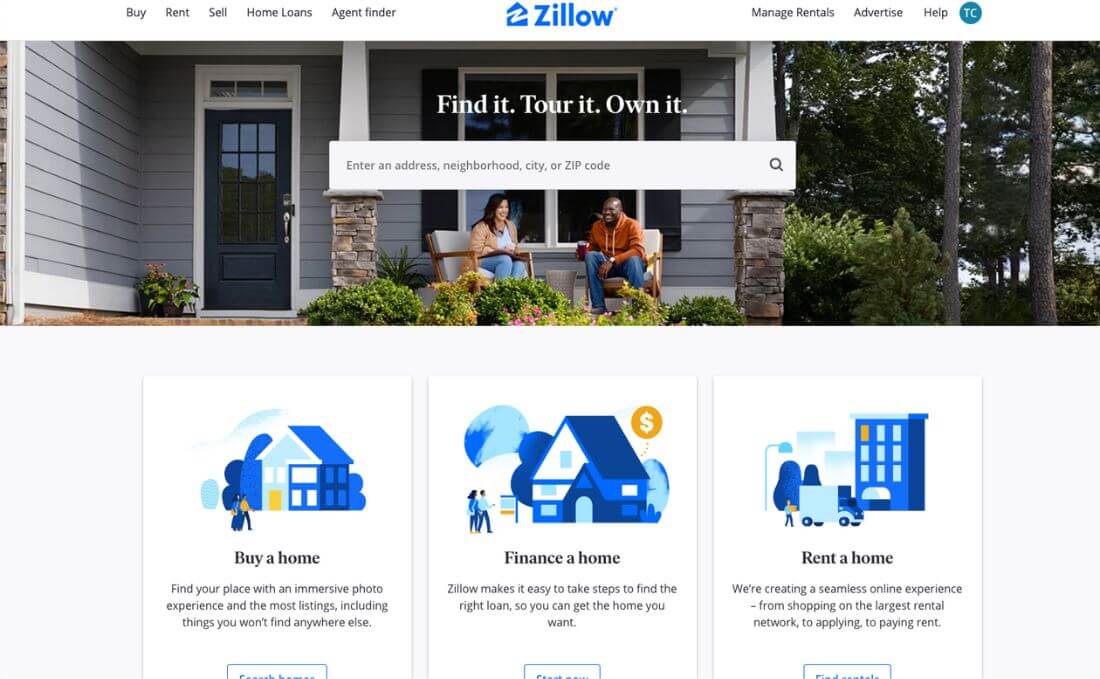 The first thing you notice about any website is the homepage.
Both Redfin and Zillow have a modern homepage, with the search bar prominently displayed, so you can start your search right away.
They have links to their most popular pages and features and they are both very user-friendly and easy to navigate, making these both good alternative methods to sell a house.
Differences
Where they differ is on Zillow, you will have to put in your search criteria whether it be a city or an address to see any homes.
Whereas on Redfin there is a feed right on the homepage from the areas that you've previously searched and will display homes that are new listings, open houses, under contract, price drops, back on market, and sold.
This feature allows you to easily scroll through and see any updates right on the homepage and is helpful for purchasing a home in today's market.
Another great feature that Redfin has is you can easily toggle from buy, rent, sell, mortgage, and home estimates right above their search bar without having to go to a different page.
Making it quick and easy to switch between their services.
On Zillow, you have to find those features through their big dropdown menus, and with so many options you can easily get sidetracked from what you actually wanted to do.
One last thing to note when comparing Redfin vs Zillow homepage is Redfin has a phone number at the top of the homepage.
In a digital world it is nice to have that option to talk with a human being.
Search Page
The search page is where you will be spending most of your time on either website.
Both websites make it very easy to find the right home for you by having a ton of different filters that you can use such as price, square footage, number of bedrooms and bathrooms, lot size, year built, and many more.
You can even draw on the map the area you want to see houses in.
Differences
The views are relatively the same with a map on the left and the listings on the right.
The big differences are on Zillow if you want to see for sale by owner (FSBO) you will have to toggle the bar at the top to other listings.
This is important if you decide to take the cost of how much money a real estate agent earns away from the equation.
I often forget to do this and prefer Redfin as it has all of its listings in one place (it is important to note that Zillow and Redfin get their FSBOs differently and may not show the same ones).
Additionally, Zillow will feature one piece of information in the top left corner of the listing for example open house or 3D tour whereas Redfin puts up to two pieces of information and has them in color-coded bubbles.
Another big difference is Zillow's pictures are smaller than Redfins, and are wide-angled instead of squared.
Also on Redfin, you have the ability to email the listing to anyone right on the search page.
Lastly, Zillow adds the brokerage information which I don't think is necessary for a buyer to see.
Property Estimates
Both websites have property estimates but they are not created equal.
They both use different data to create their estimates which is why there can be such a big difference between the two.
Zillow's Zestimate is based on public, MLS and user-submitted data while Redfin's Estimate is based on just MLS data.
Because of this difference in methodology, there can be a big discrepancy between the two website's estimates.
In my experience, I've found that both to extremely accurate and also extremely inaccurate it all depends on the home.
Whether or not a seller is selling a house as is is another factor that can play into the final sale price.
Because both sites use algorithms to come up with their estimates neither of them takes into account things like recent renovations or special features of the property that could affect the value.
This is why these estimates should only be used as a form of reference not as an actual value.
Tactic for Success

When using either site's payment calculators, it's important to remember to adjust the interest rate to current market rates, and the down payment to what you can afford, to get the most accurate estimate. By doing this, you'll have a better idea of your budget and an idea of what the monthly payments will be.
Listing Details
When you click on a listing, both websites will give you all the details about the property.
This includes the price, square footage, number of bedrooms and bathrooms, lot size, year built, and many more.
They will also have a description of the property as well as pictures. They both have the same information as it comes from the MLS; the difference is in the layout of the information.
On Redfin when you click on a property it opens into a new window. It has a very clean and sleek layout that goes down the page.
They have all of the information about the property on one page.
On Zillow when you click on a listing it is a popup window. It will have the pictures on the left and the info on the right.
I find this to be a little cluttered and less user-friendly as all of the information is in a small column and you have to expand sections if you want to see more details.
Trend on the Rise

Buying through Redfin without using an agent. Redfin allows a buyer to make an offer on a home through their platform without an agent. This can save the buyer and the seller on fees. While it is not available in every market, it is a feature that is on the rise and will continue to grow.
Favorites
I like to keep track of listings that I am interested in and I just want to keep an eye on.
Both websites have a favorites feature but I prefer Redfin's because they allow you to have 3 homes that you put in a shortlist and these stay at the top of your favorites list.
This is great because you can keep track of a few listings that you are very interested in without having to scroll and search for them and then have an additional list for the homes that you just want to keep an eye on.
A cool feature that Zillow has is it allows you to compare 2-5 properties from your favorites side by side.
This is great if you are trying to decide between a few listings you can see all their specifications in an organized way.
If you are buying and selling a place at the same time, these favorites might be ones you keep a close eye on.
How Buyers Use Redfin and Zillow:
Search Homes For Sale – Both websites have a search feature where users can input what they are looking for in a home and a list of results will populate.
Search For Open Houses – Buyers can easily see where there are open houses near them.
Find a Mortgage Lender – Buyers can use either site to connect with a mortgage lender.
Affordability Calculator – Both websites have a calculator to help users determine how much house they can afford.
Off Market Building Searches
One thing I like to do is look at past listings in condos to see what sold, the different unit layouts and look at pictures to see what sorts of renovations were done.
Both websites will allow this but in my opinion, neither are very great. When used together you are more likely to get your desired outcome.
Zillow
On Zillow, you can type in the building address into the search bar without the unit number.
Then a page should pop up that has the active listings for that building. There is a dropdown menu where you can see recently sold, for rent and off market.
You can click on any of these listings to see if there are pictures and information available.
Redfin
On Redfin, in order to see other units in a building, you have to zoom in on the map to the building you are looking at a bubble with the number of units in the building should appear.
When you click this a pop-up will appear with all the units for sale, recently sold and off market.
The issue with Redfin is that sometimes you aren't able to get info on a whole building.
Unfortunately not all of the listings have information or pictures available and it can be very hit or miss.
Zillow may have pictures that Redfin doesn't and vice versa so best to check both sites.
How Sellers Use Redfin and Zillow:
Research Comparable Home Sales – Both websites have a search feature where you can look up recent sales in the area.
Find an Agent to List Their Home – Sellers can find an agent to list their home on both websites.
Get a Sense of Their Home's Worth – Zillow has a "Zestimate" which is an estimate of a home's value. Redfin has a "Home Value Tool" which is similar.
List Home For Sale by Owner – Sellers can list their home directly on Zillow whereas for Redfin it needs to be listed on one of their partner sites.
The Verdict
In the end, it really comes down to personal preference and mine is Redfin.
I like having the feed on the home page, the shortlist of my favorites, and the overall layout is more visually appealing to me.
Tara is a licensed real estate agent in Southwest, FL. She helps buyers and investors find their dream home by educating them about real estate and how they can use it as an investment.