Craigslist isn't like other marketplaces.
Its appearance hasn't changed in decades, yet it receives more views each month than Netflix (according to Business Insider).
Craigslist keeps it simple, which is why people love it, and also why people are skeptical, often asking is Craigslist safe?
I've bought numerous items on Craigslist over the years, and learned a few strategies along the way. Today, I'll share exactly how to buy on Craigslist safely.
How to Use Craigslist
Craigslist is essentially a digital classifieds by city. In other words, every city has its own Craigslist database of things for sale, jobs for hire, and apartments for rent.
To get started, navigate to Craigslist for your city by typing into google 'Craigslist [YOUR CITY NAME].'
Through the homepage, you can shop on Craigslist through the search bar or the category listings.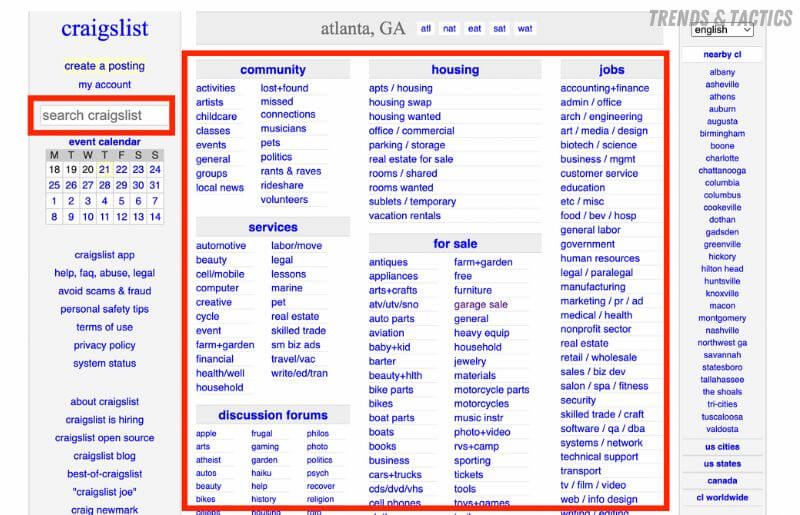 I prefer using the search bar, but shopping by category could be helpful depending on your needs.
Each method (search bar or category listing) will lead you to a grid of products.
On this page you'll notice a few features:
Number of results – shows number of products for sale that match your search criteria
Filters – ability to make your search more specific by filter options like: price, miles from your location, has images, etc
Product price – asking price from seller
Product location – location where the product is located
Click on the listing you are interested in, and you'll go to the product page.
On the product page, you'll see details like the seller's contact info and product description.
To contact the seller, click the 'reply' button, and you'll see which contact methods are available. Sellers will provide their phone number, email, or both.
Reach out to the seller with your questions or request to purchase, and that's how to use Craigslist. If you're interested in selling, don't miss these seller tips for Craigslist.
Now, let's get into the actual buying process.
How to buy on Craigslist safely?
If you want to buy on Craigslist safely, you should always use a burner number (I'll share my favorite free app below), bring a friend, and be smart about the meetup location.
These Craigslist strategies work whether you are buying clothes to resell or buying a food truck.
Always use a Burner Number & Email
You never really know who you are interacting with on Craigslist. So, it's best to not give out your personal contact info, and instead use burner info.
To get a free phone number, you can download the Google Voice app, and have a burner number ready to use on Craigslist in 30 seconds.
Creating a burner email also takes less than a minute.
Bring a Friend
Once you agree on a place to meet, it's always best to bring a friend or family member for the transaction.
We can all agree, having someone else with you adds a layer of protection, since you have someone there looking out for you. But there's the added benefit of having a second set of eyes on the item you're buying for issues.
When I buy stuff on Craigslist, the meetups are usually pretty quick. Meaning, you don't have much time to look over the item and make sure there's nothing missing, unusual, or different from what was agreed on.
If you have a friend with you, it's more likely any issues will be caught. If you aren't able to bring someone with you, at least tell someone when/where the transaction will be happening beforehand.
Pick a Safe Meetup Location
Although some buyers have no problem going to the seller's home for the purchase, this is not the safest approach.
Instead, it's better to meet somewhere that's well lit, in public, has cameras, and has people nearby.
Examples of good meetup locations include:
Bank parking lots
Inside busy fast food restaurants (ex: McDonald's)
Near local police station
How trustworthy is Craigslist?
In my experience, Craigslist is trustworthy as long as you are using all the right safety measures (that we covered above). Over the years, I found some amazing deals on Craigslist (including vintage video games and apple products), and never had any issues.
In other words, Craigslist's trustworthiness varies based on how you use it.
I believe it's trustworthy if you use burner contact info, bring a friend to meetups, and meet in a safe location.
Otherwise, I think it's a little less trustworthy than alternatives like Mercari or Facebook Marketplace which do more to verify seller identities.
Today there are more easy ways to sell things online or buy things online than ever. If one platform doesn't work for you, there are plenty more.
Best Craigslist Alternatives
While Craigslist has its strengths, there are other great apps to buy things locally.
Mercari
This is my favorite Craigslist alternative, because not only does it do a better job identifying seller's identities, but you can even have local purchases delivered to you via Uber rather than meeting someone!
This is a breakthrough feature in my mind.
Even if you don't mind meeting people with Craigslist, there's always the chance someone doesn't show up and wastes your time. Using the local delivery method with Mercari, that'll never happen.
Selling on Mercari was built to be fast and easy, which is another reason to check it out.
Facebook Marketplace
At this point, we all know about Facebook.
But they rolled out a marketplace feature that quickly became a popular buy and sell venue.
Similar to Mercari, seller identities are linked to their Facebook account, which adds some validity to the seller's identity.
There's also a shipping feature with FM which is handy if you don't want to leave your home, and can't stop yourself from shopping.
If you're interested in this platform, make sure to use the latest Facebook Marketplace selling tips.
Wrapping Up
How to buy on Craigslist isn't rocket science, but it still may seem overwhelming at first.
Hopefully this guide simplified what it's all about, so you can get some great deals.
John-Paul Cody has been an avid online seller for years, across platforms including eBay, Mercari, Craigslist, and more. He has a Bachelor's Degree in Economics from UNC Chapel Hill, and works in data analytics and marketing.