Selling clothes on eBay has exploded in recent years.
Why?
Here's a few reasons: it's a side hustle with high earning potential, recycling clothing helps the environment, and it's gotten surprisingly easy.
Over the years, I've sold tons of clothes on the platform, and will share exactly how to sell clothes on eBay from the perspective of a longtime seller.
How to Sell Clothes on eBay (7 Steps)
The amount of clothes sold on eBay is astounding.
According to eBay sales data, over 3.2 million shirts were sold in the last 90 day, and that's just one type of clothing!
With that, let's dive into the process.
1. Create Your eBay Account
The first step to selling on eBay is creating your account. If you have an account already, feel free to jump to step 2.
When setting up an eBay account, there are two types:
Personal account – select if you are a casual seller
Business account – select if you are a business, a nonprofit, or sell large quantities of items.
If you start with a personal account, you can always switch to a business account in the future through account settings.
During account registration for both types, you'll be asked for basic information like your name, email, address, and phone number.
If you open a business account, you'll be asked for additional information including: date of birth, last four digits of SSN or ITIN, and a bank account (eBay replaced PayPal with Managed Payments, which is why a bank account is now required).
As with any legitimate business (online or offline), you are responsible for paying taxes on earnings, and eBay is no exception. For this reason, eBay is required by law to gather a few extra details from eBay businesses.
Current seller fees for clothes are approximately 12.9% of the sale price, plus $0.30 per order. Although it might seem eBay fees are high, their fees are not the highest among major marketplaces (Mercari and Poshmark fees are higher).
2. Download the eBay App
If you haven't already, I recommend downloading the eBay app – it's free for both iPhone and Android.
Although some things are easier on the computer, the eBay app offers a few advantages:
Make listings on a single device – you can take photos and upload listings all on your phone. If you use a computer to list instead, you'll have to transfer photos to your computer beforehand which adds time.
Get sale notifications – when you make a sale, the app makes a fun 'cha-ching' sound that many eBay sellers (including myself) enjoy.
Replying to customer inquiries is easier – messages will come to you through the app so you can reply quickly, which really helps keep your buyers happy.
3. Source Clothes
If your goal is to become a large seller, sourcing inventory (or consistently finding items) is essential to your success. If you plan to only sell a few things here and there, feel free to jump to step 4.
Where to buy clothes to resell is one of my favorite parts of the process, because of the surprise factor when you find something rare.
Here are a few of my favorite clothing flips on eBay, and where I found the item.
If you plan to get into selling used clothes on eBay, try a variety of sourcing methods to find a strategy that works best for you. I'll share a few of my favorites.
Best places to source clothes:
Second-hand stores – this is perhaps the most popular way to source clothing these days. Thrift stores like Goodwill, Savers, and Salvation Army have isles and isles of clothes for decent prices. Although most items will be used, it's not uncommon to find NWT items (new with tag). Goodwill Outlets allow you to buy clothes by weight, which usually lowers your per unit price to under $1.
Flea markets – when flea market shopping, you'll usually find heavily discounted clothes, especially if you buy in bulk.
Big box stores – Plenty of sellers still use retail arbitrage to find clothes at stores like Ross, Burlington, and the Nike Outlet. This strategy involves buying clothes from these stores for a low enough price that you can then resell them on eBay for a profit.
Yard sales – I've found some amazing deals buying at garage sales. The best part is you can negotiate lower prices by bundle multiple items for a lower per unit price.
4. Create Your Listing
If you're still wondering, do clothes sell well on eBay?
There's no doubt about it, as long as you use the right listing strategy.
The five key elements for an eBay listing are: (1) product title, (2) photos, (3) item specifics, (4) selling price, and (5) shipping.
While it may seem like a lot, creating listings on eBay is quick once you get the hang of it.
Listing starts with taking great photos of your clothing item. I recommend using natural light if possible, and take at least 8-9 photos so buyers see every angle of the item (see example below).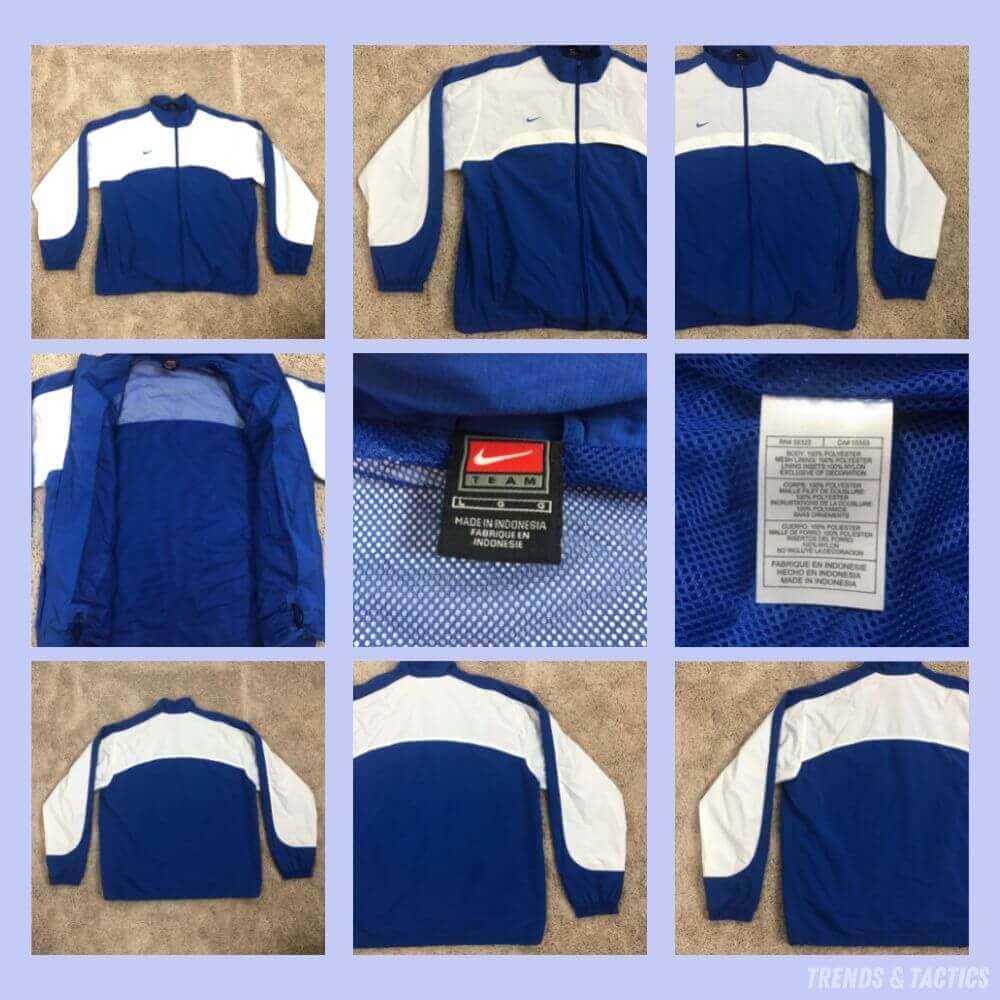 I recommend making one of the photos the clothing tag to ensure there's no confusion on the clothing size.
The product title can be up to 80 characters, which allows for plenty of keywords to be added. Keywords help your listing show up for more searches with shoppers.
I recommend using this structure for your clothing listings: Brand / Adjective / Adjective / Clothing Type / Size / Colors. An example would be: "Adidas Stretchy Athletic Bodysuit Large Blue Green".
Filling in the item specifics fields help your listings appear to shoppers who use filters for things like clothing size, type, brand, material etc.
Luckily eBay autofills a lot of this information automatically based on your listing title, which is great. You can also use the 'sell similar' feature which lets you start with a template of sorts that has a lot of details already filled out.
It's recommended to include clothing measurements somewhere in your listing as well.
Doing so removes uncertainty buyers might have on clothing dimensions, plus reduce return rate since this information is communicated upfront.
Many new sellers get tripped up by selling price in the beginning. Fortunately, sold listings tell us how much shoppers are currently paying for a particular product, which takes out the guesswork.
With this information, we can confidently set prices inline with what shoppers are willing to pay.
The last part is packaging and shipping clothes. Most sellers use USPS First Class shipping for the most cost effective option. To qualify for this method, the package's final weight must be below 16 oz (you can use a box or padded envelope).
5. Communicate with Buyers
Once an order is placed, buyers automatically receive update emails from eBay, notifying them of the order's progress.
Buyer communication is a critical part of online marketplaces like eBay, Amazon, and Mercari. Fortunately, eBay takes care of this step for the most part.
One of the best ways to build credibility early on (and seller feedback) is to be responsive to customer questions, and communicate clearly.
Occasionally, you'll be asked for more pictures, or additional details about the item you're selling. Always reply to these questions, as it helps reassure shoppers you are a reliable person to buy from.
6. Ship Clothes Quickly
Once an order is placed, the sooner you ship the better. Processing time (or the time it takes you to package the clothes and hand it over to the shipping service) should be clearly communicated and accurate.
As mentioned above, sellers typically use USPS First Class shipping for the most cost effective shipping option.
If you use USPS for shipping they provide free boxes/envelopes on their website, which is a huge plus!
When sealing the box or padded envelope, ensure there are no unsealed sides/corners, so the product doesn't get wet.
In addition, remember you're competing with services like Amazon, which have incredibly fast shipping times. So quick shipping is one way to set yourself apart.
7. Rinse & Repeat
After getting a few sales, the best way to grow your eBay business and improve seller feedback is to keep listing consistently.
Sales will probably be slow initially as you build your seller reviews, but that's all part of the process.
Clothes are fantastic items to flip on eBay, and one of my personal favorites, because sourcing is easy, there's consistent demand, and some items sell for hundreds of dollars.
3 Helpful Tips for Selling Clothes on eBay
Now that we covered the selling process, I'll share a few tips I've learned during years of selling that'll help you grow your earnings on the platform.
1. Use bundling to get rid of clothes faster
If you have a bunch of inexpensive clothes that don't make sense to sell individually, bundling could be a great option.
It's also useful if you simply want to liquidate a lot of inventory quickly, and are okay giving up a little bit of profit in the process.
I recently sold a few shirts as a bundle (also called 'lot' on eBay). Since they were all the same size (which is a plus for buyers), they sold in less than a week for $100!
Not only do traditional shoppers buy bundles on eBay, but online resellers scour eBay for people selling large amounts of clothes for a good price, which becomes a form of product sourcing.
2. Consider Plato's Closet if you need cash immediately
Some people realize they don't enjoy the listing and shipping process, and prefer selling locally to consignment shops like Plato's Closet.
Most consignment shops (including Platos) pay you in as little as 30 minutes, for clothes they'll accept.
I recently consigned a bunch of clothes with Plato's, because my schedule has been hectic lately and it would have been difficult to list them online. I was shocked they offered over $150 for a basket of extra clothes.
Most high volume sellers use multiple channels to get sales, including local consignment shops for items that might too expensive to ship or when they need to quickly liquidate a bunch of inventory.
3. Crosslist on other platforms
Listing the same product across multiple platforms is called cross listing, and is common practice among seasoned sellers.
I started cross listing myself on Mercari and Poshmark last year, and was pleasantly surprised how well it worked.
In some cases the right buyer simply won't be on eBay, and instead might be on marketplaces like FacebookMarketplace, Craigslist, Mercari, or Poshmark.
Cross listing multiplies your listing's visibility since you're tapping into multiple user bases, and helps you find that 'right buyer' faster.
Once sold, simply remove the item from any other platforms it's listed. Crosslisting can easily double or triple your selling power.
Selling Clothes on eBay vs Poshmark
Poshmark is a social driven selling platform, unlike eBay. With over 80 million users, it's like Instagram for your closet. To be successful on the platform, you'll need to like and follow other Posher's closets.
There are even events called Posh Parties, which are real-time virtual hangouts to share and exchange items.
In terms of fees, for sales under $15 Poshmark charges a flat fee of $2.95. For sales over $15, the seller fee is 20%.
As you can see, there are quite a few differences between the two platforms. My personal favorite is eBay, because I don't have to bother with liking/following other accounts, plus I can sell a wider range of products on eBay.
Wrapping Up
I've been selling clothes on eBay for multiple years, and believe it's a must-use platform for anyone interested in clothing selling. I hope this guide makes the process easier for you!
John-Paul Cody has been an avid online seller for years, across platforms including eBay, Mercari, Craigslist, and more. He has a Bachelor's Degree in Economics from UNC Chapel Hill, and works in data analytics and marketing.